It is told that long ago, a young appellate judge named Brett Kavanaugh thought, himself, to be prepared for the job interview of a lifetime. He was appointed to the highest court in the land; Supreme Court Justice. What he failed to realize when applying for this position was that, in the LinkedIn job description, history of alleged sexual assault might delay the interview process a bit. 
After testifying before the Senate Judiciary Committee in hopes of counteracting testimony submitted by Dr. Christine Blasey Ford, one of several women accusing him, Judge Kavanaugh thought a decision would be made. Unfortunately for him, following his hearing, Senate Republicans agreed to delay their vote for one week to allow for a short, but sweet, FBI investigation. Well, sports fans, it has been one week since Kavanaugh's Senate hearing and the FBI submitted their report to the Senate Judiciary Committee for their viewing pleasure.  
Per Senate Majority Leader Mitch McConnell's request, the FBI findings will not be made available to the public. According to CNN reports, there are only "109 people who have clearance to access what was delivered to Capitol Hill at 2:30 Thursday morning — 100 senators, four majority committee staffers, and four minority committee staffers, one committee clerk. That's it"
The Three Rules of FBI Report Fight Club
CNN elaborates on the remaining rules dictating the review of the FBI report:
Making Copies – There is "a single copy of the FBI's findings." It is currently in a vault, in a Sensitive Compartmented Information Facility — or SCIF
Pics Or It Didn't Happen – Senators are prohibited from bringing cell phones into the SCIF when they are reviewing the FBI documents. Any notes they take must be discarded upon exiting in the facility

 

Keep My Name Out Ya Mouth – Senators cannot discuss "or characterize," in specific detail,

 

what've they've read from the report
Kava-yes or Kavanaugh?
Before grabbing your torches, pitchforks, and jugs of riot punch, let's put this information into perspective. For starters, 95 of our 100 US senators have already stated how they plan on voting in the case of the appointment of Judge Kavanaugh, so unless the FBI report suggests something more than Kavanaugh's hamster-like memory and beverage preference, it all comes down to five senators. 
These senators consist of three Republicans and two Democrats, here they are:
Team Elephant
Susan Collins, R-Maine: Considered to be centrist, believes report to be thorough
Jeff Flake, R-AZ: Retiring senator, suggested the FBI investigation
Lisa Murkowski, R-AK: Won her seat as a write-in, seems centrist
Team Donkey
Heidi Heitkamp, D-NPL: publicly says she'll vote 'no,' is senator of

 

Joe Manchin, D-WV: Home-state is pretty Republican, most think he'll vote no
The White House has found no corroboration of the allegations of sexual misconduct against Supreme Court nominee Brett Kavanuagh according to The Wall Street Journal  and Senate Majority Leader Mitch McConnell has scheduled the final nomination vote for Friday. According to McConnell,
"There will be plenty of time for members to review and be briefed on this supplemental material before a Friday cloture vote"
President Donald Trump took to twitter to react to the release of the FBI report: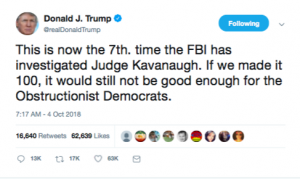 In agreement with the President's tweet, a member of the Senate Judiciary Committee's Republican staff tweeted that "Nowhere in any of these six FBI reports, which the committee has reviewed on a bipartisan basis, was there ever a whiff of ANY issue — at all — related in any way to inappropriate sexual behavior or alcohol abuse."
The Democrats immediately responded, saying that the information in the tweet was inaccurate, and instead that the GOP correct it. 
Sen. Richard J. Durbin, leading the Democrats in their response had this to say:
"It is troubling that the committee majority has characterized information from Judge Kavanaugh's confidential background investigation on Twitter, as that information is confidential and not subject to public release"

– Senator Richard. J Durbin (D-Ill)
Senator Durbin is absolutely spot on in saying this because the tweet from the Republican Committee member directly contradicts the agreed upon stipulations for reviewing the FBI report. 
According to the Washington Post, some Democrats have expressed concern that the scope of the FBI probe was too narrow, and "whether a week is long enough to conduct a thorough investigation." 
We will know soon enough of the fateful ending of the tale of Judge Brett Kavanaugh, but for now…sit back, relax, and grab a tall, cold one.