Are These Mining Stocks On Your Watchlist This Week?
It goes without saying that the remarkable rally in gold was one of the biggest talking points in financial circles in 2019. Much of that was due to the uncertainties in the markets. However, the troubles in the Middle East due to the killing of a top Iranian General by America have caused further turmoil in the markets. Gold stocks have naturally experienced a rally once again.
In such a situation, it is important for investors to look at the possibility of investing in gold stocks. Here is a look at two gold stocks that could be considered.
Mining Stocks To Watch #1 Eldorado Gold
One of the gold stocks that could be considered under these circumstances is that of Eldorado Gold Corp (NYSE:EGO). It managed to bounce back spectacularly in 2019 and has emerged as one of the gold stocks to watch. In 2018, the Eldorado stock had lost as much as 60% but in 2019, it gained as much as 179%.
That is a significant turnaround in fortunes for the mid-tier gold and base metals miners. While some investors may feel that the stock has gained as much as it could, experts believe that there is still significant upside in the Eldorado stock. Investors could do well to track this stock in the middle of this gold rally.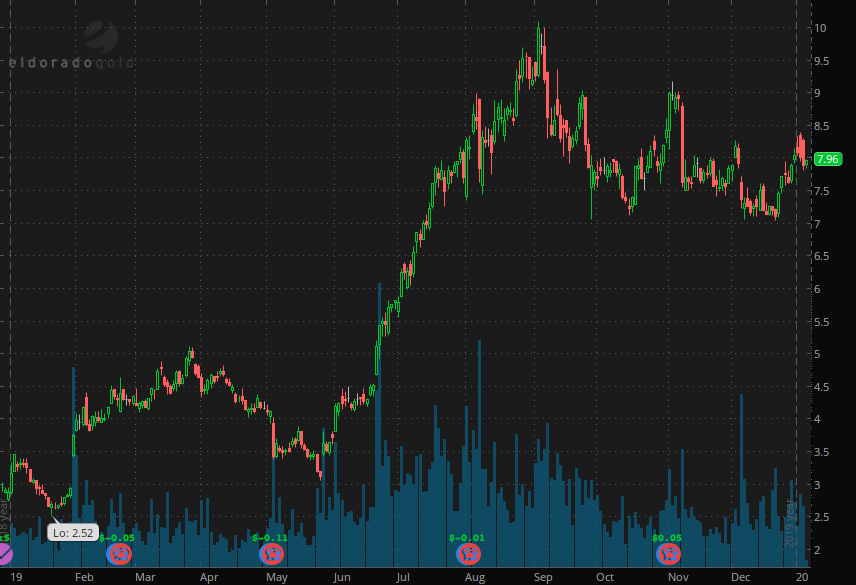 Mining Stocks To Watch #2 Kirkland Lake Gold
The other gold stock that may be worth watching is Kirkland Lake Gold Ltd (NYSE:KL). It has recorded gains recently as well. On Monday, the stock rose by as much as 1.32% to $44.57. The stock has actually made steady gains over the past month and generated over 7% for its investors.
Hence, this is a stock that could be tracked at a time when gold is enjoying a rally. Toward the end of December, the company filed its management information circular and related meeting materials in connection with a special meeting of shareholders to be held on January 28, 2020. So this could become an important date to keep in mind later on this month.