Tiziana Life Sciences (TLSA) Could Hold Humira's Kryptonite
There's no denying that biotechnology is one of the hottest markets in the world. Right now a multi-billion-dollar segment is ready for a shakeup and one biotech stock could hold the secret to doing just that!
[NEWS 9/16/19] Tiziana Life Sciences (TLSA) Announces FDA Approval to Initiate Phase I Clinical Trial with Orally Administered Foralumab in Healthy Volunteers
More times than not, biotechnology and healthcare stocks are the "hot markets" and we'll explain exactly why. We'll also take a deep dive into a niche that you must be paying attention to in 2019 if you're looking to take advantage of the next big trend in health science.
Why biotech over other sectors? With this sector we're literally talking about companies creating life-changing and life-saving treatments. And in the process, some of the greatest wealth has been created. Merck is acquiring cancer drug developer Peloton Therapeutics for $1.05 billion. Pharmaceutical giant Bristol-Myers, a pioneer in immunotherapy, is acquiring rival Celgene for $74 billion.
The announcement came as Peloton was preparing for its IPO. Earlier this year, Eli Lilly bought Loxo Oncology for $8 billion. And these are just a few of the many BIG stories that biotech investors are witnessing first hand!
Biotech stocks have delivered sizzling returns over the last few years. New drugs have improved the lives of patients and made big profits for investors in the process. Creating or licensing a one-of-a-kind drug creates an opportunity that even the greenest investor can understand. This is part of why the biotechnology industry is full of optimism, from both management and investors. And clinical-stage biotech stocks could present immense potential.
Where To Focus In 2019?
A majority of the biotech industry's smaller members are in the clinical stage. In other words, they don't have a product to sell yet, but they're testing potential drugs in humans. Because of this, new milestones, announcements, progress, etc. can act as massive catalysts in a near term and possibly long term time frames. Even the slightest positive progress update can trigger momentum. Why do we mention this?
One of the hottest subsectors that has gotten more attention in 2019 has been digestive diseases especially things like liver disease, diabetes and myriad digestive system cancers. The obesity epidemic in the U.S. is leading to a new problem for doctors. In fact, by 2020, a liver disease known as nonalcoholic steatohepatitis, or NASH [1], will be the leading cause of liver failure. That will lead to more liver transplants in the U.S., experts say.
"NASH is silent until it gets very advanced," JMP analyst Bayko said. "Then it's too late."
The National Institutes of Health estimates 30%-40% of adults in the U.S. have a fatty liver. Of those, about 20% have NASH liver disease. But liver disease treatment is complicated, especially in the case of NASH. According to other reports, the global market for NASH could reach $35 billion [2].
Tiziana Life Sciences (TLSA) Has Created A Biotech Pipeline To Address Multi-Billion Dollar Market Opportunities
There are many companies out there working to treat liver disease and other forms of digestive tract diseases, but one company could stand to disrupt this $35 billion market. Tiziana Life Sciences (TLSA) is focusing on to develop novel treatment for liver diseases such as NASH and hepatocellular carcinoma (HCC). With multiple treatments in advanced Phase Trials, it could make sense to have this biotechnology company in focus for 2019.
Tiziana (TLSA) is supported by extensive IP and a strong pipeline of in-licensed clinical assets and has clinical development programs for Foralumab and Milciclib. Strong IP for oral and nasal administration is for the platform technology, which is applicable to all antibodies drugs for treatment of human diseases.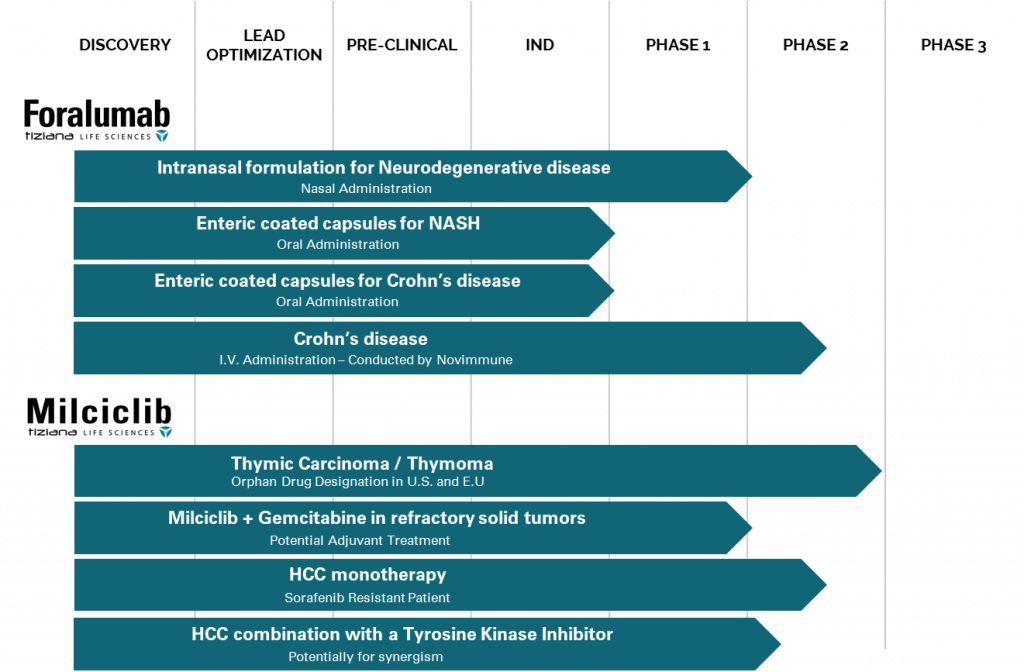 As you can see, there are multiple indications that Tiziana (TLSA) pipeline treatments are looking to meet. Right now, bigger companies are taking aim at buying up assets in this space. Bristol-Myers Squibb has confirmed it is looking for additional assets to enhance its internally-developed NASH drugs.
Furthermore, other companies like Pfizer have expressed the same, "We are actively looking on the outside for opportunities… to complement our internal program," Morris Birnbaum told Reuters in an interview. He is the chief scientific officer for internal medicine for Pfizer.
Driven by the obesity and diabetes epidemics, the disease guarantees an enormous pool of patients for decades, making it a prime target for deals for promising therapies for NASH and its consequences – advanced fibrosis and liver-destroying cirrhosis.
"We anticipate that there will be more transactions, more licensing deals from big pharma involving emerging biotechnology companies."

Dr. Scott Friedman, dean for therapeutic discovery at Mt. Sinai Hospital in New York
How Is Tiziana Life Sciences (TLSA) Set To Shake Up The Industry?
First off, there could be huge upside potential for its current portfolio of drug candidates. And it isn't just for the treatment of NASH but other autoimmune diseases as well. Its Milciclib has already shown to produce clinical benefits and the drug is well tolerated. No drug related deaths were reported in a Phase 2a clinical trial in patients with inoperable or metastatic Hepatocellular Carcinoma – a type of liver cancer. In fact, 28 out of 31 of the patients treated could be evaluated with 14 patients having completed a 6-month study. Nine of these patients continued treatment under compassionate use and 5 are still under treatment.
"We are very pleased with the clinical activity and tolerability of Milciclib in these advanced cases of HCC. It is an important milestone to move forward with further clinical development of Milciclib either as a single agent or in combination with other HCC drugs," said Dr. Kunwar Shailubhai, CEO & CSO of Tiziana.
Exclusivity Makes This An Attractive Therapy To Stand Up To Industry Heavyweights
Tiziana (TLSA) holds an exclusive license from Nerviano Medical sciences for both method of use and composition that is protected through 2030. Pending patent applications extend the IP protection at least up to 2038. Milciclib has shown to have reduced toxicity and adverse events compared to current Standard of Care drugs like some of the leading therapies in the market today including:
Sorafenib co-developed and co-marketed by Bayer and Onyx Pharmaceuticals as Nexavar
Lenvatinib, developed by Eisai Co, and;
Regorafenib, developed by Bayer
Last year, Tiziana Lifesciences presented a poster at the AASLD, a premier scientific conference for liver diseases, demonstrating that milciclib produces significant synergistic activity in combination with tyrosine kinase inhibitors (TKIs) such as sorafenib, regorafenib and lenvatinib in preclinical studies. In addition, oral treatment with milciclib is also able to overcome drug resistance towards commonly used chemotherapeutic drugs such as gemcitabine.
Tiziana Life Sciences (TLSA) Reports Positive Phase 2a Clinical Data Exhibiting Positive Clinical Activity with Milciclib Monotherapy
This was conducted for patients in Advanced Sorafenib-refractory or -intolerant Patients with Unresectable or Metastatic Hepatocellular Carcinoma.
MAJOR HIGHLIGHTS OF THE CLINICAL DATA
As per the study protocol, data collection was limited to 6-months. Thus, clinical data were not collected from patients under compassionate use treatment. The clinical activity assessment in evaluable patients was based on the investigators' review using the modified Response Evaluation Criteria in Solid Tumors (mRECIST).
14 out of 28 (50%) evaluable patients completed 6-month duration of the trial.
9 out of 14 patients (64.2%) were approved by their respective ethical committees to continue the treatment.
5 of the 9 patients on compassionate use had received Milciclib for a total of 9, 9, 11, 13 and 16 months.
As of 1 September 2019, the remaining 4 patients continuing the treatment are in their 10th, 11th, 11th and 12th months.
Both median TTP and PFS were 5.9 months (95% Confidence Interval ("CI") 1.5-6.7 months) out of the 6-months duration of the trial.
17 of 28 (60.7%) evaluable patients showed 'Stable Disease' (SD; met at least once in an 8-week interval).
One patient (3.6%) showed 'Partial Response' (PR).
18 of 28 (64.3%) evaluable patients showed 'Clinical Benefit Rate' defined as CBR=CR+PR+SD (with CR representing Complete Remission).
Pivotal Trials Have Lead To Big Breakthroughs For Biotech In The Past
Sorafenib® (Bayer) was approved, based on the clinical data from the pivotal Phase 3 (SHARP) clinical trial1, as the first line therapy for naive HCC patients. The clinical data from that study showed median TTP of 5.5 months (95% CI 4.1-6.9 months), CBR of 43% and 71% SD by RECIST criteria1. Conversely, the clinical data from a phase 2 trial with Sorafenib in patients with advanced HCC, showed SD (33.6%), TTP of 4.2 months and median OS of 9.2 months2.
Regorafenib was approved, based on the clinical data from the pivotal Phase 3 (RESORCE) clinical trial3, as the second line therapy for sorafenib-resistant HCC patients. In this study, Regorafenib showed median PFS of 3.1 months (95% CI 2.8-4.2 months), median TTP of 3.2 months (95% CI 2.9-4.2 months) and disease control rate (DCR, similar to CBR) of 65% by mRECIST. On the other hand, the clinical data from a Phase 2 study in patients with intermediate and advanced HCC, Regorafenib showed median TTP of 4.3 months (95% CI 2.9-13.1 months), SD (69%) and PR was 3%4.
"The positive clinical activity and tolerability data of Milciclib in Sorafenib-resistant and advanced HCC patients are very encouraging and provides affirmation for continued development of Milciclib, either as monotherapy or combination therapy."

Dr. Kunwar Shailubhai, CEO & CSO of Tiziana.
Because it can also be combined with TKIs as well as standard chemotherapy agents, Tiziana's treatment could be in position to directly compete with the therapies of some of the biotech sectors biggest companies. What may be more important is that patients often become resistant or unresponsive to certain treatments. According to Tiziana, Milciclib works through a unique mechanism with broad-spectrum action to address the complex heterogeneity in HCC patients. The drug could have the potential for long-term efficacy.
Just think about this for a moment: The global market for liver cancer drugs is estimated to reach $1.47 billion by 2022. The current standard of care drugs is not entirely satisfactory due to low response rates and severe toxicities where Tiziana (TLSA) could be positioned to capitalize.
Just The Tip Of The Iceberg
But keep in mind; Tiziana (TLSA) isn't just focusing on liver cancer. As we discussed, the company has a pipeline of treatments aimed at liver and other diseases. The company's Foralumab could also present new opportunities to address Crohn's disease and indications for NASH – that "small" addressable market we were talking about before.
Tiziana's Foralumab is the first fully human anti-CD3 mAb, which has not shown anti-drug antibody (immune reaction) in humans. Tiziana's proprietary platform technology for oral and nasal administration of mAb's could provide clinical benefits by mimicking the body's natural immune modulation processes and thereby increasing patient compliance.
More importantly…
Foralumab has recently completed a Phase 1 trial at the Harvard Medical School in healthy volunteers to study safety, tolerability and biomarkers of neurodegenerative disease through nasal delivery. The clinical data from this trial will be publicly reported shortly. Why timing could be so important right now for those looking at Tiziana (TLSA).
The company will also be starting an additional Phase 1 trial to evaluate oral Foralumab's safety, tolerability and biomarkers of anti-inflammation in healthy volunteers. While the oral administration of Foralumab is for treatments of Crohn's disease and NASH, the nasal administration is for treatment of neurodegenerative diseases such as progressive multiple sclerosis (pro-MS).
Furthermore, a Phase 2 trial in Crohn's and NASH is expected to commence next year. So, those taking a closer look at Tiziana (TLSA) right now could not only see it in the midst of big progress with its Milciclib but also during a time when Foralumab's progress is just getting started.
"Tiziana's proprietary technology for the oral and nasal delivery of mAb's in general, and Foralumab specifically, have strong potential indications in autoimmune diseases including Type 1 diabetes, Crohn's disease and NASH."

Kunwar Shailubhai, CEO & CSO of Tiziana
If this weren't quite enough to make a point, third party researchers in the peer reviewed journal Crohn's & Colitis 360* point out the immense potential for Tiziana's (TLSA) Foralumab. Titled, "Immunologic alterations associated with oral delivery of anti-CD3 (OKT3) monoclonal antibodies in patients with moderate-to-severe ulcerative colitis," [3] the published study was conducted at some of the leading medical research institutions in the world.
This included Harvard Medical School, Massachusetts General Hospital, and the Ann Romney Center for Neurologic Diseases at Brigham & Women's Hospital. According to the company, these independent findings suggest potential clinical activity and support the safety of monoclonal antibodies (mAb's) when administered orally.
Tiziana Reports Phase 1 Clinical Data Demonstrating Nasal Treatment with Foralumab was Well-tolerated
The trial data also showed that Foralumab a Produced Positive Trend in Biomarkers of Immunomodulation and Anti-inflammation in Healthy Volunteers.
MAJOR HIGHLIGHTS OF THE CLINICAL DATA
Treatment was well-tolerated and no drug-related safety issues were reported at any of the doses.
No drug-related changes were observed in vital signs among subjects at predose, during treatment and at discharge. The mean blood pressure (BP) during the 5 days of treatment were; Cohort A (10 µg/d):124/73, Cohort B (50 µg/d): 119/67 and Cohort C (250 µg/d):113/65 compared to placebo:118/67). Heart rates, respiratory rates and oral temperatures were unchanged among the 3 cohorts compared to the placebo.
Nasally administered Foralumab at the 50 µg dose suppressed cytotoxic CD8+ as well as perforin secreting CD8+ cells, which have been implicated in neurodegeneration in multiple sclerosis (MS).
Treatment at 50 μg stimulated production of anti-inflammatory cytokine IL-10 and suppressed production of pro-inflammatory cytokine IFN-γ.
Taken together, these results suggest stimulation of Tregs that are needed to provide clinical benefits
"The demonstration of the positive immunomodulatory effects provides the scientific rationale to move forward with further studies in the pro-MS population."

Dr. Tanuja Chitnis, the study PI at the Brigham and Women's Hospital
The Company is pioneering oral delivery of mAb's for the treatment of autoimmune and inflammatory diseases that is applicable to the $100 billion market of mAb's that are currently only available through IV delivery!
[NEWS 9/10/19] Tiziana Reports Phase 1 Clinical Data Demonstrating Nasal Treatment with Foralumab was Well-tolerated and Produced Positive Trend in Biomarkers of Immunomodulation and Anti-inflammation in Healthy Volunteers
An End To Humira? Tiziana May Hold The Key To Disrupt A $21 Billion Market
Tiziana (TLSA) could have the first true platform to directly take on a drug that is doing over $20 billion in sales. Abbvie's Humira is incredibly diverse and has become one of the biggest autoimmune blockbusters in recent biotechnology history. But one huge flaw has left the door wide open for Tiziana's (TLSA) lead therapies to capitalize.
In an autoimmune disease, the body's immune system falsely detects and attacks a threat within the body that does not really exist. This can lead to a number of problems and conditions, including rheumatoid arthritis, psoriatic arthritis, ankylosing spondylitis, Crohn's disease, and psoriasis.
Just like Tiziana's Foralumab, Humira is a monoclonal antibody that targets symptoms related to autoimmune disorders. But here's where the opportunity is: The only way to use Humira is intravenously via an injectable syringe or pen. Foralumab can be administered nasally or orally and this simple change in delivery method could set a stage for a strong argument supporting the potential of Tiziana's (TLSA) platform.
But Timing Is Very Important In This Case
The company already has an upcoming Phase 1 trial to evaluate oral Foralumab's safety, tolerability and biomarkers in Crohn's disease and NASH. While the trial is primarily a safety study, it will also evaluate biomarkers for T regulatory cells (Tregs) and anti-inflammation.
Considering the early successes that the drug has already had, there will be a very particular focus on what's next. It will see if there are positive immune-modulatory effects on these biomarkers to ultimately show the true potential of oral treatment with Foralumab. Most importantly, if there is any indication of improvement from a nasally-taken treatment it could be a significant breakthrough for the company!
Up until today, there has never been a fully human anti-CD3 antibody. If they can demonstrate success with their data, Tiziana (TLSA) could become the pioneers of this type of treatment. The big advantage is that the delivery of CD3 antibody through IV is directly associated with toxicity. For Tiziana (TLSA), the possibility of delivery, orally or nasally, it could circumvent the risks associated with the toxicity risk of intravenous delivery methods currently in place.
If Tiziana (TLSA) can demonstrate it can deliver the same fully humanized antibodies in a non-injectable method, it could be a huge breakthrough in science and disease. The potential goes beyond "just a delivery method."
The company also holds patents that include the fully humanized aspect of the technology (versus mouse derived) as well as covering the delivery methods (nasal & oral) which includes existing and approved monoclonal antibodies like Humira and Remicade – TWO BLOCKBUSTER DRUGS!
If Abbvie or Johnson & Johnson wanted to deliver these treatments orally or nasally, they would need to utilize Tiziana's (TLSA) patents. Gabriele Cerrone, the company's Chairman sums it up perfectly, "A lot of people are sitting on the side lines really curious to see if you can deliver an anti-CD3 any other way than injecting. But as soon as we have the data to show it is effective the days of being a [small cap] company are finished."
This comes from a man who is no stranger to successfully founding biotechnology companies. Mr Cerrone co-founded Trovagene, Inc. (NASDAQ: TROV), a molecular diagnostic company and served as its Co-Chairman. He was a Director of and led the restructuring of Siga Technologies, Inc. (NASDAQ: SIGA). Mr Cerrone also co-founded FermaVir Pharmaceuticals, Inc. and served as Chairman of the Board until its merger in September 2007 with Inhibitex, Inc. Mr Cerrone served as a director of Inhibitex, Inc. until its US$2.5bn sale to Bristol Myers Squibb.​
Mr Cerrone is the Executive Chairman and Co-Founder of Gensignia Life Sciences, Inc., a molecular diagnostics company focused on oncology using microRNA technology; Chairman and Founder of Tiziana Life Sciences plc (NASDAQ:TLSA) an oncology focused therapeutics company; Chairman and Co-Founder of Rasna Therapeutics Limited, a company focused on the development of therapeutics for leukaemias; Co-Founder of ContraVir Pharmaceuticals, Inc. (fmr: CTRV now HEPA); and founder of BioVitas Capital Ltd.
So when a man of this stature explains the sheer potential and timing of all of this, it may be prudent to start listening and watching closely.
Elite Team Of Management
Mr. Cerrone is just one very valuable piece of a much large, elite management team behind Tiziana Life Sciences (TLSA).
---
Dr. Napoleone Ferrara
---
Dr Ferrara's research led to the development of the anti-VEGF monoclonal antibody bevacizumab (Avastin®) which was initially approved for the treatment of colorectal cancers, now one of the top ten selling global pharmaceutical products and won the 2010 Lasker Award for his work on VEGF. Dr Ferrara is Senior Deputy Director for Basic Sciences at University of California's Moores Cancer Center in San Diego; and Distinguished Professor of Pathology at the University of California's School of Medicine, also in San Diego.
---
Dr. Howard Weiner
---
Dr. Howard Weiner is the Director and Founder of the Partners Multiple Sclerosis (MS) Center and Co-Director of the Ann Romney Center for Neurologic Diseases at Brigham & Women's Hospital in Boston. The Partners MS Center is the first integrated MS Center that combines clinical care, MRI imaging and immune monitoring to the MS patient as part of the 2000 patient CLIMB cohort study. He has pioneered immunotherapy in MS and has investigated immune mechanisms in nervous system diseases including MS, Alzheimer's disease, amyotrophic lateral sclerosis, stroke and brain tumours. He has also pioneered the investigation of the mucosal immune system for the treatment of autoimmune and other diseases and the use of anti-CD3 to induce regulatory T cells for the treatment of these diseases.
---
Kunwar Shailubhai
---
Kunwar Shailubhai, Ph.D., M.B.A. serves as Chief Executive Officer and Chief Scientific Officer of Tiziana Life Sciences, and is also an Executive Director of the Company. Dr. Shailubhai invented Plecabatide, which was approved by the FDA for GI diseases in 2016. Further, his experience has lead him to top tier biotech companies holding various roles at Rasna Therapeutics, Monsanto Company, and was co-founder, EVP & CSO of Synergy Pharmaceuticals, Inc.
Clinical Stage Biotech Stocks Could Present First-In-Line Opportunity
Anyone can call a blue chip biotech stock a success but were they there when that company was in its clinical stages? If that question were asked to most about Pfizer or Bayer today, the answer would likely be "no."
But there are countless examples of clinical stage companies hitting it big after reporting meaningful trial results. And it's usually the early onlookers who may have the upper hand at capitalizing:
---
Deciphera Pharmaceuticals, Inc. more than doubled after reporting positive top line results from a phase 3 clinical study from $19.95 to as high as $42.99… 115%
---
CorMedix, Inc. Exploded From $6.30 to $13.60 Following Positive Interim Study Results … 116%
---
CEL-SCI Corporation Jumps From $3.00 March 2019 To Nearly $9 Following Series Of Phase Trial Updates… 199%
---
Corindus Vascular Robotics, Inc. Rallies from $0.99 At the Start of 2019 to highs of $4.27 Following Agreement to Be Acquired By Siemens Healthineers Just 8 Months Later… 331%
---
Zynex Rallies From Just $2.60 in January to highs of $11.75… 351%
---
And these are just a few examples of biotech stock catalysts that sent these companies soaring in 2019! While many of the drugs in development are two-to-five years from reaching the market if they get that far, betting on the feverish deal activity could give investors a chance to profit near term.
It doesn't take a rocket scientist to see that biotech catalyst can trigger massive runs, especially in smaller companies. Many small companies developing drugs with a wide variety of approaches across the disease spectrum do not have partners, Tiziana (TLSA) included.
So with the major progress being observed on a number of pipeline therapies, Tiziana (TLSA) may be approaching critical mass as it were. The market for its drugs has become ripe with opportunities and the latest trend in the biotech sector could lead the way for a new groundswell to begin before the end of the year.
With the recent progress that the company has seen from its early trials, the fervent demand for new therapies, and the stampede of investments flooding into the market from major biotech leaders, it may be time to start looking at small-cap biotech stocks before the Main Street rush opens the floodgates.
Top 5 Reasons To Have Tiziana Life Sciences (TLSA) On You Biotech Stock List
1. Major acquisition trends from large-cap biotechs could open near term opportunity for promising drug therapies from smaller cap companies
2. Favorable trial results demonstrate considerable potential from Tiziana Life Sciences (TLSA) treatment pipeline. More near term potential could present itself leading up to Foralumab safety trials & pit it head-to-head with Humira.
3. Additional benefits of Tiziana's (TLSA) therapies extend to other hotbed markets like Diabetes, Arthritis, and liver cancers to name a few
4. The market opportunity for NASH therapy alone concerns a $35 billion market
5. Early stage catalyst for clinical biotech stocks have presented first mover advantages & Tiziana Life Sciences (TLSA) has a number of major milestones that could point toward further clinical developments to come.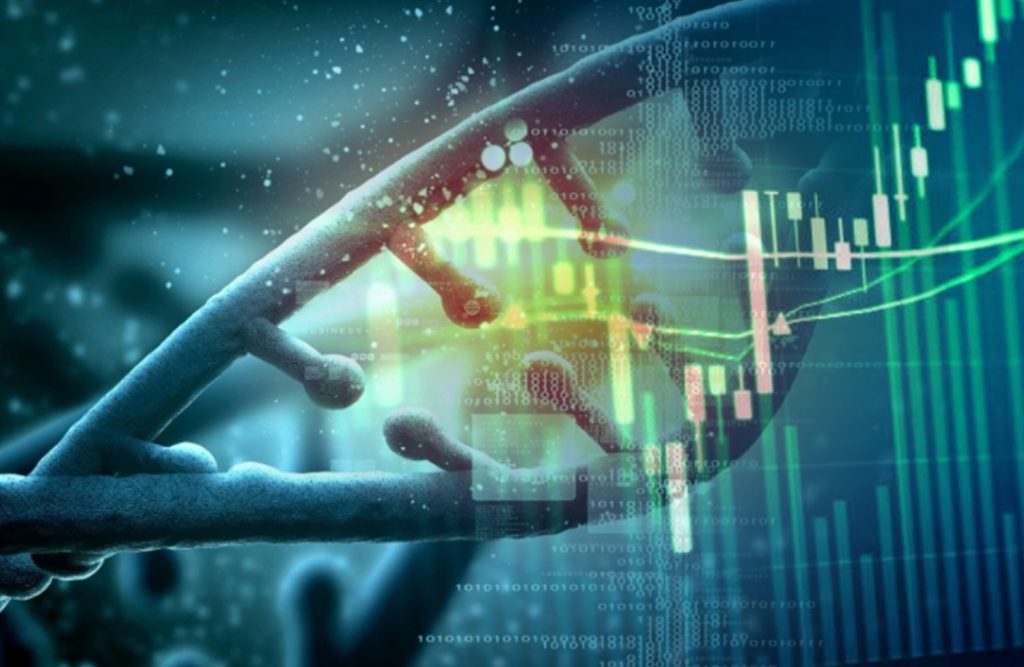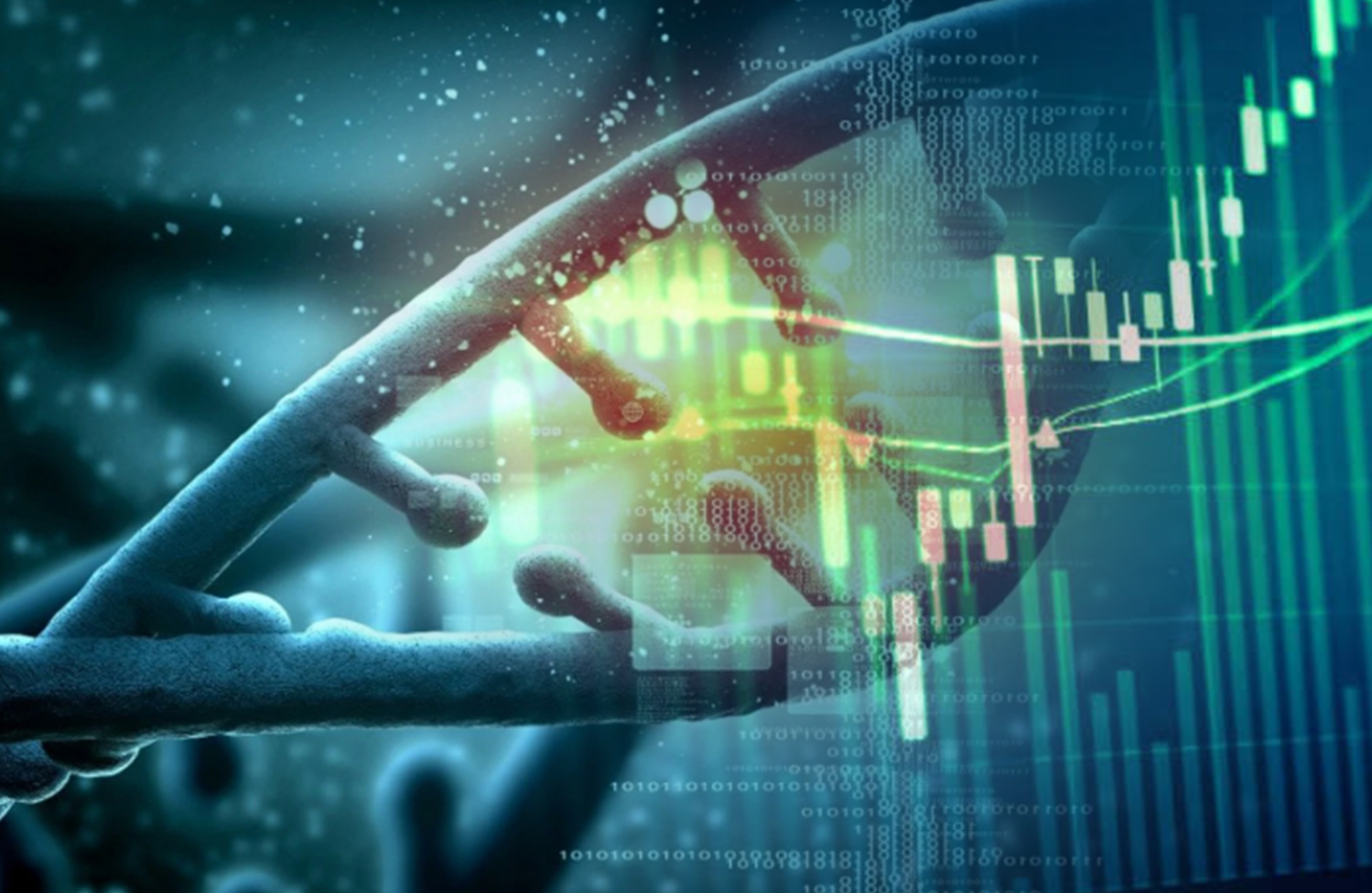 End Notes:
[1]
https://www.niddk.nih.gov/health-information/liver-disease/nafld-nash/definition-facts
[2]
https://www.cnbc.com/2018/12/21/the-35-billion-race-for-a-cure-for-a-liver-disease-that-affects-millions.html
[3] Boden, E. K., Canavan, J. B., Moran, C. J., McCann, K., Dunn, W. A., Farraye, F. A., Ananthakrishnan, A. N., Yajnik, V., Gandhi, R., Nguyen, D. D., Bhan, A. K., Weiner, H. L., Korzenik, J. R., Snapper, S. B
. Immunologic alterations associated with oral delivery of anti-CD3 (OKT3) monoclonal antibodies in patients with moderate-to-severe ulcerative colitis.
Crohn's & Colitis 360 (2019). 183: 240-246.