Renewable Energy Drives Power And Utility Merger Activity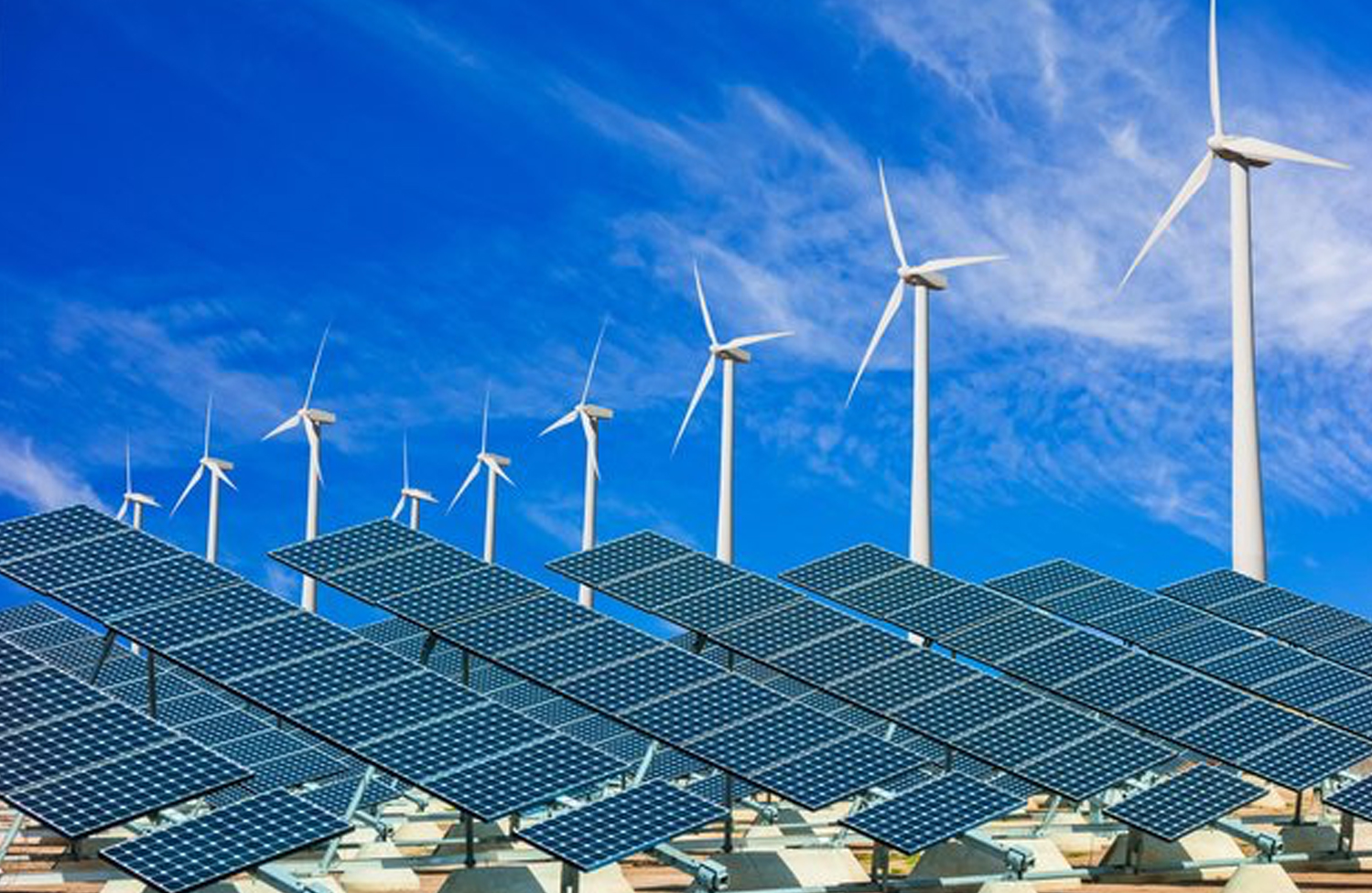 As has been advocated by a range of energy experts across the world, renewable energy could be positioned to go mainstream. More are pushing to save the planet from things like global warming. As of now, the indications are there that at a global level, renewable energy is growing.
According to available data, the renewable energy market was the frontrunner in the global energy market. The biggest reason for the growth was strategic mergers and acquisitions. It is a particularly significant development. The fact remains: mergers and acquisitions have largely slowed down across the world within the industry.
Renewable Energy
According to a report by global consultancy firm Ernst & Young, "Power Transactions and Trends for the first fiscal quarter of 2019," renewable energy mergers and acquisitions grew at an impressive rate. The total value of mergers and acquisitions rose by $3.7 billion from the fourth quarter of 2018.
It is noteworthy that the mergers and acquisitions in this niche accounted for a whopping 61% of all deals in the power and utility industry in Q1 2019. At the same time, mergers and acquisition activity had declined at a global level in the quarter. This decreased by as much as 33% from the $20.4 billion in Q4 2018.
Confidence
Despite the overall decline in the merger and acquisition activity, executives are confident that things will pick up soon. According to an industry-wide survey, 92% of the executives believe that economic growth at a global level is going to increase. The same percentage of executives also think that the power and utility sector itself will grow in the coming months.
It's far more important to point out that 97% of the respondents in the survey stated that they are going to make major investments this year. Much of that might go towards modern technology.
Enphase Energy (ENPH) Is The Stock Of The Year: Is It Time To Sell?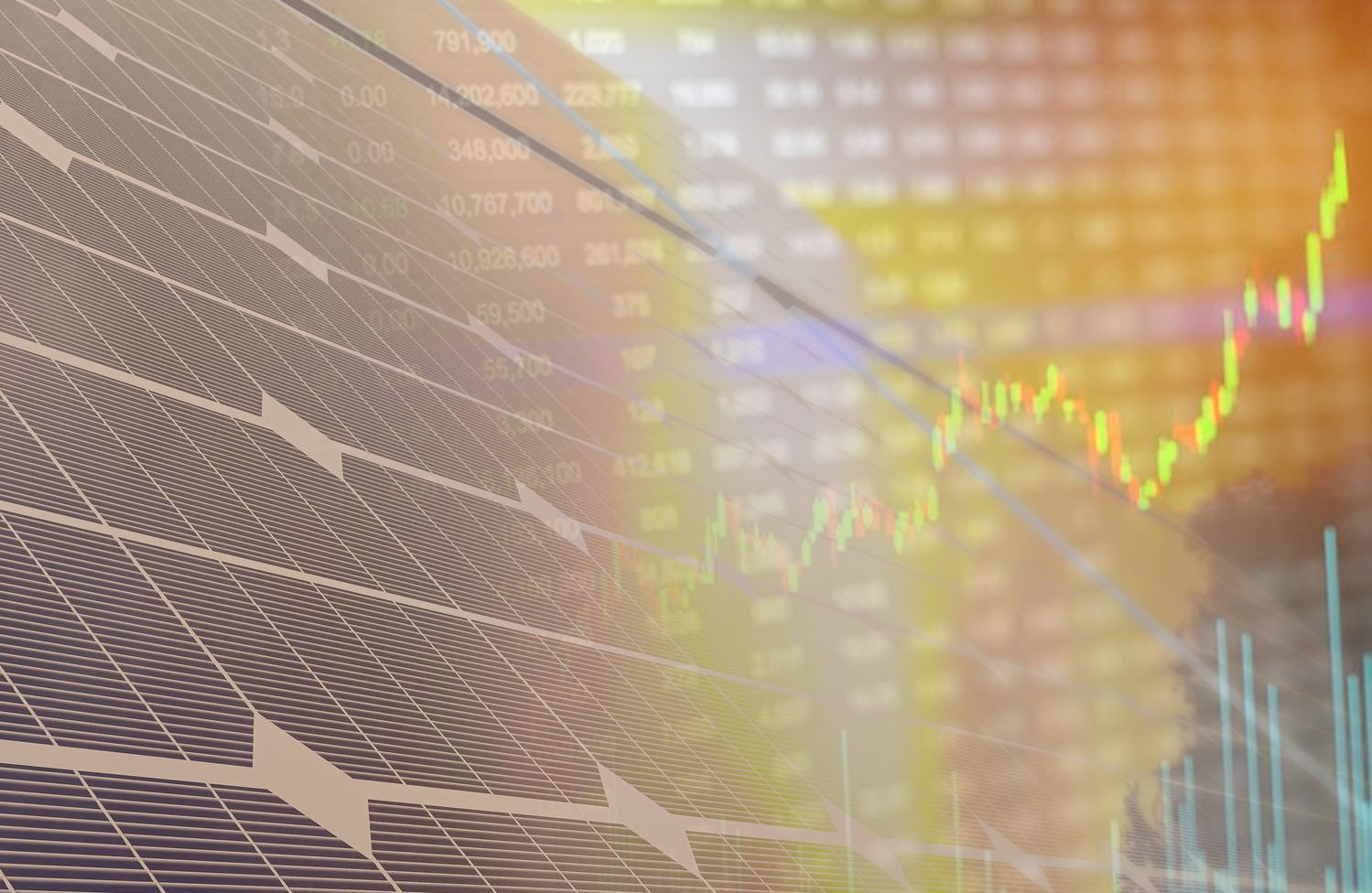 Enphase Energy Inc. (ENPH Stock Report) is poised for a promising future since it provides basic technology in the development of a final product in the solar panel industry. With the energy industry shifting into renewable energy there is much potential to leverage.
Therefore investors should be keen on Enphase stock because of the potential presented but they have to consider the following factors before making a decision to buy:
Enphase Stock Price Skyrockets On Big Catalysts
The company produces micro-inverters which are very crucial in the solar panel industry. There is huge potential in the market and according to the US Energy Information Administration, the solar industry is expected to grow by around 50% by 2050 and lead the rest of renewable energy sources.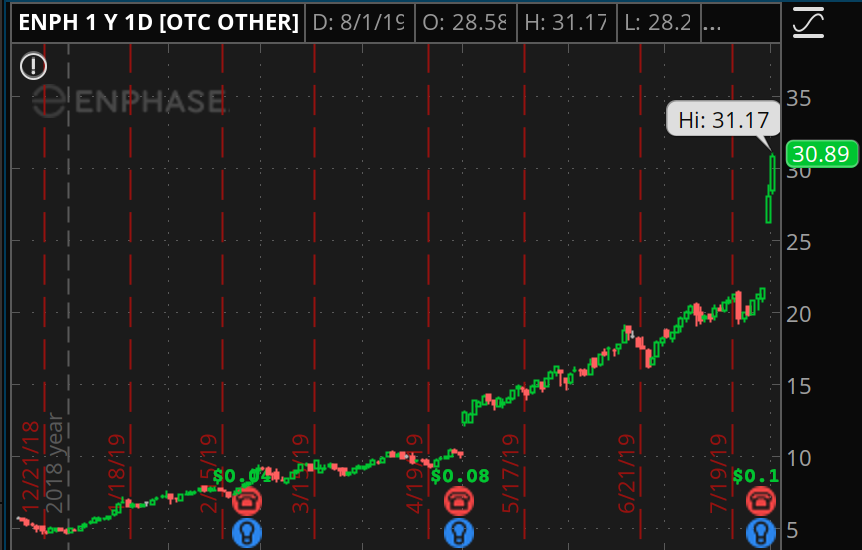 After hitting a wall in 2016 because of operational discipline and lack of finances the company has turned a leaf by having a new CEO as well as reviewing the production and sales strategy. It had a strong 2018 with revenue increasing by 10% and adjusted earnings of $0.10 per share. The trend continued to 2019 and the company saw a 100% growth in adjusted earnings in Q1.
Performance of Enphase Stock Price
Enphase's stock price has been performing well. So far it's up over 460% since the beginning of this year. For investors, they have to assess the risk-reward balance of the stock. Also the possibility of Wall Street getting ahead of itself.
Read More
The Future Of Drug Delivery Has Biotech Investors Focusing On One Small Company
GrubHub (GRUB) Stock Gains Momentum On Mega Deal: Time To Buy Food Delivery Stocks?
In terms of valuation, you can't use price-to-earnings as your guide. That's because the company has been profitable. This leaves them not so promising price-to-sales as a valuation metric.
Enphase Energy might have turned a new leaf. It's expected to have a strong 2019 if the performance in Q1 is anything to go by. However, ENPH stock is already showing overbought technical indicators.
This, of course may be worrying considering this upturn happened in a short span. There is so much hype regarding the stock without focusing on underling numbers. As an investor, would you rather sit and watch the stock or jump in at all time highs? The choice is yours.
Oil Stock Prices Soar: Is Crude Oil Back In The Bull Trend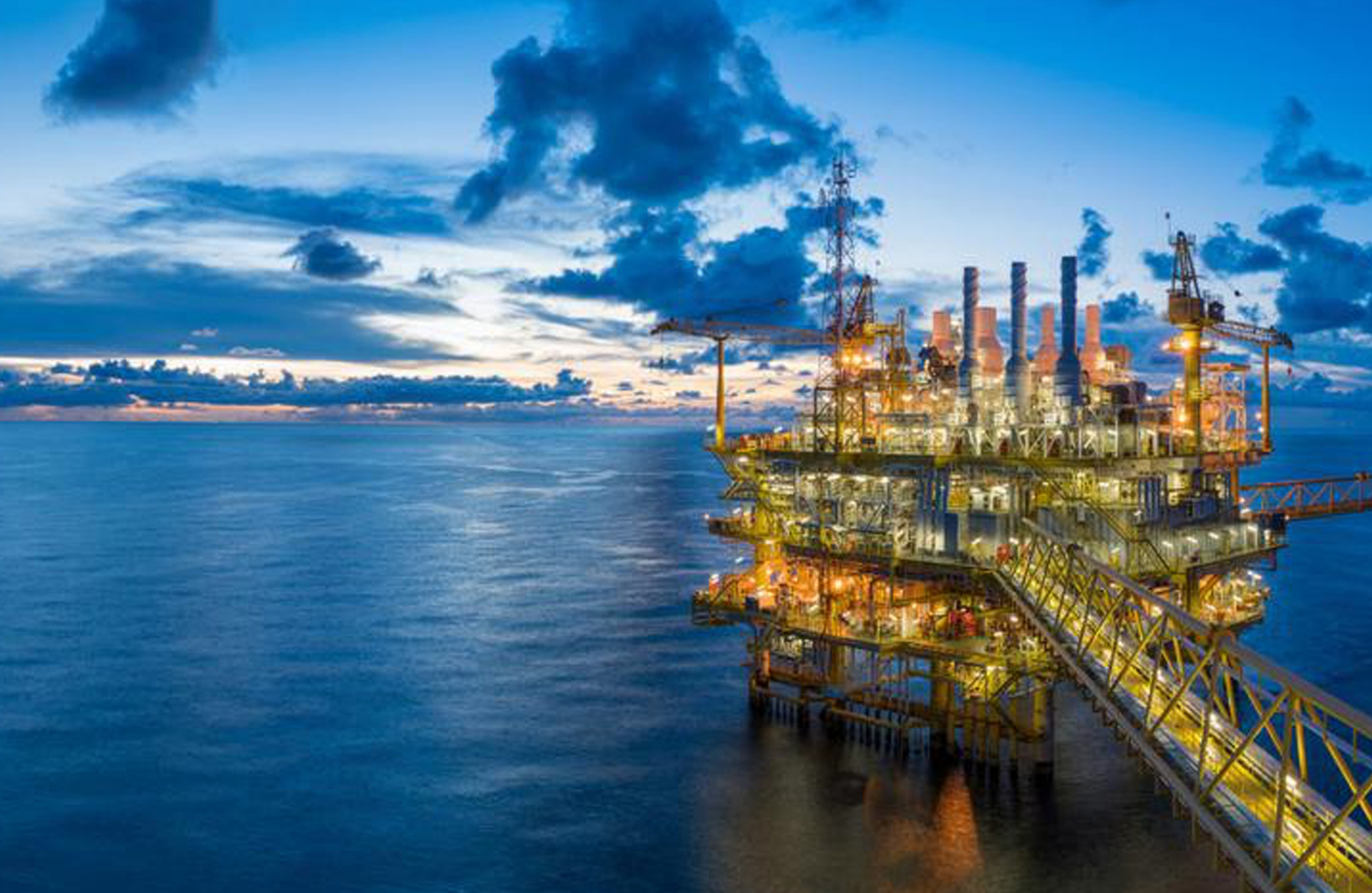 On Tuesday, the prices of some of the better known offshore oil drilling stocks soared and some of the stocks managed to gain as much as 10%. Some of the biggest gainers in the sector included Transocean, Diamond Offshore Drilling (DO Stock Report), Transocean Ltd (RIG Stock Report) and Noble Corporation (NE Stock Report).
There are some factors which are responsible for the rise in these stocks. One of those is the improved outlook among investors about the economy, while the other factor is related to Transocean's financial results, which managed to beat analysts' estimates comfortably.
Oil Prices Jump 2%
The rise in oil prices usual has a big effect on offshore oil drilling stocks. On Tuesday, the price of oil rose by a hefty 2%. Oil traders across the world now have a positive outlook about oil prices since the Federal Reserve cut rates. That is almost certainly going to turbocharge economic activities.
---
[Report] Oil Isn't The Only Thing That Could Get A Boost From This Fed Decision
---
Consequently, oil demand is going to rise and the price of oil could rise further. Oil producers are going to spend more on drilling activities on the back of better margins. With higher demand, it's only natural that offshore drilling companies' shares have gone up.
Major Trigger For A True Bull Market?
On the other hand, the better than expected results posted by Transocean also proved to be a major trigger. Analysts believe that the company could do even better in the upcoming quarters. That has created optimism about the wider offshore drilling industry.
Analysts now believe good times might be approaching for some of the main offshore oil drilling companies. This could result from the rate cut by the Federal Reserve and the expected rise in oil prices, . However, oil prices can be extremely fickle. Therefore many other factors could end up affecting prices negatively.
---
Like This Article? Check Out: Gold Prices Have Investors Scrambling & Analysts Clamoring For Junior Gold Stocks
---
Solar Energy Stock Prices See Brighter Future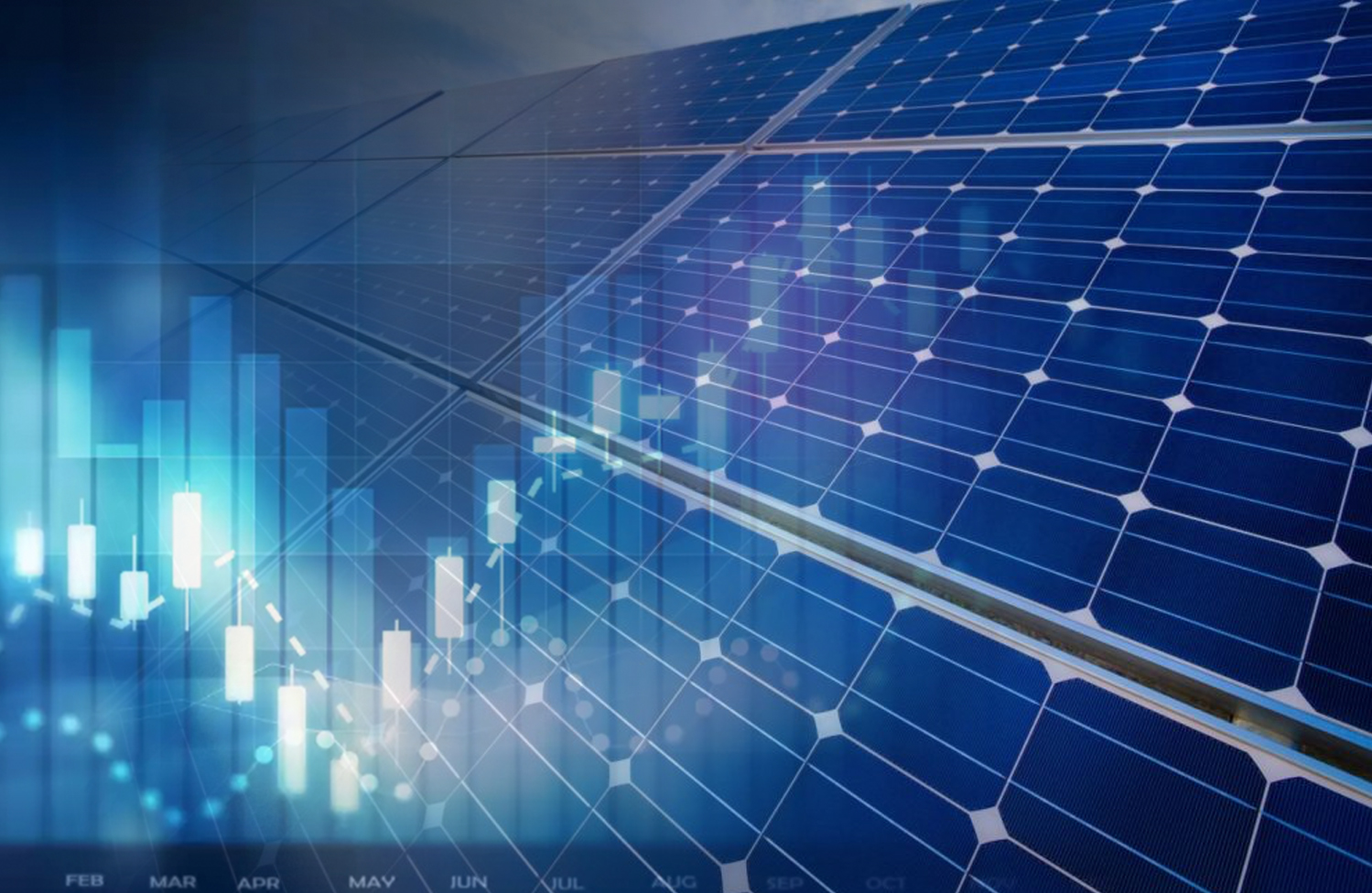 The future for solar energy plants and industry looks bright (no pun intended). Even after the government's inclination towards fossil fuels and the high tariff rates levied, Q1 of 2019 saw a 10% rise in the installation digits to 2,674 megawatts of Solar.
A report- Solar Market Insight Report 2019 Q2 – was published by SEIA and Wood Mackenzie Power & Renewables. It shows how solar power has set a record for itself, strengthening the residential and utility-scale projects. States have been actively installing solar; take, for instance, Florida, which installed the biggest percentage of solar in Q1.
---
---
NextEra Energy (NEE – Stock Info)'s subsidiary, Florida Power and Light was one of the major reasons for this high installation rate. This happened after the announcement of procurement of 1,500 MW of solar. The company plans to expand this installation number to 10,000 MW by 2030. This implies a new market development possibility.
The Increasing Sales Figure Might Set Another Record
On the other hand, California used to lead for solar installations, but it reported a 538 MW installation figure in Q1. While in 2017 and 2018, California had accounted for 2,599 MW and 3,396 MW solar installations respectively, Florida had installed a total of 758 MW in 2017 and 857 MW in 2018.
Thus, the sudden boost in the Floridian install came as a pleasant surprise but the residential and commercial solar is yet to show such progress in Florida. With the solar leasing being pushed to next year and the push back on net metering by utilities, Florida still has a long way to go.
Residential solar installation alone rose by 6% as compared to the previous years' figures. A total of 603 MW of solar was installed in Q1. This helped companies like Sunrun (RUN – Stock Info) and Vivint Solar (VSLR – Stock Info) make it through its difficult conditions. Utility Solar, on the other hand, with installation count of 1,633 MW, is also skyrocketing.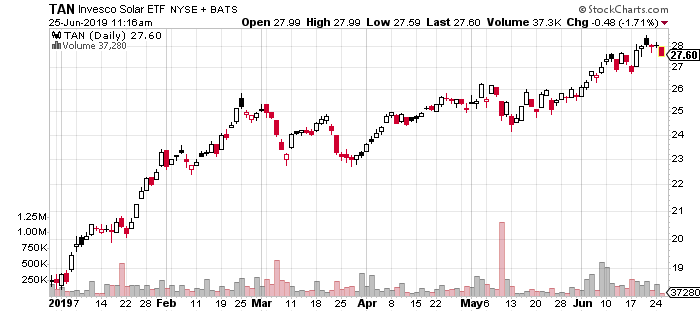 Florida seems to have been a significant contributor to this figure. The boom in utility-solar has changed the projected installations for the state. This went from 6,000 MW to 9,000 MW expected over the next five years. Meanwhile, nationwide the forecasted figure increased by 1,200 MW in 2019.
What Does The Future Hold?
The sales and marketing cost have been high and been one of the major roadblocks in the industry's growth. The commercial solar, however, remains a major concern. With the policy changes in California, Minnesota, and Massachusetts affecting the industry, the installation of solar decreased by 18%. This total was only 438 MW.
The increased demand for solar is a benefit for the companies. Solar-panel provider giants like First Solar (FSLR – Stock Info) and SunPower (SPWR – Stock Info) could greatly benefit. The companies look forward to an enthusiastic surge in demand. Even companies like Sunrun, Vivint Solar and SunPower have gained with the growing volumes of residential installing solar.
After two hard years of policy headwinds, this came as a hopeful rescue for the companies. The higher volumes promise a better future for the stocks of the companies.

Join Our Newsletter
Get stock alerts, news & trending stock alerts straight to your inbox!
We keep all user information pricate & promise to never spam.*
Search Stock Price (StockPrice.com)