Over the course of 2019, streaming platform provider and device manufacturer Roku Inc (ROKU Stock Report) has gone from strength to strength as its subscriptions went to new heights. Consequently, the stock has also been on a tear and perhaps that is the reason why the company has decided to expand the offerings with regards to its home audio products.
[SPECIAL REPORT] MULTIBILLION DOLLAR MARKETS ARE READY FOR A SHAKE-UP; 1 STOCK COULD HOLD THE KEY
Another Big Boost For ROKU Stock Price?
It has come as a surprise for many since it's streaming platform has been the biggest driver of growth for the company and in fact, Roku had itself decided to decisively move away from the device market.
Despite all that, Roku announced on Thursday that it is going to launch two new home audio products. Here is a closer look at the development.
The two products in question are a Wireless Subwoofer and a Smart Soundbar. Both products have been priced at $180. The Soundbar is an interesting product which is equipped with automatic volume leveler and also supports music streaming with a resolution of up to 4K. The Subwoofer, on the other hand, will deliver a better bass sound and is supposed to be a complementary device to the wireless speakers that the company had launched in 2018.
[SPECIAL REPORT] MULTI-BILLION DOLLAR MARKETS ARE READY FOR A SHAKE-UP; 1 STOCK COULD HOLD THE KEY
With its latest products, Roku is trying to enter a market which is getting increasingly crowded and the competition is going to be intense. Companies like Sonos and Bose have already established themselves at the top of the pyramid, while Amazon and Nebula have also entered the market with their own domestic sound systems.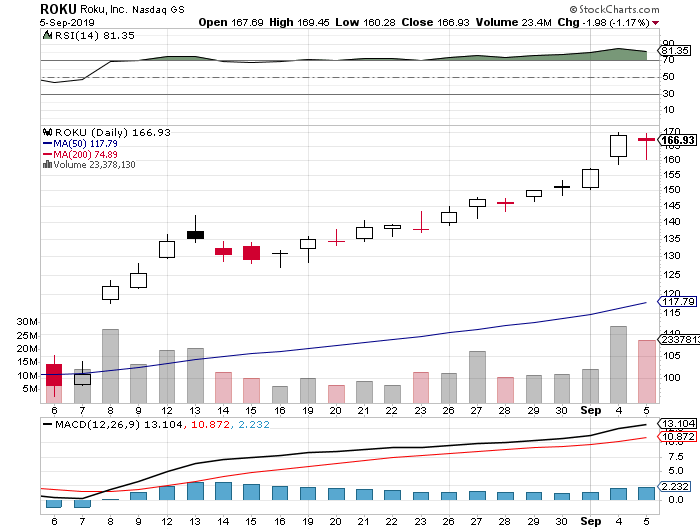 If Roku wants to get a foothold in the market, then it would need to fight off such competition. That being said, Roku is still at the top of its game at the moment and in the Q2 2019 report, it reported that the company had as many as 30.5 million registered accounts. If the company can leverage that user base, then it could be a big boost for its sound device business.
ROKU stock price jumped 7.67% to $168.91 in Wednesday's session and made an all-time high of $169.70 earlier in the session. The stock is up an impressive 400% so far in 2019.
[SPECIAL REPORT] MULTI-BILLION DOLLAR MARKETS ARE READY FOR A SHAKE-UP; 1 STOCK COULD HOLD THE KEY