OTTAWA — The Canadian Union of Postal Workers said in an official statement late Tuesday that it has given strike notice to Canada Post, a company that functions as the primary mail provider in Canada. If American postal workers are some of the kindest individuals in the public sector, I can only imagine the severity of whatever is causing the union to strike. 
The Canadian Union of Postal Workers (CUPW) represents nearly 50,000 Canadian postal workers across the country. In their official press release, the union stated that if their demands are not met, "rotating strikes will begin at 12:01 am, Monday, October 22. Locations have yet to be determined. "
As for their demands, the CUPW claims Canada Post needs to address issues of "health and safety, gender equality and preserving full-time, middle-class jobs," says Mike Palecek, CUPW National President. The union has been reportedly pushing for 3.5% annual wage increases but has been met with offers far below inflation, Palecek added. 
"Our goal is still negotiated settlements with no postal disruption. This week is Canada Post's chance to make that happen-Mike Palecek, National President Canadian Union of Postal Workers 
Canada Post spokesman Jon Hamilton, in response to union strike threats, said in a statement that the postal service has found common ground with the union before, with issues far more severe than this, and he confident a resolution will be found. 
Hamilton also assured the Canadian public that the postal service will still be operational in the event of a strike, as Canada Post is the largest parcel service company in Canada. 
The CUPW's decision to advocate for their rights and strike, while important, comes at a very inconvenient time for many industries in Canada, notably the cannabis industry. 
On Tuesday, at 12:01 am, distribution and use of recreational marijuana became legal for Canadian citizens, ending almost a century of prohibition. While many cannabis consumers are ecstatic about the news, individuals living in communities without retail cannabis shops have little to no access to the product. 
It was at this moment, cannabis producers had a revelation. We can get more products to consumers if we offer delivery services through the Canada Post. Game changer. 
According to the British Columbia Liquor Distribution Branch (BCLDB), the organization partnered with Canada Post to deliver cannabis. As far as the terms of the contract, customers will be responsible for a $10 shipping fee when ordering, and their orders will be shipped directly from the LDB's warehouse within 48 hours of order submission. Ironically, or not, on the first official day that cannabis is recreational legal, the Canada Post decides to go on strike. Canada Post hasn't officially stated that their demanded issue changes have any relation to cannabis distribution responsibilities. 
While the Canada Post, the Postal Workers Union, and the BCLDB get their affairs in order, other companies in the space are implementing creative solutions to deliver the quality product to consumers. 
Enter Choom (CHOOF),  an "emerging adult use cannabis company" which has secured the rights to 52 retail opportunities across Western Canada, with 29 "highly strategic and sure locations" around the province.
Choom (CHOOF) has worked tirelessly to create their best-in-market retail storefront brand in the Canadian adult use market and officially announced in September, that they entered into a distribution agreement with ParcelPal Technology Inc. ("ParcelPal") (PTNYF). 
Step aside, Canada Post, and let the real cannabis players get their hands dirty. Gone are the days of standing for hours in line for your lunch, rushing to the store after work to grab your clothes, and now, waiting for Postal Workers Unions to settle their grievances. 
ParcelPal (PTNYF), the pony express built for the digital age that Canadians have waited for, offers "on-demand delivery of merchandise from leading retailers, restaurants, liquor store and," as of 12:01 am on Tuesday, medical and recreational marijuana. 
"We recognize the importance of utilizing the existing technology of ParcelPal's mobile app in concert with their outstanding track record of home delivery execution. We believe this will provide an exceptional customer experience and we are excited to offer this to our valued customers upon the upcoming rollout of our retail strategy."

–Chris Bogart President and CEO Choom
As for the legality of cannabis delivery, ParcelPal (PTNYF), in partnership with Choom, will be held to the same standards as Canada Post. Upon delivering your product, you will need to show proper identification indicating that you are nineteen years or older. 
I wish the Canadian Union of Postal Workers the best of luck in their organizing and hope that Canada Post takes their demands seriously. If either party starts to get stressed, no reason to panic. Choom (CHOOF) delivers.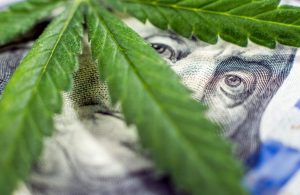 ---
Disclaimer: Pursuant to an agreement between MIDAM VENTURES, LLC an affiliate of JSG COMMUNICATIONS LLC, MIDAM VENTURES LLC. has been compensated $75,000 per month for 3 months by a ParcelPal Technology, Inc. for a period beginning September 1, 2018 and ending December 1, 2018 to publicly disseminate information about (PTNYF/PKG) to publicly disseminate information about (PTNYF/PKG). We may buy or sell additional shares of (PTNYF/PKG) in the open market at any time, including before, during or after the Website and Information, provide public dissemination of favorable Information. We own zero shares. Midam has been paid $80,000 from Choom Holdings and 200,000 restricted common shares of Choom Holdings for a duration of 4 months beginning May 14, 2018 and ending September 14, 2018. We may buy or sell additional shares of (CHOOF) in the open market at any time, including before, during or after the Website and Information, provide public dissemination of favorable Information. Click Here For Full Disclaimer