Trump & Kanye Make Lunch Great Again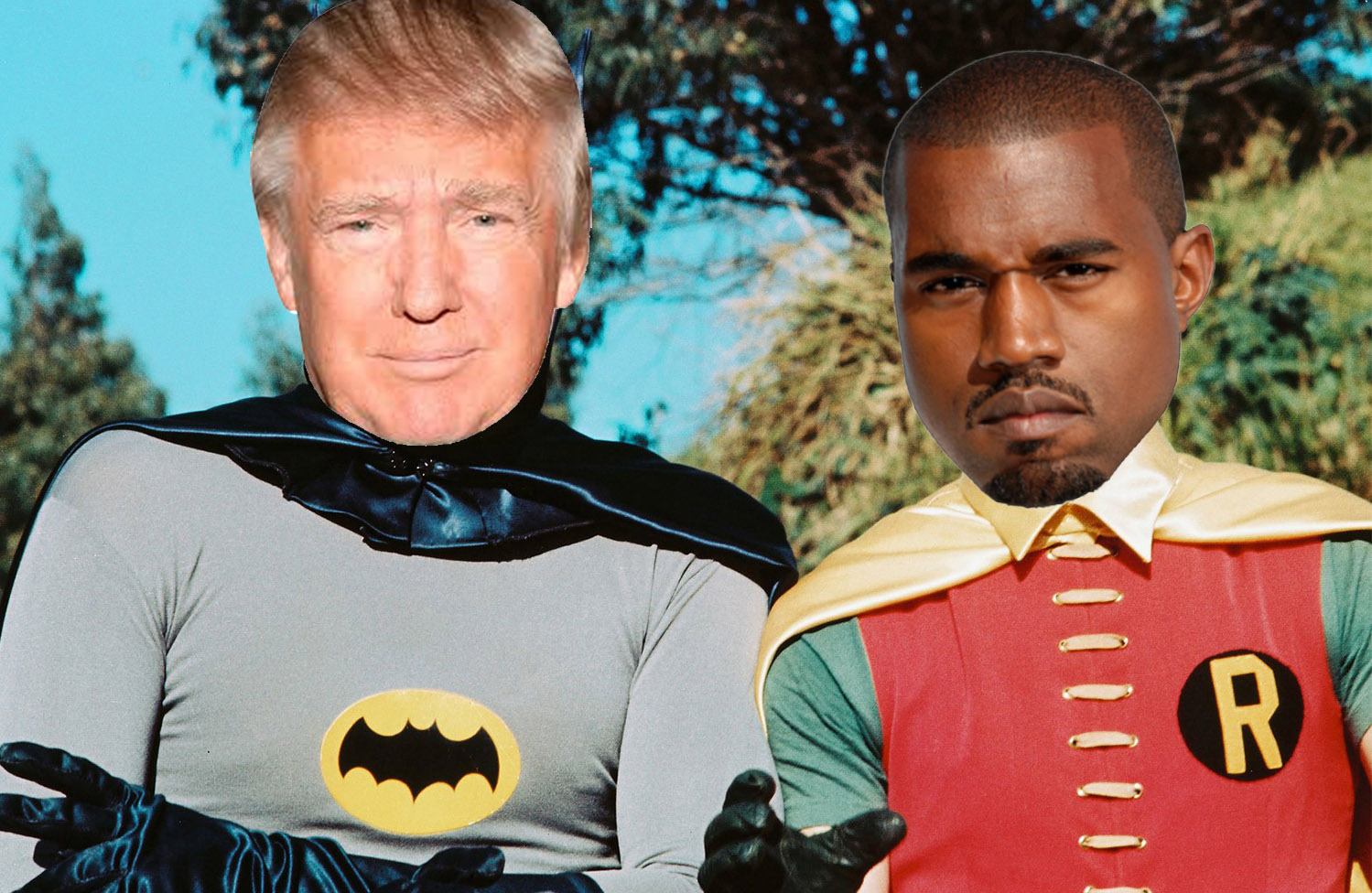 It began with Samson and Delilah, the original gangsters of power partnerships. Many years later, the world delivered to us Batman and Robin, and we thought we had everything we ever wanted. Society gave us hundreds of tandem titans, dynamic duos, double troubles (the right kind), it was a great time to be alive. We thought we had hit the goldmine, but then came perhaps the most exceptional combination in modern history, Peanut Butter and Jelly. This mind-boggling combination of the salty, nuttiness of a peanut, paired with the sweet, gelatinous preserve of a grape, was too much for the world to handle. We peaked, the most magnificent duet ever performed on the global stage, and it tasted incredible. 
Maybe we grew too comfortable, the follies of Abbot and Costello were a mere distraction from something coming over the horizon. A duplet headed our way, one that was as shocking as it was perplexing; President Donald Trump and rap artist Kanye West. The world's greatest minds have left their life's work behind to decipher the machinations of this pairing. 
Kanye West, music producer, rapper, and creator of some of most significant records of the last two decades shares President Trump's adoration of Twitter (TWTR) as an outlet for whatever seems to be on his mind. Last April, Kanye tweeted his admiration of his good friend, President Trump:
"You don't have to agree with Trump but the mob can't make me not love him. We are both dragon energy. He is my brother. I love everyone. I don't agree with everything anyone does. That's what makes us individuals. And we have the right to independent thought."
President Trump returned the love by sending Kanye a "Make America Great Again" (MAGA) baseball cap, which Kanye immediately wore and took a photo to share on Instagram (FB) and Twitter (TWTR) accounts. 
Months of healthy communication," man-dates," and sleepovers later, Kanye and President Trump are set to meet at the White House on Thursday for lunch. According to CNN, West requested the meeting with the President to discuss the many societal issues plaguing America that he is passionate. The topics of discussion for lunch, White House press secretary Sarah Sanders said in a statement, "will include manufacturing resurgence in America, prison reform, how to prevent gang violence and what can be done to reduce violence in Chicago." 
Kanye hopes to discuss two major issues during his White House playdate: job opportunities for ex-convicts and ways to increase manufacturing jobs in and around his hometown of Chicago, CNN reports. West and Trump will not be alone at this lunch meeting, NFL star and civil rights activist, Jim Brown, will also be in attendance. Brown has met with the President before to discuss the many issues facing African-Americans in our country. Evidence found by the Sentencing Project, a Washington, DC-based group that advocates for prison reform, suggests that "one in every three black males born today will be incarcerated in their lifetime, along with one in every six Latino males, and one in every 17 white males." This upsetting truth depicts the life of black males living in America. Just because of the color of their skin, they have a 33% chance of ending up in prison. Kanye West and Jim Brown, both of whom are African-American males, are incredibly passionate about bringing an end to this systemic issue. 
President Trump on Thursday before his lunch meeting with West described West a both a "very different guy" and a "genius" who will be a great asset in reforming the prison industrial complex in America. 
"He's a very different guy, I say that in a positive way. Those in the music business say he's a genius, and that's okay with me."

– President Donald Trump
I am less curious about the proposed topics West, Brown, and the President will discuss during their meeting, but rather, what is on the menu for their meal. My best guess is peanut butter & jelly sandwiches. 
Stan Lee Dead at 95, The Greatest Hero In The Marvel Universe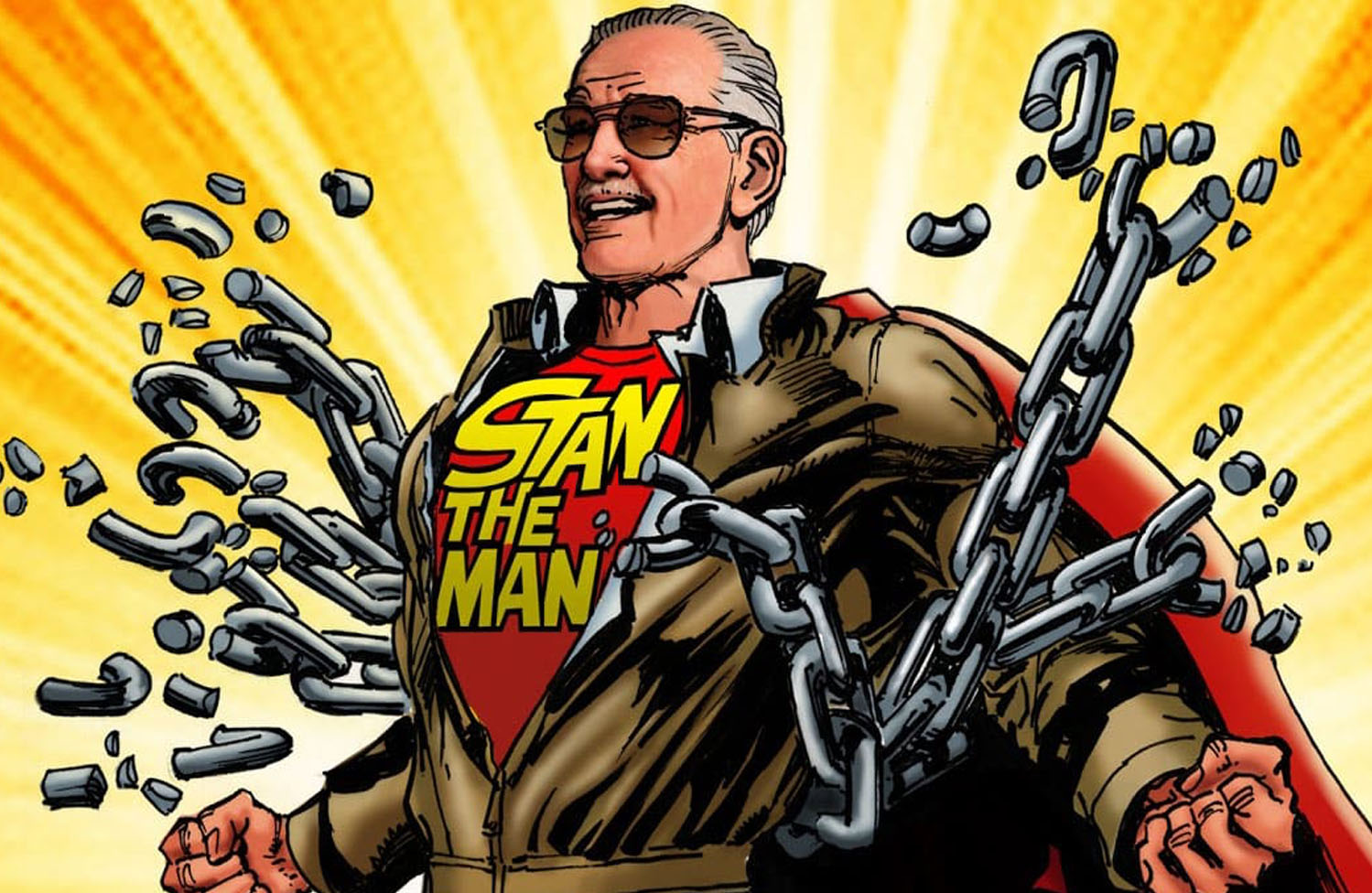 As a kid, I wanted, more than anything, to have super powers. When I'd take my dogs for an evening walk, I would make sure that no one was watching me, channel all the strength I could and I would jump in an effort to fly. I'm well aware that this is both comical and ridiculous, but super heroes represented something more to me than beings with incredible abilities. Name any super hero and each and every one of them firmly believed in ridding the world of evil doers and bad guys so that we could live life to the fullest in peace. The hero archetype has existed for thousands of years, first appearing in greek mythology amidst tales of great heroes defeating terrible monsters threatening life as we knew it. 
Stanley Martin Lieber, famously known as "Stan Lee," believed in superheroes and knew the impact their stories had on people of all ages, colors, and creeds. It is with a heavy heart that I inform you that the mastermind behind Marvel Comics died today. TMZ reports that Lee had been sick for quite some time and passed away in the arms of loved ones at Cedars-Sinai Medical Center in Los Angeles, California. 
Lee started his career in comics back in 1939, working as an assistant at the Timely Comics division of Pulp Magazine. In an interview many years later, Lee recounted that "in those days [the artists] dipped the pen in ink, so I had to make sure the inkwells were filled. I went down and got them their lunch, I did proofreading, I erased the pencil from the finished pages for them." Suffice to say his beginnings were anything but lavish. 
Some years later, Lee teamed up with Jack Kirby to create Marvel Comics, featuring the Fantastic Four as the first group featured in one of their comics. Lee and Kirby would go on to create the Hulk, Thor, Iron Man, X-Men, Spider-Man, and Captain America. 
Stan Lee did much more than create perhaps the most prophetic alternate to our dismal reality. When Spider-Man defeated the Green Goblin, children felt empowered to stand up to schoolyard bullies. If Tony Stark, Iron-Man's alter-ego, designed technology to save the world from a natural disaster, someone reading the comic in a third-world country was filled with hope that, maybe someday, they could help the world like Mr. Stark. Lee's Marvel heroes showed us that we could be the person the world said we couldn't, stand up for what we believed in, and, in our heart of hearts, feel truly super. 
Wherever we end up when we pass, I hope Stan Lee is right there, being praised for inspiring generations of real-world heroes. 
With great power comes great responsibility, and Stan Lee owned that privilege and created something truly remarkable. 
May he rest easy as the most powerful superhero in the comic universe. 
What You Missed "Weekend Edition" 10/15/18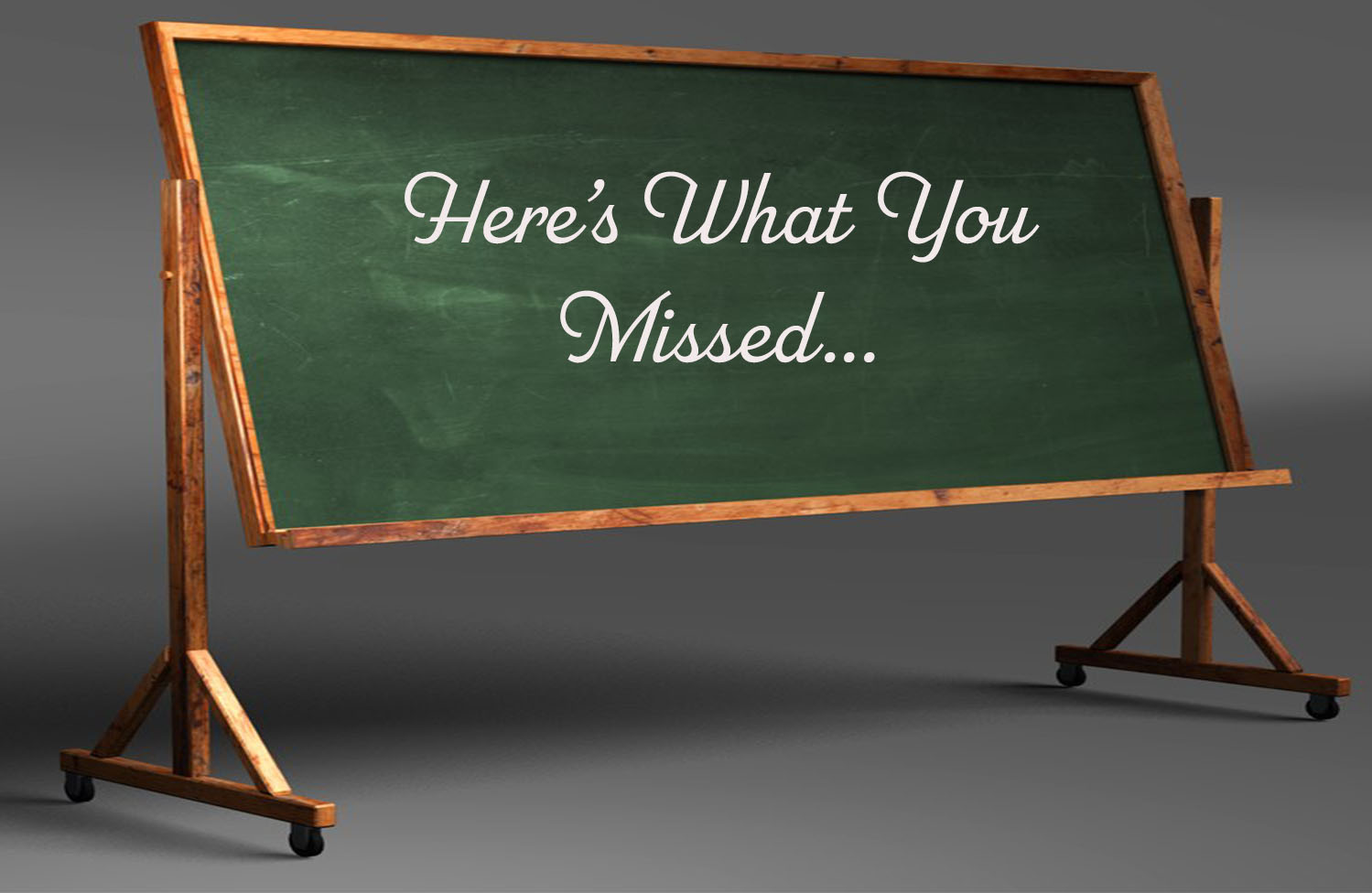 Before we begin, I wanted to ask if any readers recently lost a rule of one hundred dollar bills wrapped in a rubber band. Well, we found the rubber band and would love to return it to you. 
Was it yours? Oh, well, here's a special edition of what you missed from the news over the weekend.
Goodbye, Old Friend
Sears has officially said, "farewell," filling for Chapter 11 bankruptcy early on Monday.  After 132 years, the once-dominant retail store is no more. The original department store came to life at a time when rural American demand for goods was met with unaffordable retail costs, and Sears built its entire business around affordable, quality, wholesale product. With the advent of stores like Target, Ikea, Nordstroms, and so on, Sears couldn't compete. 
As of the filing, about 700 stores remained open and the company employed 68,000 workers. That's down from 1,000 stores with 89,000 employees that it had recently as of February, CNN reports. 
Although retailers typically file for bankruptcy to save their businesses, some companies pass the point of no return and end up going under. Stores like RadioShack, Toys "R" Us and Sports Authority are several examples of this fate. 
Where In The World Is Jamal Khashoggi?
For those of you unfamiliar with the name in the catchy header above, let me briefly fill you in. Jamal Khashoggi is a Saudi Journalist who moved to the US to work as a columnist for The Washington Post. Up until recently, he was practically family with the Saudi royals but has since become a harsh critic. About two weeks ago, Khashoggi visited the Saudi consulate to file paperwork to marry his new fiancee, whom he said: "just chill in the car, I'll be right back." He has never returned. 
Reports have been released, by Turkey, that Khashoggi was killed by a "15-person Saudi hit squad" while inside the consulate. The Saudi Government says that Khashoggi picked up the paperwork and walked out the front door. 
The US, the person at the party who always seems to have an opinion, threatened "severe punishment" if Saudi Arabia ends up guilty for the alleged murder of Khashoggi. 
How is Jared Kushner Similar To A Kilt?
Both are trying to skirt. Budum, pshh. This weekend, reports came out that Kushner has figured out how to "skirt" federal income taxes because of depreciation. To make it simple, you can report a property-related loss as a deduction for your tax filings, and if you make "less" than the loss, you may even be refunded. In the case of Kushner, in 2015, he reported $1.7 million in salary but listed $8.3 million lost to "significant depreciation" to the owned real estate, thus decreasing taxes owed.  
What Kushner has managed to do is legal. Where it gets a bit fishy is this report comes less than two weeks after his daddy (in-law), President Trump, allegedly committed tax fraud. 
A School Founded In 1683 Is Racist? What? No….
Well, yes. Harvard University, perhaps the most iconic university in the world, is on trial for whether the institution is illegally discriminating against Asian-American applicants. The group, Students for Fair Admissions, has accused the school of holding the Asian-American population to higher standards than students of other races. 
The lawsuit alleges that Harvard practices "racial balancing," essentially working to maintain a certain distribution of each race on campus, Associated Press reports. Harvard, naturally, denies the accusations and insists the plaintiffs have yet to provide any concrete evidence of this discrimination. 
"Look, if you were the inventors of Racebook, you'd have invented Racebook."

– Mark Zuckerberg (Jesse Eisenberg) The Social Network 
Ratajkowski and Schumer Protest Kavanaugh, End Up In Cuffs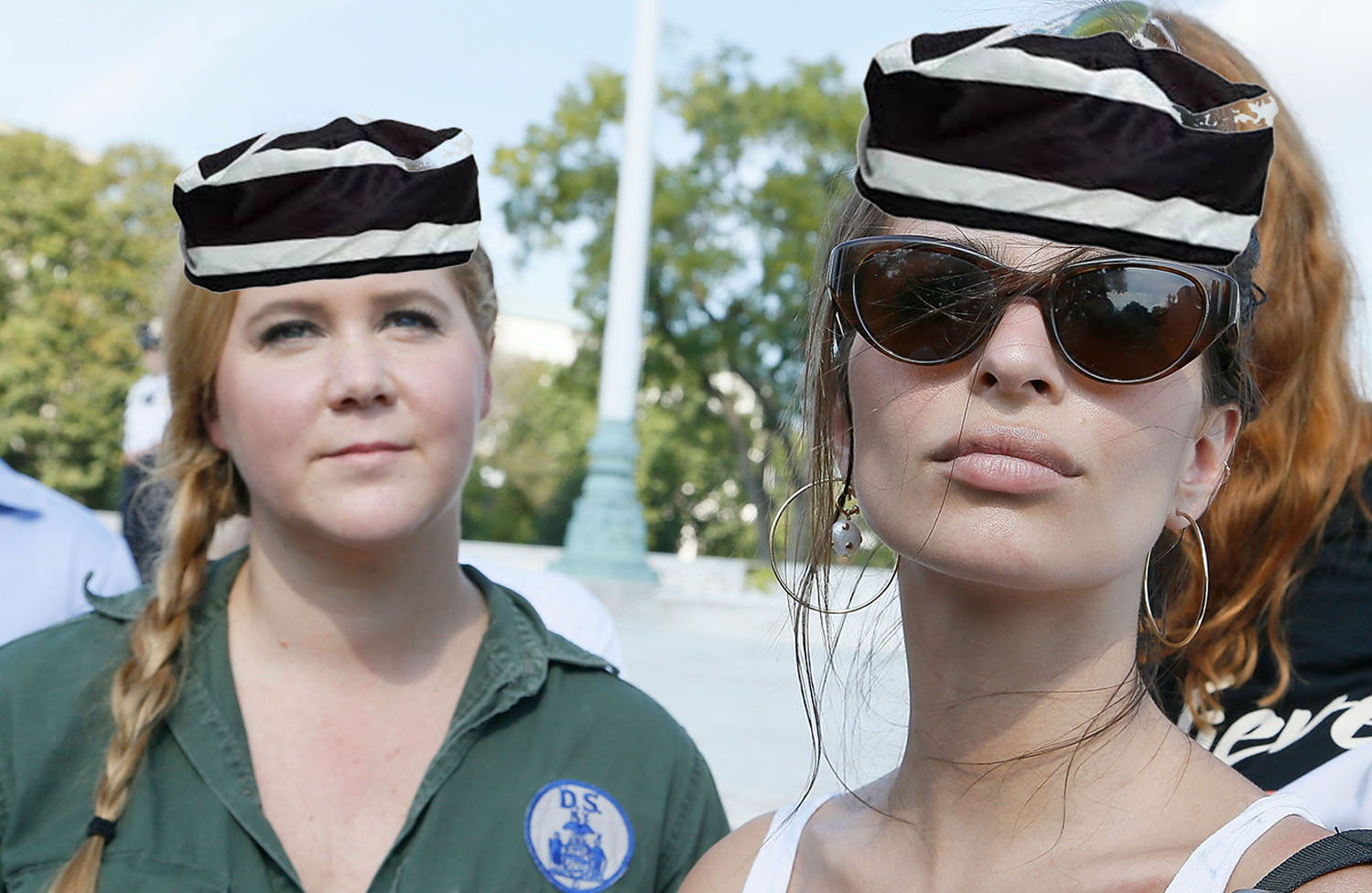 There's nothing a millennial loves more than a new and exciting cause to rally behind, with the most recent movement being the appointment of Judge Brett Kavanaugh and his alleged actions of sexual misconduct. After Kavanaugh was nominated for the open Supreme Court Justice slot, several women, most notably Dr. Christine Blasey Ford, came forward with allegations that thirty years prior, Kavanaugh sexually and physically assaulted her while they were attending a high school party. 
Kavanaugh has gone on record multiple times denying these claims, insisting that he "never sexually assaulted anyone! Not in high school, not in college, not ever!" In the days following this hearing, Republican members of the Senate Judiciary Committee agreed to request another supplemental FBI investigation, in hopes of shedding light on any remaining allegations. On Thursday, the FBI submitted their report to the Senate for review and after ample overview of the findings, they would make their decisions as to whether the committee would like to proceed with voting on Judge Kavanaugh's Supreme Court nomination. 
On Thursday, while the Senate Judiciary Committee was analyzing the data gathered from the FBI report, hundreds of protesters gathered outside the E. Barrett Prettyman Federal Courthouse in Washington DC., near Capitol Hill. Among the protesters holding Thursday's #CancelKavanaugh protest, several celebrities joined in support. Two celebrities, in particular, Comedian Amy Schumer and model-actress Emily Ratajkowski, along with 300 other protesters, were arrested. 
Following her arrest, Emily Ratajkowski tweeted her response:
"Today I was arrested protesting the Supreme Court nomination of Brett Kavanaugh, a man who has been accused by multiple women of sexual assault. Men who hurt women can no longer be placed in positions of power.

-Emily Ratajkowksi (@emrata)
In a video tweeted out by journalist Benny Johnson, Schumer appears to proudly say, "Yes!" when a police officer asked if she wanted to be arrested. For your own personal knowledge, Amy Schumer is the sister of Senate Minority Leader, and outward despiser of Judge Brett Kavanaugh, Chuck Schumer. 
In response to his sister's detainment, Schumer said "no matter how this goes, they cannot keep us down…We will win. A vote for Kavanaugh is a vote saying women don't matter."
Johnson, having witnessed the entire scene, reported that the event was over-dramatized. He explained that "Schumer and Ratajkowski were chatting with the police officers and dancing before they were led away" and that the two celebrities showed no sign of upset that they were being detained.
Fox News sources, late Thursday afternoon, "Capitol police began arresting hundreds of protesters who had made their way into the Senate building." They were chanting "Kavanaugh has got to go," at the top of their "20-something, I make my own kombucha and wear culottes" lungs. 
This doesn't surprise me at all. Attending a protest as large-scale as this is great marketing for anyone, even more so individuals like Schumer and Ratajkowski. I digress, it does not matter whether you are rich and famous or not, I support our 1st amendment right to peacefully assemble.
Senator Schumer (D-NY) has said, throughout the Supreme Court nomination process, that he believes Judge Kavanaugh has exhibited behavior that is overly partisan and dishonest. He has gone on record in saying that:
"Judge Kavanaugh's testimony was better suited for Fox News than a confirmation hearing for the august United States Supreme Court," said Schumer, citing the portion of Kavanaugh's statement to the Senate Judiciary Committee that claimed sexual assault allegations were a Democratic conspiracy designed to get revenge "on behalf of the Clintons."
Senator Chuck Schumer also pointed out that Kavanaugh's experience with judicial proceedings is replete with "the most partisan legal causes" in recent years." Most importantly Senator Schumer posited that if we are indecisive as to whether Judge Kavanaugh is guilty of sexual misconduct, that feeling, in itself, should justify dismissal of him as a candidate for the position. Schumer's perspective is interesting. The Supreme Court of the United States, the most respected judicial court in our legal system, should have only the most honest, bipartisan, morally ethical individuals sitting as Justices. 
We will never know what truly took place between Judge Brett Kavanaugh and Dr. Christine Blasey Ford, as well as the other women who have come forward, but our indecisiveness is not something that we should throw under the rug in disregard. 
Search Stock Price (StockPrice.com)