Mnuchin RSVPs "No," Dow Drops Low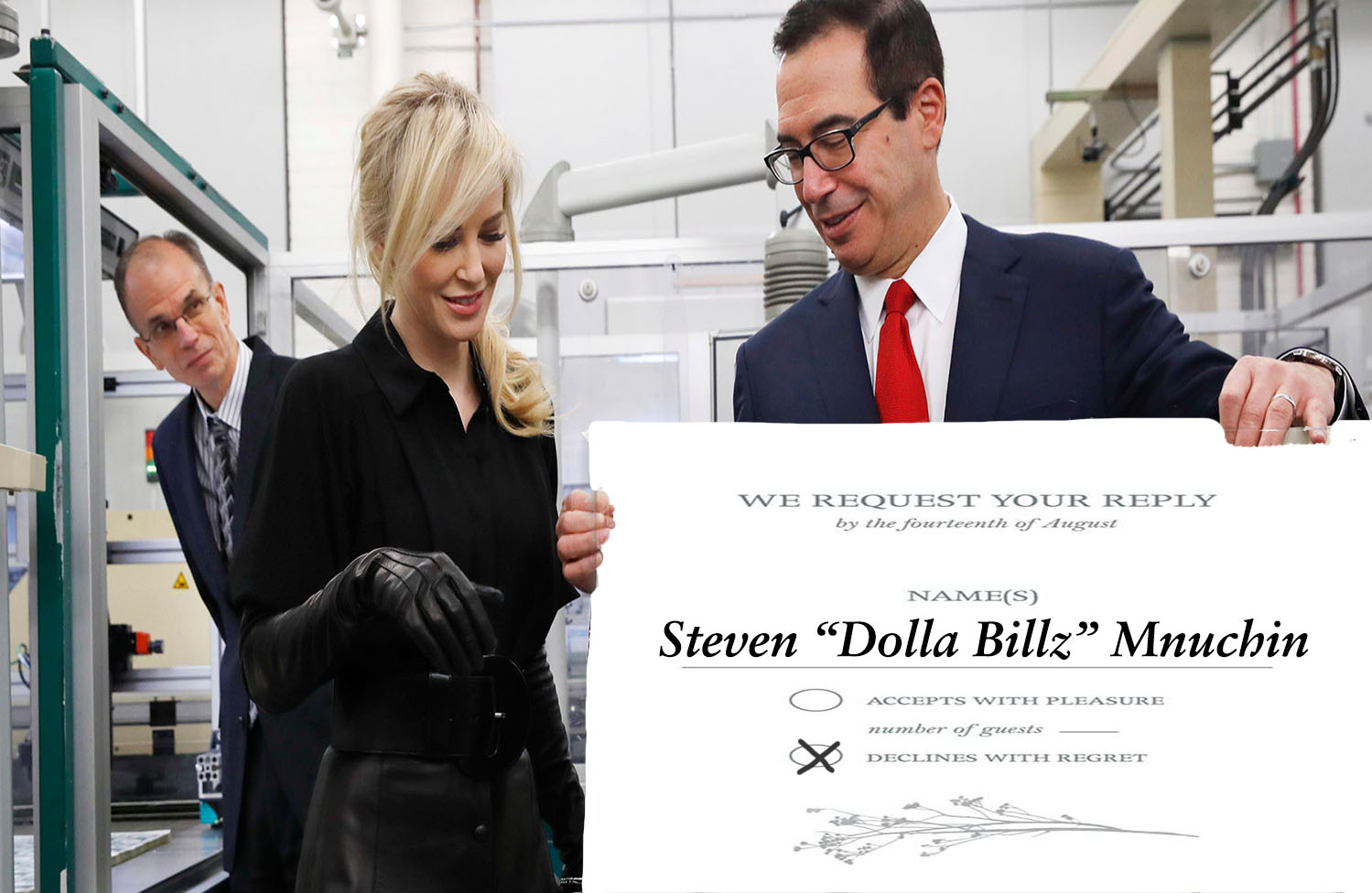 I imagine the conversation went like this…
INT. Oval Office, President Trump, Treasury Secretary Steven Mnuchin, and Secretary of State Mike Pompeo enter the room, wearing matching "MAGA" hats
Mnuchin: (delivering the punchline of a joke) And the bartender goes, "cookie, my favorite!"
Trump and Pompeo: Haha! Good one, Steven. 
Trump: That joke was excellent. The best joke in the world. China doesn't tell jokes. 
Pompeo: Good one, Mr. President. Now, Steven, joking aside, we wanted to tell you something.
Mnuchin: Sure, I'm listening. Hold on, let me take these out of my ears (Mnuchin comically removes two coins from his ears)
Pompeo: Not now, Steven, this is important. Now, I'm sure you've heard the news about Jamal Khashoggi, the journalist from Saudi Arabia?
Mnuchin: Yes, I'm headed to an investor conference in Riyadh tomorrow.
Trump: You're not going. Too dangerous 
Pompeo: We can't risk it during this controversy 
Mnuchin: But, Mike! (groans like a teenager)
Sources can't confirm that the above took place as described, but Treasury Secretary Mnuchin did announce Thursday that he was rescinding his participation in a "high-profile investor conference" in Saudi Arabia, likely because of the growing controversy over journalist Jamal Khashoggi's murder. 
Mnuchin tweeted on Thursday: 
An administration official told CNN that no other government officials will attend next week's summit in Mnuchin's place. 
In response to the Treasury Secretary's refraining from the conference, the recently jittery stock market took a turn down south. CNN reports that the Dow lost as many as 392 points, or 1.5%, on Thursday, as investors reacted to Mnuchin's decision. 
Tech stocks followed suit, with Facebook (FB) and Alphabet () losing about 2% each, the Nasdaq falling 1.5%, and Netflix (NFLX) tumbling about 3%. 
Market volatility is in the air and residents of Wall Street are ready to cut their losses. Increasing fears of rising bond yields coupled with President Trump's trade war with China sparked an onslaught of buyer's remorse last week, the worst for all three major indexes since March, according to market analysts. 
Many believe Mnuchin's announcement was based on rising tensions between the United States and Saudi Arabia over the situation surrounding missing Washington Post Journalist, Jamal Khashoggi. 
Khashoggi visited the Saudi consulate in Istanbul several weeks ago to file paperwork in order to marry his Turkish fiancee. The journalist, who in recent months began critiquing the Saudi government, never returned to his Turkish wife-to-be. An audio clip, released by the Turkish government confirms that Khashoggi was drugged, killed, and dismembered while in the Consulate. 
Sources reportedly told CNN that a group of Saudi men, whom Turkish officials believe are in cahoots with those who planned Khashoggi's killing, were led by a high-ranking intelligence officer, with one source saying "he was close to the inner circle of the kingdom's Crown Prince Mohammed bin Salman."
Treasury Secretary Mnuchin was not the only government official in the geopolitical space to withdraw from participating in the event held in Saudi Arabia. UK Trade Minister Liam Fox elected not to attend as well.
"The Secretary of State for International Trade has decided the time is not right for him to attend the Future Investment Initiative in Riyadh on October 23…The UK remains very concerned about Jamal Khashoggi's disappearance. We encourage Turkish-Saudi collaboration and look forward to the Kingdom of Saudi Arabia conducting a thorough, credible, transparent, and prompt investigation. " 
–Unnamed UK government spokesman on behalf of Dr. Fox
Several other government officials canceled their plans, including French finance minister Bruno Le Maire and Dutch Finance Minister Woke Hoekstra. 
In addition to the various nations' "no-thank-you" RSVPs, the boycott of the country has spread to entrepreneurs in Silicon Valley. Uber CEO Dara Khosrowshai and other industry executives including C-level friends from Ford (F), Google (GOOG), and several others have decided against making appearances at Saudi Arabia's annual "Davos in the Desert" event this month. 
Only time will tell as to whether the effects of the Saudi governments alleged involvement with Khashoggi will result in the pulling back of investments from Silicon Valley, as well as from the many nations who declined to send officials. Recent reports indicate that Richard Branson, founder, and chairman of Virgin Galactic, has temporarily suspended his $1 billion partnership with Saudi Arabia. 
Will other companies follow suit?
Stock Price Thursday Morning Update – May 30, 2019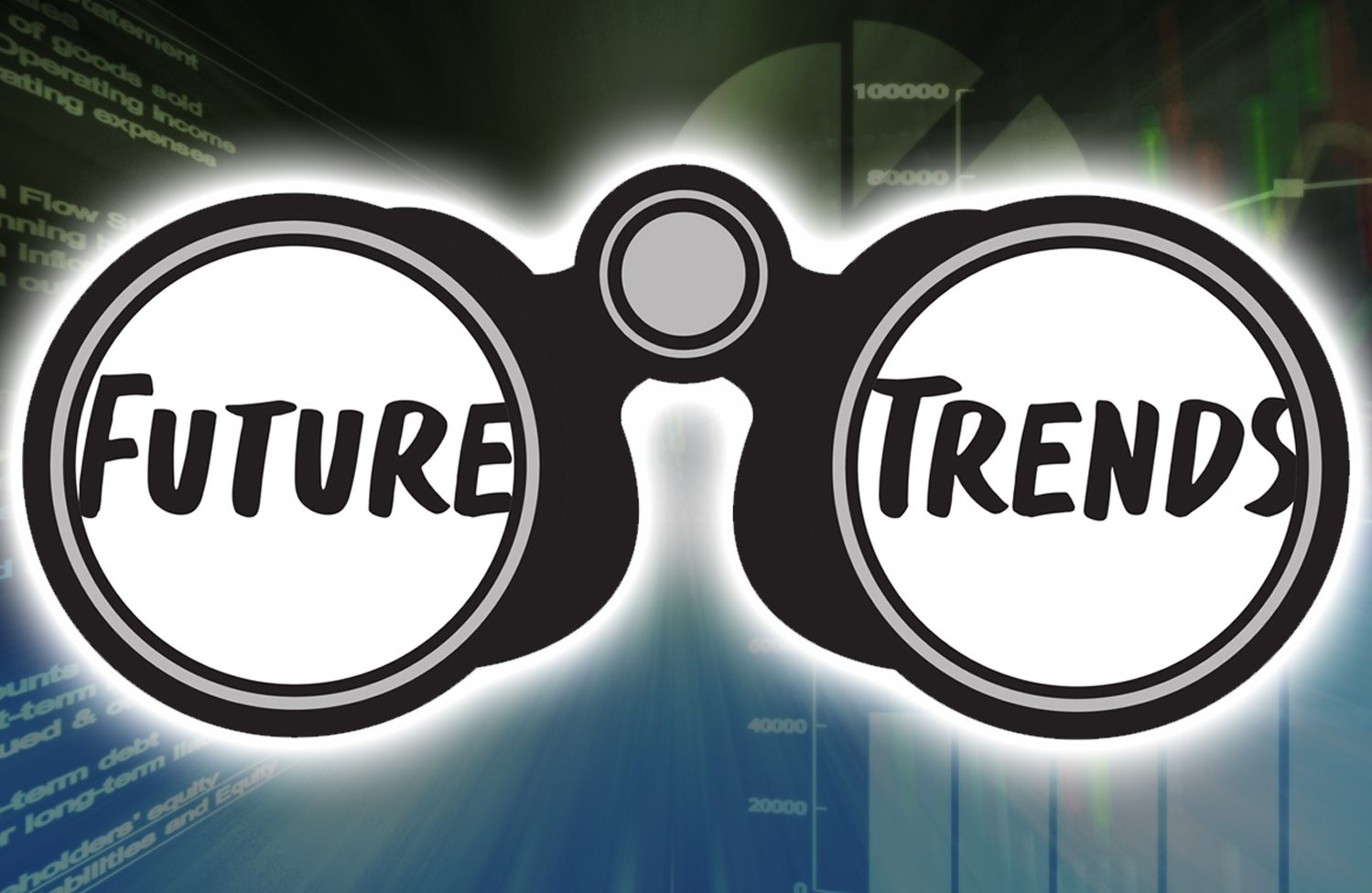 Defense Spending Picks Up As Security/Threat Detection Companies Like Northrop Grumman & Others Position To Capitalize
As national security threats continue to develop, security technology must as well. Every day people are left wondering if we can stop the next big mass casualty event. Thankfully, both the government and private companies are looking to do just that.
---
How Is The On-Demand Economy Driving New Wealth In The Market?
Technology has evolved over the years, and so have online websites and apps. Growing food delivery apps are the newest trend, expanding revenue generation in the food-service industry by 22% or more. And this new trend has created an even greater opportunity beyond food delivery alone!
---
A New Cannabis Trend That The Market Should Take Immediate Notice Of Is Here!
What will legalization across North America look like if the US flips the switch to turn on a massive industrial machine like legal cannabis? Two of the fastest growing industries right now in the United States are on-demand technology and cannabis. These two industries are at the epicenter of growth and investors aren't being shy about their appetite for companies in these arenas. But one company, in particular, has developed a unique business model that services both of these massive growth industries.
---
Bank Stocks Hit: Barclays, Citigroup & JP Morgan Fined On Forex Rigging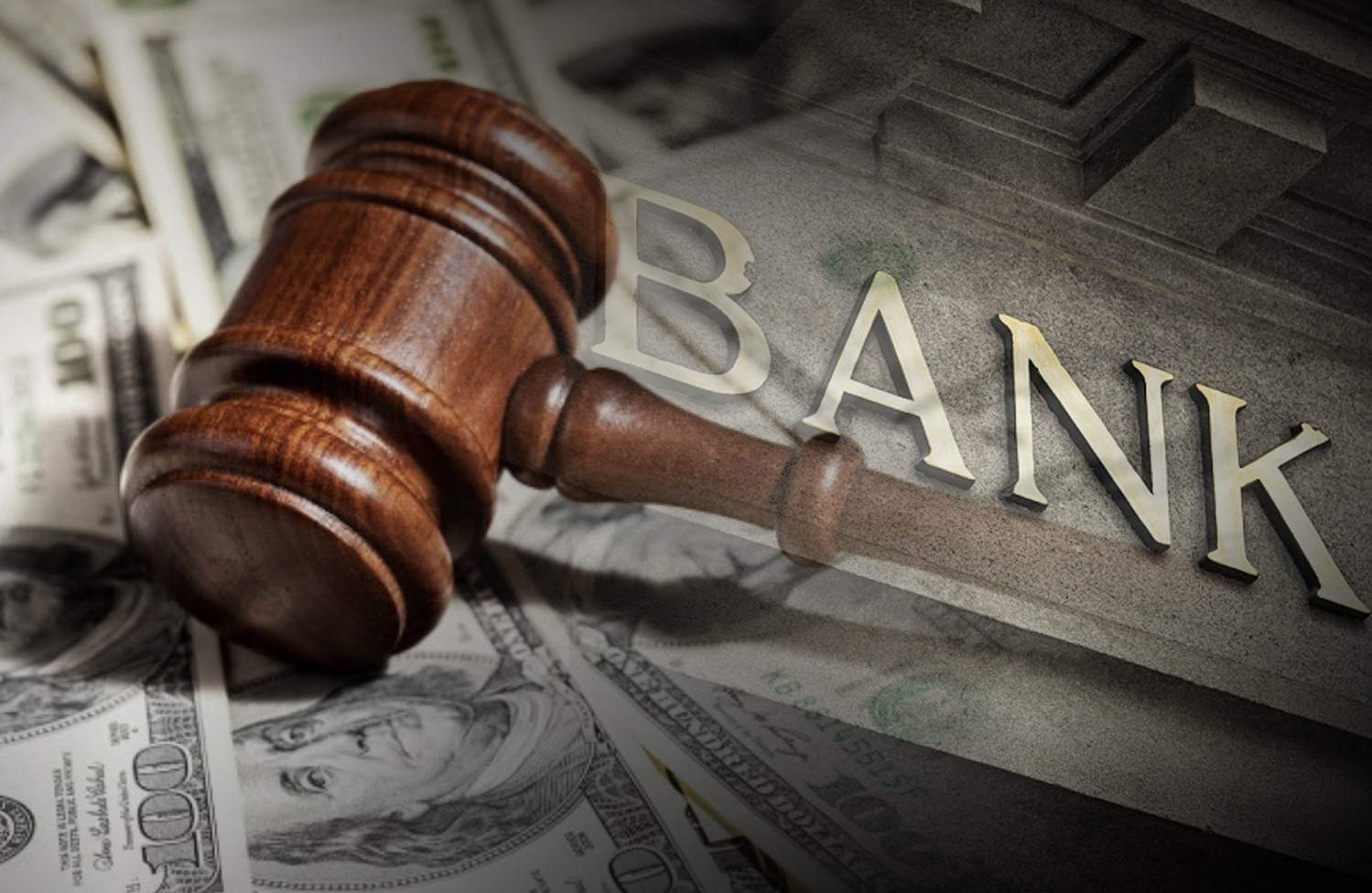 The biggest banks in the world have been under intense scrutiny ever since the financial crisis. During that period, almost all the big banks have been exposed for a range of misdemeanors. In a new development, five of the best-known banks in the world have been found guilty of having fixed the foreign exchange market.
They behaved in the manner of a cartel to make big profits on the back of their manipulation. The competition commission of the European Union found the banks guilty of manipulating the foreign exchange market and slapped a fine in excess of 1 billion Euros.
The Offense
Over the years, some of the biggest banks in the world have been found guilty of engaging in illegal practices. In the latest instance, Barclays, Mitsubishi UFJ Financial Group (MUFG), Royal Bank of Scotland, Citigroup and J.P. Morgan have been found guilty of rigging the foreign exchange market. It is a large source of revenue for large banks and by rigging a market that is worth trillions, they must have made handsome returns.
The five banks formed two separate groups and manipulated as many as 11 currencies from across the world. According to reports, the currencies involved some of the world's most liquid currencies. They included the US Dollar, the Euro, and the British Pound. Accordingly, the EU's competition commission imposed a fine of 1 billion Euros on the banks in question.
Collusion
While foreign currency traders might be working at different banks, they are often in contact with one another and it has emerged that traders from among these banks had unofficial chat rooms where they passed information to each other.
One of those chat rooms, which was active from 2007 through to 2013, included traders from Citigroup, J.P. Morgan, Barclays, UBS and Royal Bank of Scotland. The other one was active from 2009 to 2012 and included traders from UBS, Royal Bank of Scotland, MUFG and UBS. The first cartel was fined 811.2 million Euros. Citigroup was slapped with the highest fine of 310.8 million Euros. The second cartel was fined 257.7 million Euros. Barclays ended up with the biggest fine of 94.2 million Euros.
Trump Administration to Postpone Auto Tariffs by 6-Month: Reports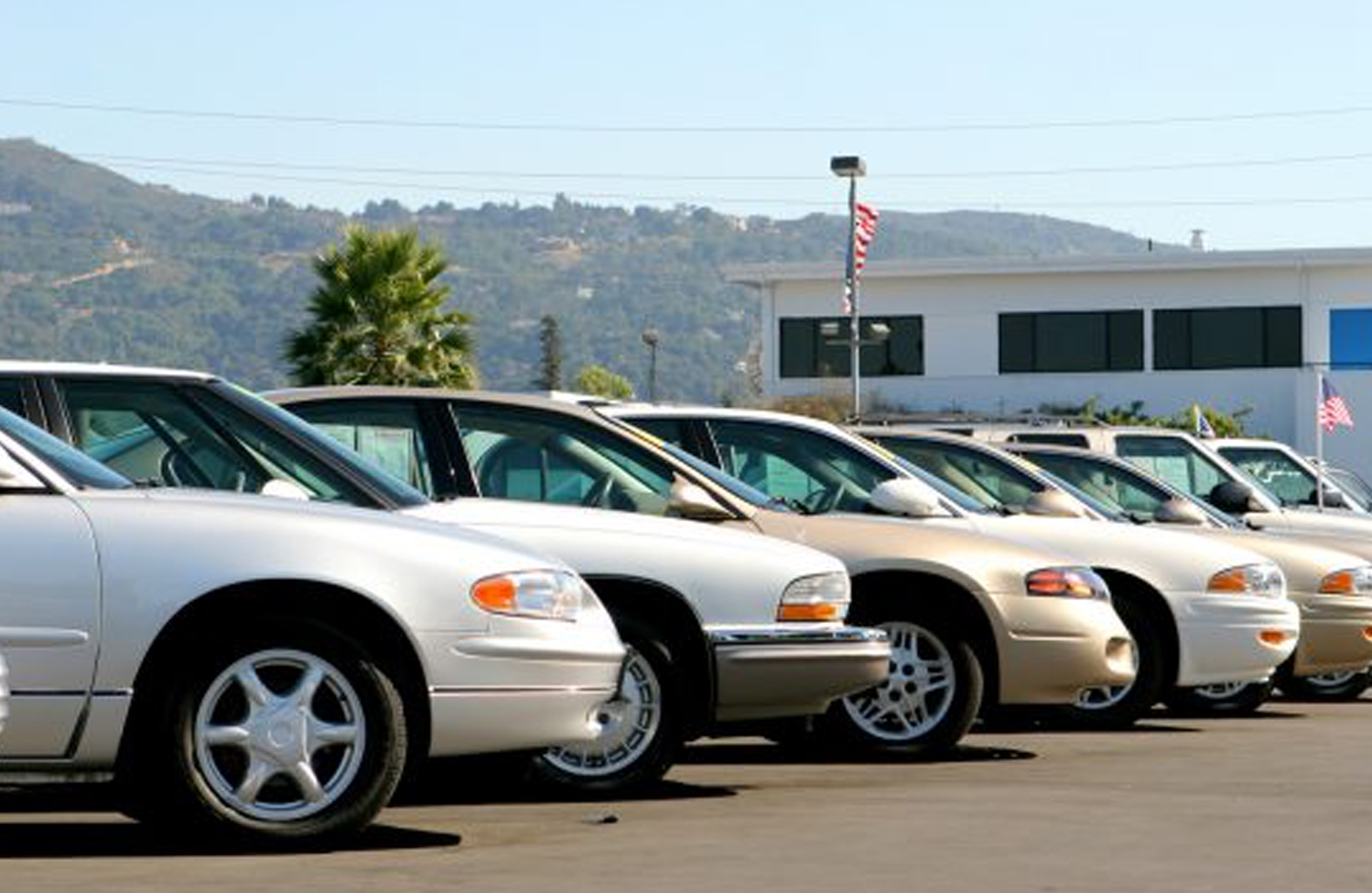 Ever since Donald Trump took office as the President of the United States, he has made it a mission to correct the trade deficits of the country with a range of nations. The trade war with China is a case in point but in addition to that many other tariffs are now been mulled. One of those is the tariff on autos that are imported into the country from different parts of the world.
However, it has now emerged that the Trump administration is considering holding the tariff hikes on imported cars for six months. This is due to the ongoing trade war with China, as per a report from CNBC. The deadline to impose the tariffs is fast approaching.
Auto Tariffs
According to reports, the Trump administration has decided to not impose the tariffs for now. The Saturday deadline for the tariff imposition is going to pass without the US sparking another international trade issue. The tariffs are not only planned for imported cars but also for auto parts. These are imported from different parts of the globe. As such, the European Union and Japan will be most affected if the tariffs are raised.
The US has held discussion with both the European Union and officials from Japan regarding the issue and it is believed that the move is primarily a strategy to exert pressure on the two to give the US far more favorable trading terms.
Impending Trade War
While the high stakes trade war with China has dragged on for awhile now, the US is unwilling to engage in trade wars with powerful trading entities like the European Union and Japan. If the auto import tariffs are imposed then it is almost certain that retaliatory tariffs will be placed on American goods.
That could lead to another skirmish that would potentially drag on for many months. As a matter of fact, the European Union has already stated that it has a ready list of goods on which it will hike tariffs if the US goes ahead with its plans.
Due to the possibility of the tariffs being imposed by Saturday, many automobile stocks had slumped but after the news came through that the tariffs are going to be delayed, the stocks jumped and erased the losses.
Search Stock Price (StockPrice.com)