Biotechnology stocks are some of the hottest commodities traded on the market at this point in time. The biotechnology industry is undergoing a significant change and it is coming from the regenerative medicine field. A lot of players in this field are just starting out and are making their impact known.
Some of the best penny stocks to buy come from the biotechnology sector as well. Companies in this sector release a lot of penny stock news which encourages fast and frequent price action. Here are some small-cap biotech stocks shaping the healthcare industry through regenerative medicine:
Biotechnology Stocks To Watch#1: Sernova Corp. (SVA.V) (SEOVF)
One healthcare company that is primarily focused on regenerative medicine therapeutics is Sernova Corp. (SVA.V) (SEOVF). In order to develop its treatments, the company developed a technology known as Cell Pouch. The Cell Pouch generates proteins, hormones, or other necessities and then releases them into the bloodstream to treat diseases. The technology aims to replace the act of daily administering drugs to combat diseases.
\\\FREE REPORT\\\ A Breakthrough in Biotech May Put Investors at an Advantage
One of the primary diseases that Sernova is aiming to treat is diabetes. The biggest problem with current insulin treatments is that it does not produce tight control of a patient's glucose levels. However, through Cell Pouch cell transplantation, long-term and targeted treatments for maintaining glucose levels to treat diabetes is possible.
Sernova has a growing portfolio of drugs in its clinical pipeline. The company has 3 treatments for diabetes undergoing the clinical-stage process. 2 are preclinical and 1 for human donor islets is in Phase 1/2. Furthermore, the company has drugs in the pipeline that are designed to treat hemophilia A and thyroid disease.
Biotechnology Stocks To Watch #2: Vertex Pharmaceuticals Incorporated (VRTX)
One of the largest biotechnology companies in the healthcare sector is known as Vertex Pharmaceuticals Incorporated (VRTX Stock Report). Vertex Pharmaceuticals currently has 3 approved medicines to treat cystic fibrosis. In addition, Vertex bought out Semma Therapeutics for $950 million. This acquisition represents an overall trend for big pharma to buy out lucrative smaller pharma.
Semma Therapeutics produces regenerative medicine treatments to treat type 1 diabetes which affects millions of people. Semma's line of attack is to change the distribution method of diabetes treatments from daily dosages to stem cell transplants. This is very similar to Sernova so it's no surprise that attention on companies targeting this type of technology are getting scooped up right now. Who will be next?
Biotechnology Stocks To Watch #3: Athersys Inc. (ATHX)
Another regenerative medicine company called Athersys Inc. (ATHX Stock Report) focuses on treating neurological, inflammaroty, and cardiovascular diseases. In order to create solutions to these diseases, the company utilizes its MultiStem therapy platform. It has been undergoing clinical trial tests and has started its Phase 3 trial.
The company is expected to present at the 2019 Cell and Gene Meeting on the Mesa. In the presentation, CEO Dr. Gil Van Bokkelen will discuss Athersys' Phase 3 trial for its MultiStem cell therapy. In addition, the company will discuss MultiStem in more depth as well as the company's mission.
Biotechnology Stocks To Watch #4: Mesoblast Limited (MESO)
One of the companies on this list creates product candidates based on mesenchymal lineage adult stem cells. Mesoblast Limited (MESO Stock Report) creates products for difficult-to-treat diseases. The company has 3 products in Phase 3 trials including Revascor (advanced heart failure) and remestemcel-L (acute graft versus host disease).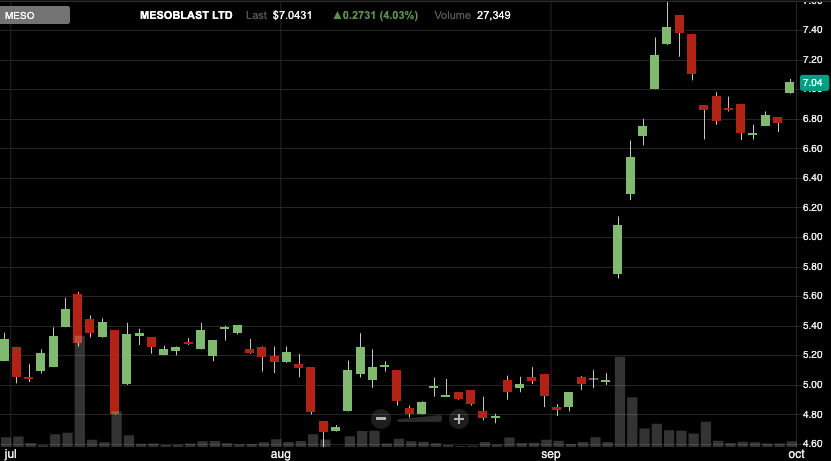 Mesoblast recently announced that it has entered a strategic partnership with Grünenthal.  Grünenthal has lead the healthcare field focused on pain management. This partnership targets sales & creation of treatments for chronic low back pain. Mesoblast will receive $150 million to launch MPC-06-ID, a Phase 3 cell therapy for low back pain.