The biotech sector has grown at a highly impressive pace over the course of the past decade or so. It is expected that this growth is going to continue in the foreseeable future. In such a situation, it's only prudent for investors to have a look at some of the biotech companies that are doing well. Lately the general market conditions have opened up investors' eyes to volatility and the healthcare industry is no stranger to such conditions.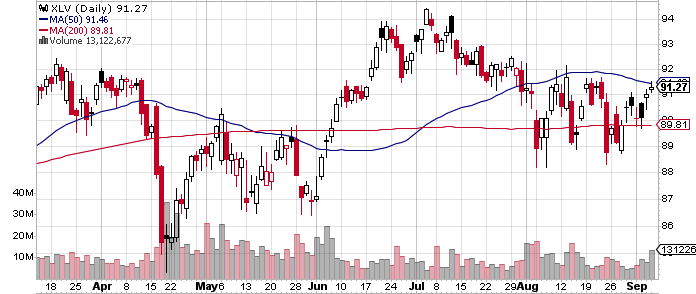 In fact, if you look at the latest trend from the Healthcare ETF XLV, for instance, you'll see that there could be a new uptrend in the making. Due to the possibility of making significant discoveries, there is often a vast upside in numerous biotech stocks. Here is a look at three biotech stocks worth watching at this point in time.
Biotech Stocks To Watch: PharmaCyte Biotech (PMCB)
If you're looking at PharmaCyte Biotech (PMCB)at this exact moment, you're seeing it before the company begins clinical trials and just as it's preparing to complete its Investigational New Drug Application for the FDA. Whether you're new to biotech stocks or a seasoned vet, you should understand how important milestones like this are for a company.
Right now, PharmaCyte Biotech (PMCB) is putting together the necessary material for its planned clinical trial for inoperable pancreatic cancer, one of the most deadly forms of cancer today. Just to give you an idea, pancreatic cancer, in general, has the highest death rate of all major cancers. Only 9% of people with this cancer will survive more than five years [1].
To this point, PharmaCyte Biotech (PMCB) announced that nationally and internationally renowned clinician and oncologist, Dr. Manuel Hidalgo, has confirmed that he will be Principal Investigator for PharmaCyte's planned clinical trial in locally advanced, inoperable pancreatic cancer now that he is at Weill Cornell Medical Center.
Dr. Hidalgo, a leading physician-scientist who specializes in pancreatic cancer and drug development, was recently appointed Chief of the Division of Hematology and Medical Oncology at Weill Cornell Medicine and NewYork-Presbyterian/Weill Cornell Medical Center. Previously, Dr. Hidalgo was a Professor of Medicine at the Harvard Medical School and the Chief of the Division of Hematology-Oncology and Director of the Rosenberg Clinical Cancer Center at the Beth Israel Deaconess Medical Center.
Right now, PharmaCyte (PMCB) could be on the verge of a major FDA event. This industry is experiencing remarkable innovation, and now the race is to get behind the next breakthrough.
|REPORT|IS THIS THE NEXT BIG BIOTECH BREAKTHROUGH?
Biotech Stocks To Watch: Amgen (AMGN)
Amgen, Inc. (AMGN Stock Report) is one of the more interesting companies in the biotech industry and earlier on in 2019, the company has a phase 1 clinical trial for a cancer treatment that is supposed to combat KRAS proteins. The KRAS inhibitor medicine, known as AMG-510 has caused a lot of optimism among investors and for good reason too.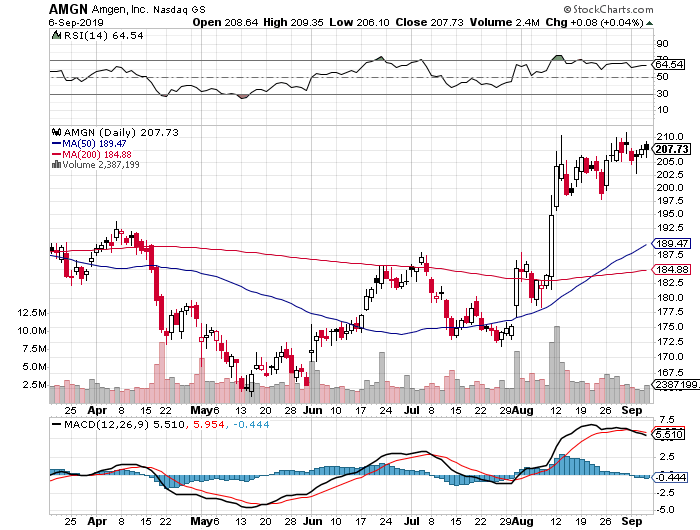 The company stated that out of the 10 non-small cell lung cancer (NSCLC) patients, 5 experienced shrinkages in their tumors. It goes without saying, that it is a significant development. There is a lot of optimism around the treatment. That's since NSCLC is currently one of the most dangerous forms of cancer. The company presented further information about the product at the World Conference on Lung Cancer.
|REPORT|IS THIS THE NEXT BIG BIOTECH BREAKTHROUGH?
Biotech Stocks To Watch: Amarin (AMRN)
The other company worth considering is Amarin Corporation plc (AMRN Stock Report). The company has produced a product named Vascepa, which has been derived from fish oil and has been approved by the FDA as well. It helps in lowering triglycerides without actually raising the levels of cholesterol in the blood.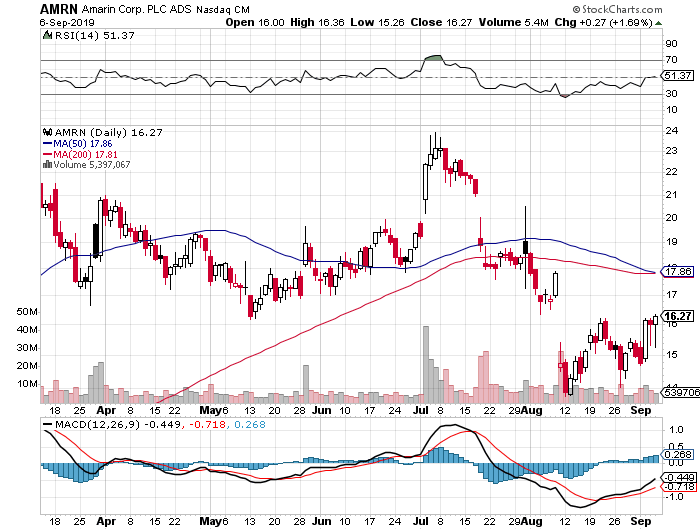 The fact that the FDA has decided to hold an AdCom meeting for Vascepa might have dampened the enthusiasm of investors. However, an analyst at Jeffries thinks the company's long term growth is almost assured. So, this may be something to watch for now.