Biotech stocks and the biotech sector have proven to be one of the fastest-growing sectors over the last decade. According to most experts, it is expected to continue in the same vein in the foreseeable future.
It's important for investors to have some coverage for biotech stocks in their portfolios and watch the market closely for the best opportunities. Having a look at recent moves is a great way to go about it. Here is a look at 3 biotech stocks to watch in September.
Pharmacyte Biotech (PMCB)
A Few weeks ago, PharmaCyte Biotech (PMCB) announced that nationally and internationally renowned clinician and oncologist, Dr. Manuel Hidalgo, has confirmed that he will be Principal Investigator for PharmaCyte's planned clinical trial in locally advanced, inoperable pancreatic cancer now that he is at Weill Cornell Medical Center.
Dr. Hidalgo, a leading physician-scientist who specializes in pancreatic cancer and drug development, was recently appointed Chief of the Division of Hematology and Medical Oncology at Weill Cornell Medicine and NewYork-Presbyterian/Weill Cornell Medical Center. Previously, Dr. Hidalgo was a Professor of Medicine at the Harvard Medical School and the Chief of the Division of Hematology-Oncology and Director of the Rosenberg Clinical Cancer Center at the Beth Israel Deaconess Medical Center.
Right now, PharmaCyte (PMCB) could be on the verge of a major FDA event. This industry is experiencing remarkable innovation, and now the race is to get behind the next breakthrough. Its drug delivery technology could change the way countless diseases are treated. It starts with a "box." Cell In A Box ® technology specifically, can be used as a platform upon which therapies for several types of cancer and even diabetes are being developed.
Essentially, PharmaCyte's (PMCB) therapy for cancer involves encapsulating genetically engineered human cells that convert an inactive chemotherapy drug into its active or "cancer-killing" form. This could mean that they've found a way to take a broad treatment (chemotherapy) and turn it into a targeted one…Continue Reading About PharmaCyte's Breakthrough Technology
Arrowhead Pharmaceuticals (ARWR)
One of the biotech stocks that made significant gains in August was that of Arrowhead Pharmaceuticals Inc (ARWR Stock Report). The biggest trigger behind the surge in the stock price was the company's better than expected performance in the nine months of fiscal 2019. Considering the fact that Arrowhead is not fully commercial yet, the performance caused enough excitement in the market and the stock surged by more than 17% in the month of August.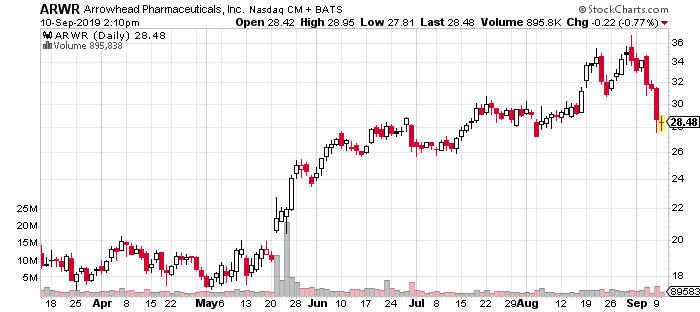 The primary reason behind the impressive growth was the company's developmental partnership with Johnson & Johnson. By virtue of that contract alone, Arrowhead was able to bring in as much as $51.5 million in operating profits during that period. It is a stock that is definitely worth keeping in the watch list.
Adaptive Biotechnologies (ADPT)
However, Arrowhead was comfortably bypassed in August by the Adaptive Biotechnologies Corp (ADPT Stock Report) stock. ADPT which experienced a surge of almost 32% in the month. The company is involved in the diagnostics space. Although it has recently had its IPO, it managed to generate impressive growth in Q2 2019.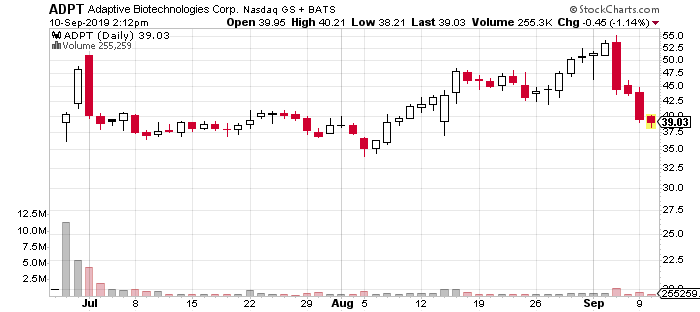 Revenues grew significantly both in the second quarter and the first half of 2019. Adaptive also reduced its operating losses. This triggered a lot of optimism among investors. As a result, ADPT stock climbed steadily through the course of last month. What will come next?