The biotechnology sector is one of the most lucrative sectors for investors. This is because these companies produce are in the process of producing treatments that could truly be life-changing. News can include clinical trial developments, acquisitions, and positive data.
The frequency of news coupled with volatility can fuel momentum in this market. However, the volatility can work against investors as well. This is why conducting proper research is vital for any successful trader. Here are some biotechnology penny stocks to watch as the sector continues to boom.
GT Biopharma Inc. (GTBP)
To kick things off we have GT Biopharma Inc. (GTBP). This is an immune-oncology biotechnology company focused on creating new treatments for cancer. Like other biotech companies, GT Biopharma leverages its TriKE technology to develop its pipeline. As of now, GT Biopharma has over 5 therapies in its pipeline.
[BREAKING NEWS] GT Biopharma (GTBP) Announces Solid Tumor Targeting TriKe™ Kills Non-small Cell Lung Cancer (NSCLC) Tumor Cells
Digging a little deeper into GT Biopharma is its TriKE technology platform. TriKE stands for tri-specific killer engagers that are made to target NK's or natural killer and tumor cells. By targeting NK cells, it makes longer and stronger responses compared to current treatment methods. Targeting NK cells involves binding to the CD16 receptor and turning it against other infected cells.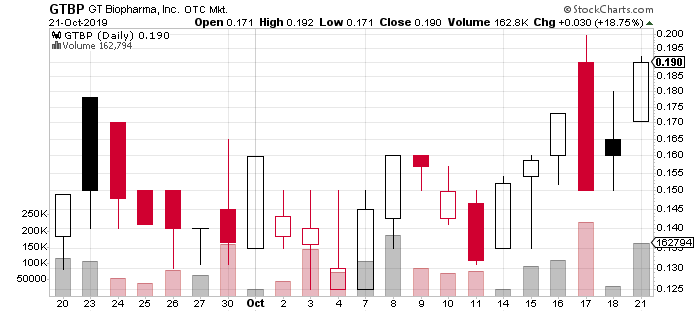 One use of TriKE has been to develop a way to target the HIV-Env protein. The company recently announced data that showed positive results for HIV-TriKE. It showed enhanced NK cell cytokine production and effectively killed infected targets with HIV-Env. [Read full press release]
"We believe the HIV TriKE™ has the potential to offer many people living with HIV a treatment option that achieves sustained viral remission by eradicating the virus in all locations within the body, and hopefully will become part of a scalable and curative therapeutic strategy for HIV patients," explained Anthony Cataldo, CEO and Chairman of GE Biopharma. Furthermore, over the course of the last few trading sessions, GTBP stock has tested some of its highest levels in October.
Titan Pharmaceuticals Inc. (TTNP)
The next biopharmaceutical company we are looking in to is Titan Pharmaceuticals Inc. (TTNP). Titan Pharmaceuticals is a specialty pharmaceutical company that develops treatments for chronic diseases through its ProNeura platform.
A distinct advantage this company has over some companies is that it already has a product on the market. The product is Probuphine, a 6-month implant that treats opioid addiction which is on the rise in developed countries.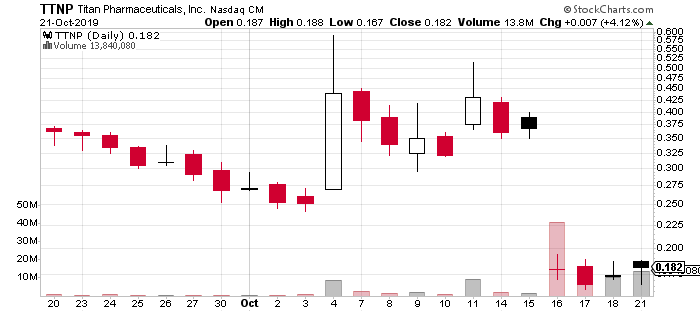 The company has released some strong news regarding business development in October. First off, Titan announced a $9 million underwritten public offering for an additional 6 million shares of common stock.
Furthermore, Titan has expanded Probuphine's availability after announced that the treatment will be available at the Crossroads of Southern Nevada rehabilitation facilities.
WHAT CURING CANCER & HIV COULD MEAN FOR THIS COMPANY, INVESTORS & THE WORLD
Sophiris Bio Inc. (SPHS)
To round out this list, Sophiris Bio Inc. (SPHS) is looking to shape medicine through its topsalysin treatment. Topsalysin is a pore-forming protein that aims to treat prostate cancer and benign prostatic hyperplasia (BPH). At the moment, the treatment is in its phase 2 trial for prostate cancer and phase 3 for BPH.
This biotech penny stock also produces many sources Sophiris recently received some very good news regarding its topsalysin product candidate. The company announced that it received positive feedback regarding topsalysin's phase 3 trial design from the FDA. The study will enroll 700 patients and will look to see if topsalysin shows a significant effect in patients.
WHAT CURING CANCER & HIV COULD MEAN FOR THIS COMPANY, INVESTORS & THE WORLD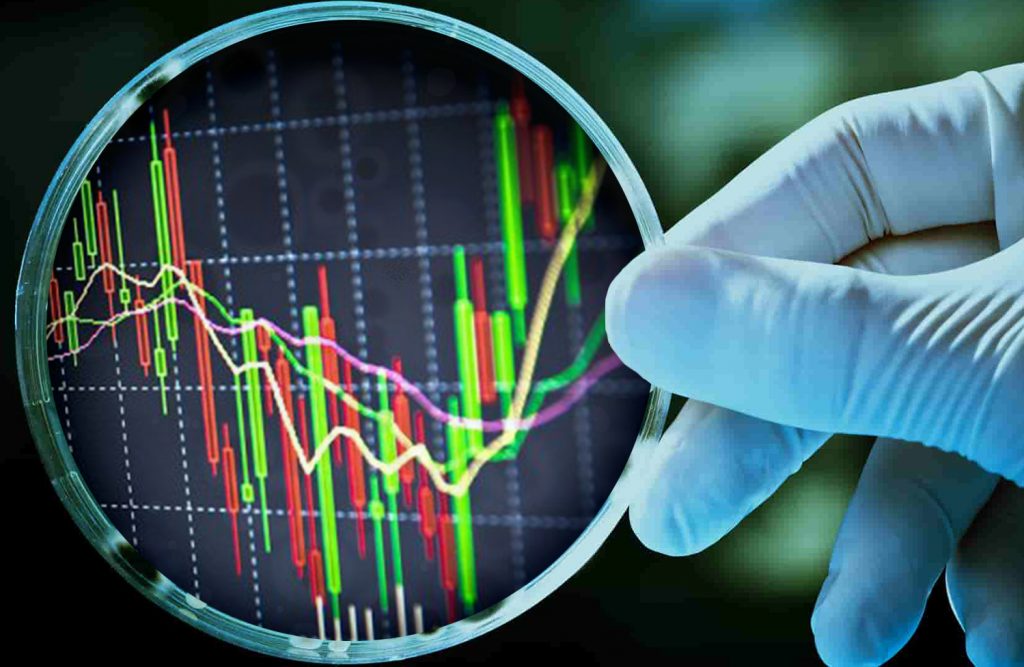 Pursuant to an agreement between Midam Ventures LLC and GT Biopharma (GTBP), Midam has been paid $100,000 for a period from October 1, 2019 to November 15, 2019. We may buy or sell additional shares of GT Biopharma (GTBP) in the open market at any time, including before, during or after the Website and Information, to provide public dissemination of favorable Information about GT Biopharma (GTBP). Click Here For Full Disclaimer.