Enphase Energy Inc. (ENPH Stock Report) is poised for a promising future since it provides basic technology in the development of a final product in the solar panel industry. With the energy industry shifting into renewable energy there is much potential to leverage.
Therefore investors should be keen on Enphase stock because of the potential presented but they have to consider the following factors before making a decision to buy:
Enphase Stock Price Skyrockets On Big Catalysts
The company produces micro-inverters which are very crucial in the solar panel industry. There is huge potential in the market and according to the US Energy Information Administration, the solar industry is expected to grow by around 50% by 2050 and lead the rest of renewable energy sources.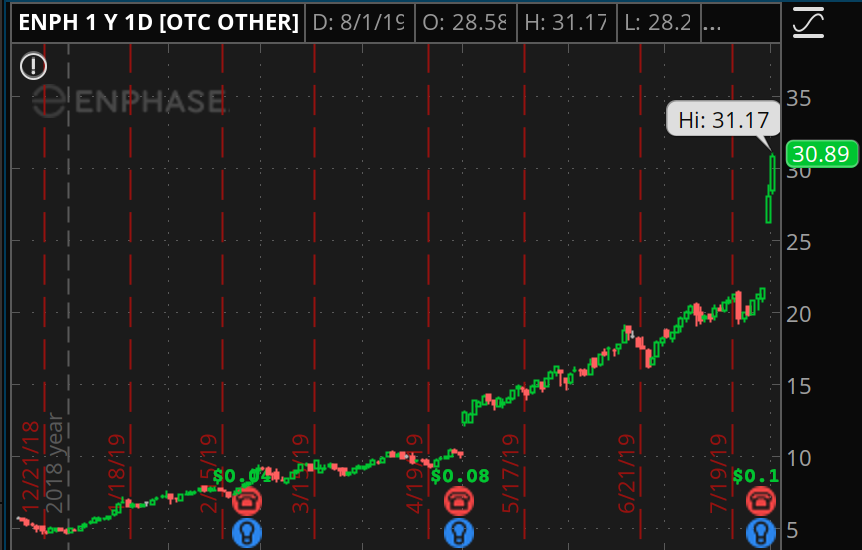 After hitting a wall in 2016 because of operational discipline and lack of finances the company has turned a leaf by having a new CEO as well as reviewing the production and sales strategy. It had a strong 2018 with revenue increasing by 10% and adjusted earnings of $0.10 per share. The trend continued to 2019 and the company saw a 100% growth in adjusted earnings in Q1.
Performance of Enphase Stock Price
Enphase's stock price has been performing well. So far it's up over 460% since the beginning of this year. For investors, they have to assess the risk-reward balance of the stock. Also the possibility of Wall Street getting ahead of itself.
Read More
The Future Of Drug Delivery Has Biotech Investors Focusing On One Small Company
GrubHub (GRUB) Stock Gains Momentum On Mega Deal: Time To Buy Food Delivery Stocks?
In terms of valuation, you can't use price-to-earnings as your guide. That's because the company has been profitable. This leaves them not so promising price-to-sales as a valuation metric.
Enphase Energy might have turned a new leaf. It's expected to have a strong 2019 if the performance in Q1 is anything to go by. However, ENPH stock is already showing overbought technical indicators.
This, of course may be worrying considering this upturn happened in a short span. There is so much hype regarding the stock without focusing on underling numbers. As an investor, would you rather sit and watch the stock or jump in at all time highs? The choice is yours.