We are living in a technology-driven era, whether we like it or not. Technological advancements have, in fact, become an inseparable part of any industry at all stages. And even our food industry is flourishing with the help of these tech methods and devices. It has changed the way a country cultivates and produces food.
With the ever-expanding population and more and more stomachs to be filled, the demand for food and other products continues to increase year-by-year. And to match up with this humungous demand, the new-age technologies have been greatly helpful. It helps not only with improved processing and packaging, but also ensures higher storage capacity, shelf-life and improved the safety of food.
Delivery & Technological Advancements: One 'Parcel' At A Time
Delivery has also become a HUGE opportunity to build business for food service companies & delivery companies alike. Uber Eats has about 20% of the market, while GrubHub, including Seamless and Eat24, has 52%. In its latest funding effort, DoorDash raised $250 million after the five-year-old San Francisco-based startup raised $535 million in March. Furthermore, DoorDash, which competes with GrubHub (GRUB), Uber Eats (UBER), and Postmates, has raised nearly $1 billion overall.
Companies like ParcelPal (PTNYF) (PKG) have created an on-demand marketplace where customers can shop for anything from food to clothes. There is no more waiting in line for lunch or rushing to the store after work to grab your clothes. With ParcelPal on-demand, customers simply shop from the app, choose the items they want, and pay.
And the model is proving growth potential. ParcelPal Technology Inc. has released its results for fiscal 2018. ParcelPal technology has provided the audited financial statements for the first year ended December 31st 2018, and has filed the statements on SEDAR. The total audited gross revenue for the fiscal year 2018 is $3,369,630.
2018 Financial Highlights:
Total gross revenue up 825% in fiscal 2018 versus the year ended Dec. 31, 2017.
EBITA of $1,371,782.
Total cash on hand is $2,080,000 with 605,342 in accounts receivables.
Gross profits of $802,035, representing a gross profit margin of 24%.
Received $1,335,792 from exercising of warrants.
2018 Operating Highlights:
Over 300 live locations.
Hit milestone of 2,000,000 packages delivered.
Launched service in Calgary.
Delivered over 2,000,000 packages total.
Other Trends: Packaging; What's Blue Apron (APRN) Planning Next?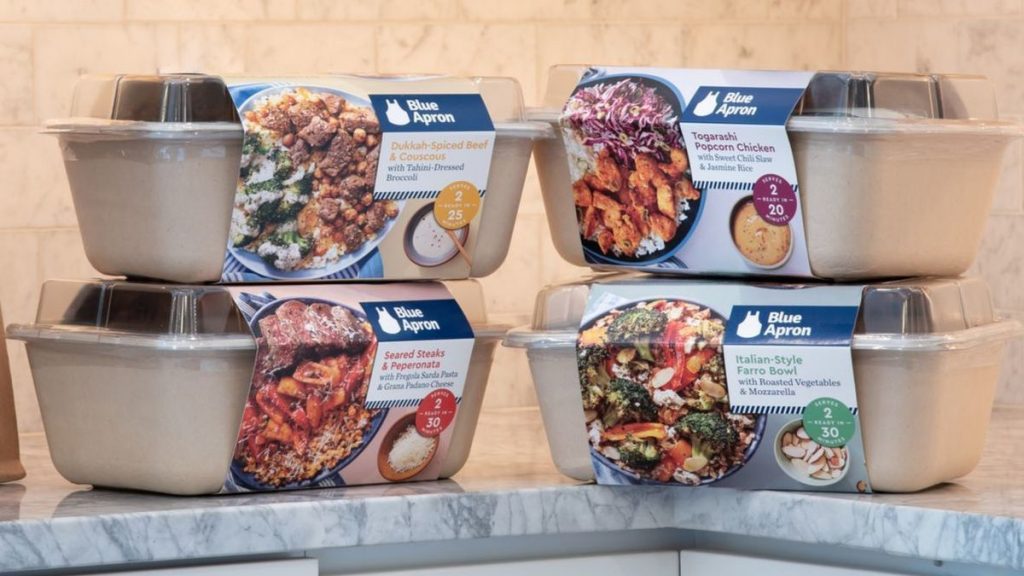 Packaging, as we all know, is one of the biggest aspects of the food industry. With increased consumer awareness, more and more people are opting out of plastic packaging, which is harmful for both the human body, as well as the environment. The companies, thus, are being pressured into going green and using environmentally friendly products for packaging.
Blue Apron (APRN) focuses on prepackaged food and meal delivery. Blue Apron used innovative design thinking to reconfigure its packaging system and enable gel packs to be placed on top of the meal kit ingredients, allowing a 20% reduction in the number of gel packs used. A redesign of the outer corrugated shipper resulted in a similar reduction of 20%.
Why it's important:
Meal kit packaging tends to require significant amounts of insulation, refrigerant gel packs, and corrugate in order to safely deliver ingredients. By going beyond conventional design optimization practices of downgauging and material substitution and using design thinking, Blue Apron was able to target two of the packaging system's "hot spots" and make significant improvements. Blue Apron also used a new drain safe refrigerant in gel packs, recycled PET in trays and lids, and recyclable polyethylene films.
Handling of waste is a major concern globally. Technology helps optimize food utilization and reduce the wastage to minimal. There have been app developments which help mobilize the surplus of food to the needful. One such app is Copia. With 40% of food getting wasted in the States alone, more and more of such technologies are required and much appreciated.
With such advancements and developments, technology might just be the saving grace of the food industry after all.
---