The overall uncertainty in the global economy has been the biggest bane of investors for much of 2019 and there is currently no end in sight to that particular problem. Stock markets almost all over the worlds have been muted for long periods due to the continuing U.S.-China trade tensions, uncertainties with regards to central bank rate cuts and concerns about global growth.
[Read More] Gold Prices Have Investors Scrambling & Analysts Clamoring For Junior Gold Stocks
In such a situation, investors have instead gone for safer avenues in order to protect their capital and that resulted in more investments in gold. The metal has had an incredible rally for much of the year and on Wednesday gold futures soared further to hit $1500 per ounce. On that note, it is interesting to take a look at some gold stocks
Roscan Gold Corp (ROS.V) – Making New August Highs
Shares of RosCan Gold Corporation (ROS.V) have been climbing since mid-July. After hitting lows of CA$0.11 on July 16, Roscan stock price has climbed to highs of CA$0.185 this month.

RosCan Gold Corporation (ROS.V) has amassed a significant land package. It encompasses 271km2, through option agreements to acquire 100%-owned permits. These are in the prolific gold prospective Birimian rocks of west Mali. Roscan believes these are high potential properties. Why? They are located in an area of existing gold deposits and multi-million-ounce producers.
This includes B2 Gold's Fekola Mine, which lies in a contiguous property to the west of its Kandiole project. RosCan Gold Corporation (ROS.V) may be on the verge of something big. RosCan's initial compilation of technical information of the Kandiole Project identified several areas of immediate interest.
[NEW DEVELOPMENT] Roscan (ROS.V) Expands Gold Zone at Mankouke and Makes a New Discovery at Its Kandiole Project in Western Mali
Roscan Gold reported positive assay results from both its diamond drilling and air-core (AC) drilling programs at its Kandiole Project in Mali, West Africa. The drilling program was completed during April to July of 2019 and was designed to test both the north and south extensions of the Mankouke gold discovery zone and many other strong termite and soil, gold anomalies.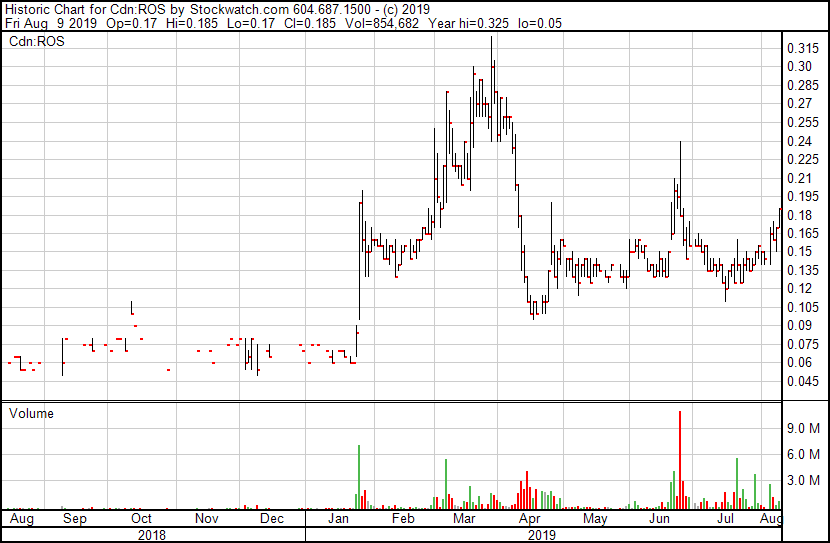 B2Gold Corp. (BTO.TO) – Opportunity In Pullback or New Lows Coming?
The gold penny stock rose by as much as 11% at one point on Wednesday. This came after its Q2 2019 results beat analysts' expectations. The company generated $52 million in net income for the quarter. But the more important thing to consider is that it also generated 246,020 ounces of gold.
According to management, B2Gold's (BTO.TO) current strategy is to continue to reduce debt. It also wants to expand the Fekola Mine throughput and annual production. Management would like to further advance its pipeline of development and exploration projects and evaluate exploration opportunities.
The Company has recently commenced the mill expansion at the Fekola Mine, which is expected to be completed early in the fourth quarter of 2020 and to significantly increase annual gold production and enhance the Fekola Mine economics. In addition, infill drilling is ongoing on the Fekola North Extension to convert inferred gold resources to indicated resources.
Americas Silver Corp (USA.TO) – Gold Stock To Continue Higher In August?
This gold stock has been in an uptrend since early June. Americas Silver (USA.TO) cracked new 2019 highs on Thursday after rallying to highs of $3.63. This move came as the company reported Q2 results. Americas Silver President and CEO Darren Blasutti said in a press release, "The second half of 2019 will be a very exciting period for our Company as we expect not only higher silver production, but most importantly, first gold pour from the Relief Canyon Mine."
Consolidated silver production for the second quarter of 2019 was 345,695 ounces and silver equivalent production was approximately 1.7 million ounces, an increase of 15% year-over-year for both metrics.
Cash costs (consolidated) increased 235% to $8.28 per silver ounce year-over-year and AISC increased 199% to $16.15 per silver ounce compared year-over-year.
Consolidated zinc production increased by 27% year-over-year, while consolidated lead production increased by 16% year-over-year.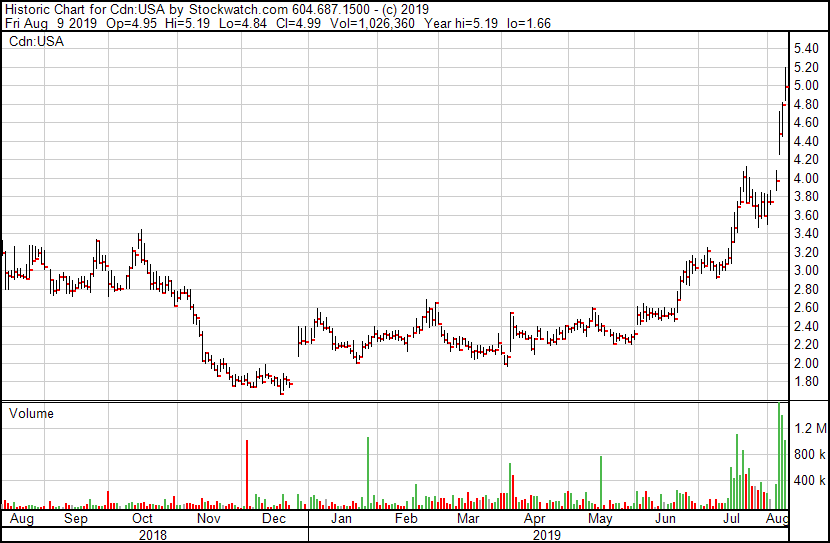 Other popular gold stocks include First Majestic Silver Corp. (FR.TO) and New Gold Inc (NGD.TO)
Can Gold Price Continue To Soar?
The rise in price per ounce stood at 2.6% as gold reached its highest levels since 2013 and it is interesting to note that in 2019 alone, it has jumped by as much as 19%. While it is true that the rise in the price of gold this year has been triggered by the factors mentioned above, the recent spoke has been brought on by escalation of tensions between the United States and China.
United States President Donald Trump imposed fresh tariffs on hundreds of billions of dollars worth of Chinese goods last month. In retaliation, the Chinese devalued their currency. The devaluation has pretty much offset the tariffs that Chinese exporters have to pay at this point in time. This could be seen as a clear escalation of tensions and currently, there is no end in sight.
An executive at the commodities and foreign exchange department of UBS Group AG stated that gold is now being used as a safe haven asset by investors. On top of that, Goldman Sachs Group also stated that the rising worries with regards to growth could see the price of gold eventually touch as much as $1,600 per ounce within the upcoming six months. In such a situation, the price of gold mining stocks also tends to go up and more often than not, the stock prices rise at a quicker rate than that of gold.