Airline Stocks Continue To Trade Near Lows; Good Time To Buy Or Are You Selling?
The world is in a tricky spot right now, because people can't travel which is affecting airline stocks at the moment. Most places are under stay at home orders that don't seem to be going away any time soon. The uncertainty in the world is affecting everything we do including travel which impacts the way airline companies do business. People are traveling less due to the coronavirus to be at less risk of catching it. This has affected every single industry for those who need to travel. This includes businesses like hotels, airlines, taxis, airports, trains, and more.
Read More
Not only airline stocks, but the airline industry as a whole has been extremely impacted by the coronavirus. The stories relating to people catching the virus had to do with people flying who had it. This caused a lot of negative feelings for consumers when it came to purchasing airline tickets. Then came the stay at home orders that kept everyone inside their homes. This caused a massive drop in the number of people traveling at all and airline ticket prices plummeted.
When it comes to airline stocks, they've been sitting low due to the effects of the coronavirus. But suddenly on May 18th, airline stocks started to take a turn for the better. Multiple airlines reported that they are seeing an improvement in flight demand so far during the month of May and for the month of June.
Airline Stocks To Watch: Delta Air Lines Inc. (DAL)
This airline stock to watch, Delta Air Lines Inc. (DAL Stock Report) reported that they would restore many domestic and international routes. These flights previously were not being run due to the coronavirus pandemic. Continuing to restore more flights can cause DAL stock to gain more attention in the market. Restoring the flights gives people a sense of safety that aviation companies believe these routes are ok to fly during this time.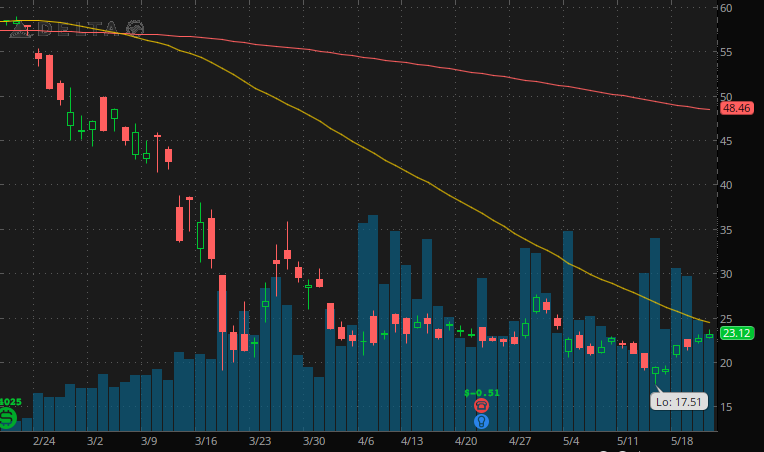 Cities are starting to reopen in America right now. As the world starts reopening again, people will start traveling more. Many people use airlines as a way to travel, for instance. DAL  stock is already seeing an increase in its share price due to the understanding that things may begin to return to a more normal state very soon.
How is DAL Stock Price Being Affected?
Delta, being an airline stock to watch, previously sat around $60 a share before the pandemic shocked the world. In mid-February of 2020, it dipped to an average of $45 a share. It dropped over the following month to a low of $21 a share. Over the course of the last month, it has generally stayed at that point with a slight rise to $26 a share at the end of April and then back down to $22 in May.
[Read More] What Are Top Tech Stocks To Watch Right Now?
On May 15th, share prices for DAL stock were steadily trading at $19. May 18th came around, off the open it jumped to $21 and has now increased to $22 a share. This is due to what was discussed above about these companies having a good feeling about the future. The potential vaccine, the hope for the future, and the rebuilding of our economy is all affecting the share prices of Delta stock, as well as other airline stocks.
Will we see the price of airline stocks rise? This will all depend on how soon we get the world back to a more normal state. It is generally expected for these stocks to make a comeback once that happens. We are living in a time where everything is uncertain and is depending on the pharmaceutical and biotech companies to come up with a solution. While we may not know when this is all coming to an end, we know that eventually, it will. Every day progress is being made as we get closer and closer to returning to our normal routines.