The future for solar energy plants and industry looks bright (no pun intended). Even after the government's inclination towards fossil fuels and the high tariff rates levied, Q1 of 2019 saw a 10% rise in the installation digits to 2,674 megawatts of Solar.
A report- Solar Market Insight Report 2019 Q2 – was published by SEIA and Wood Mackenzie Power & Renewables. It shows how solar power has set a record for itself, strengthening the residential and utility-scale projects. States have been actively installing solar; take, for instance, Florida, which installed the biggest percentage of solar in Q1.
---
---
NextEra Energy (NEE – Stock Info)'s subsidiary, Florida Power and Light was one of the major reasons for this high installation rate. This happened after the announcement of procurement of 1,500 MW of solar. The company plans to expand this installation number to 10,000 MW by 2030. This implies a new market development possibility.
The Increasing Sales Figure Might Set Another Record
On the other hand, California used to lead for solar installations, but it reported a 538 MW installation figure in Q1. While in 2017 and 2018, California had accounted for 2,599 MW and 3,396 MW solar installations respectively, Florida had installed a total of 758 MW in 2017 and 857 MW in 2018.
Thus, the sudden boost in the Floridian install came as a pleasant surprise but the residential and commercial solar is yet to show such progress in Florida. With the solar leasing being pushed to next year and the push back on net metering by utilities, Florida still has a long way to go.
Residential solar installation alone rose by 6% as compared to the previous years' figures. A total of 603 MW of solar was installed in Q1. This helped companies like Sunrun (RUN – Stock Info) and Vivint Solar (VSLR – Stock Info) make it through its difficult conditions. Utility Solar, on the other hand, with installation count of 1,633 MW, is also skyrocketing.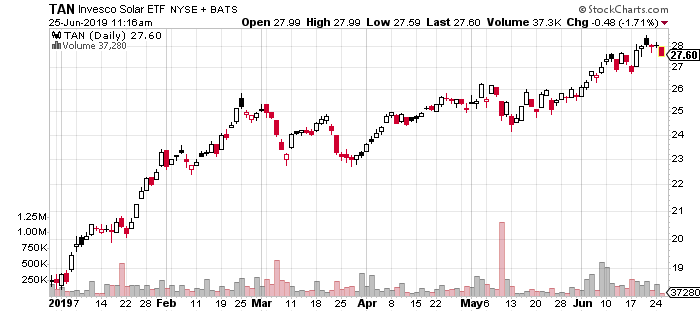 Florida seems to have been a significant contributor to this figure. The boom in utility-solar has changed the projected installations for the state. This went from 6,000 MW to 9,000 MW expected over the next five years. Meanwhile, nationwide the forecasted figure increased by 1,200 MW in 2019.
What Does The Future Hold?
The sales and marketing cost have been high and been one of the major roadblocks in the industry's growth. The commercial solar, however, remains a major concern. With the policy changes in California, Minnesota, and Massachusetts affecting the industry, the installation of solar decreased by 18%. This total was only 438 MW.
The increased demand for solar is a benefit for the companies. Solar-panel provider giants like First Solar (FSLR – Stock Info) and SunPower (SPWR – Stock Info) could greatly benefit. The companies look forward to an enthusiastic surge in demand. Even companies like Sunrun, Vivint Solar and SunPower have gained with the growing volumes of residential installing solar.
After two hard years of policy headwinds, this came as a hopeful rescue for the companies. The higher volumes promise a better future for the stocks of the companies.