SpaceX is a private aerospace company that was founded in 2002 by Elon Musk. Since its start, it has made many advancements in the space travel sector. Some of these include being the first private company to launch and recover a spacecraft, the first private company to launch an object into orbit, and more.
SpaceX has achieved a new accomplishment that is huge for the aerospace company. On May 30th at 3:22 pm EST it launched Falcon 9. Falcon 9 is their first space mission with astronauts on board. The astronauts, Bob Behnken and Doug Hurley arrived at the International Space Station the next day, May 31st. These astronauts will be at the ISS anywhere from one to four months.
[Read More] Hospitality Stocks On The Rise Right Now
Not only was this a huge accomplishment for the company, but it's also the first time humans are flying to space in a very long time in the United States. In fact, this is the first time astronauts have been launched from US soil since 2011. The return plan is for the spacecraft to autonomously depart and land back in Florida where SpaceX's Go Navigator recovery boat will bring the astronauts back to land.
The Impact Of SpaceX's Flight
SpaceX is now the first private company to launch astronauts for NASA. The plan is for SpaceX to begin launching astronauts to the International Space Station for NASA and other space companies if everything goes smoothly with this mission. Things are looking very well for SpaceX right now. This company continues to make progress in the space travel world and it is exciting to watch.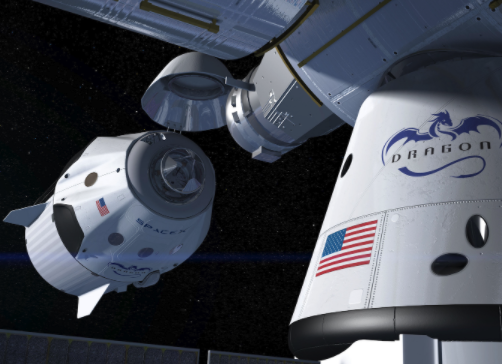 Since Elon Musk leads both SpaceX and Tesla (TSLA Stock Report), when there's good news for SpaceX, Tesla sometimes will rise. On Monday, June 1st, shares of TSLA stock rose almost 6%. This is the highest this stock has been at since they reached their all-time highs back in February 2020. SpaceX has no direct investment or link to Tesla at all. The rise is thought to be solely due to Elon Musk's personal stake in both companies. Musk owns a large stake in both of the companies so his status is essentially what effects it.
This means that people who want to invest in things relating to Elon Musk only can invest in TSLA stock. SpaceX is still a private company for now so there's no option to invest there. This space mission resulted in TSLA stock rising from $827 a share to now being at $897 a share as of June 1st.
So for now you can't directly invest in SpaceX, but investors have resorted to putting their money into Tesla due to the association with Elon Musk. This doesn't mean that SpaceX doesn't have big investors though. Alphabet (GOOGL Stock Report) owns a $900 million stake in SpaceX that they purchased in 2015 and still hold to this day. In the next section their recent investor situation will be discussed.
More SpaceX News Impacting The Company
On May 26th SpaceX did a filing with the Securities and Exchange Commission that showed the companies funding round has been very successful. They raised their offering to almost $350 million in common stock. In addition to this, they have gained some new investors as well. The SEC filing reported that $346.2 million was placed by 16 investors during this funding round.
SpaceX has very ambitious plans including colonizing Mars someday. That's just one of many plans this space exploration company has in store. It will be interesting to see what they are going to do in the future and if they will end up going public on the stock market at some point. For now, SpaceX is a great company to watch expand and continue to break new barriers in space exploration.