Investing in stocks can lead to enormous gains in a short span of time, but at the same time, it is not easy to accomplish that. The simple reason is that there are plenty of such stocks in the market. An investor needs to do plenty of research in order to pick the right stocks. The wrong pick can easily lead to losses.
Hence, research and having an idea about the market is paramount for success with any stock. Other things to keep in mind are major corporate events. This poses two angles for investors to think about.
Is the news good or is it bad? Good news, of course, can trigger bullish momentum while bad news could spark a huge sell-off in stocks. On that note, here is a look at 3 tech stocks that may be worth a closer look after the latest round of news.
Penny Stocks In the News #1 Liberty Defense (TSX:SCAN.V0 (OTC:LDDFF)
Liberty provides security solutions for concealed weapon detection in high volume foot traffic areas and has secured an exclusive license from Massachusetts Institute of Technology. Liberty Defense (TSX: SCAN.V) (OTC: LDDFF) also has a technology transfer agreement, for patents related to active 3D radar imaging technology that are packaged into its HEXWAVE product.
Liberty Defense (TSX: SCAN.V) (OTC: LDDFF) has a technology that could disrupt this multi-billion-dollar industry for the better. The company's  HEXWAVE is a next-generation high-tech security scanning system that will use advanced, low-power radar, 3D-imaging, and Artificial Intelligence (AI) to screen people at public gatherings such as sports games, unobtrusively. It's gained notoriety from countless media outlets and Liberty has been able to greatly capitalize by closing on several beta testing agreements.
What Happened In The News?
For Liberty Defense (TSX: SCAN.V) (OTC: LDDFF) , 2 milestones have happened within the 3 weeks. First, Laurentian Bank Securities Inc. has initiated coverage of the Company. Additionally, Liberty has signed a collaboration agreement to beta test its flagship product, HEXWAVE, with the Maryland Stadium Authority, the unit of state government that owns and manages the sporting venues at Camden Yards in the city of Baltimore. This is in addition to the growing list of previous beta test deals in place.
Penny Stocks In the News #2 GameStop Corp (GME)
GameStop Corp. (GME Stock Report) isn't the pure play tech stock but does deal directly with one of the most popular forms of tech that millennials love; gaming. The video game retailer has had a bit of a rollercoaster ride over the past few weeks and that has reflected on its stock price as well.
The company had earlier announced that it was going to close as many as 200 retail stores until Christmas. Although that is a positive development for investors, there was another reason for the 6.6% rise in the stock price on Monday.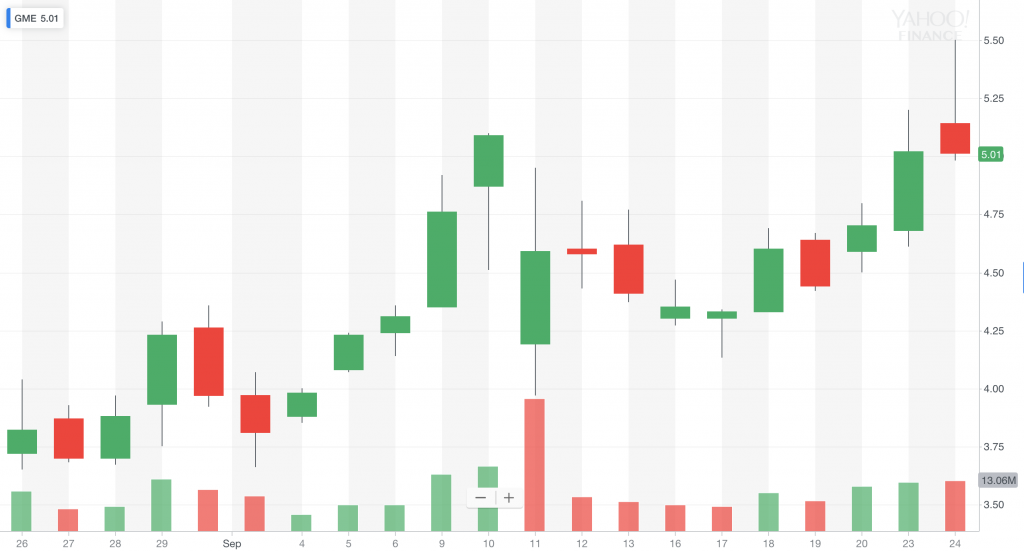 Placer.ai, a company that is involved in analyzing consumer foot traffic, stated in a note that the traffic to the company stores in July and August are going to rise. The firm has projected a 3.8% year on year rise in Q3 2019. That is believed to be the reason behind the rise in the stock yesterday.
What Happened In The News?
Wedbush analyst Michael Pachter has a contrarian bullish view on GameStop, and said in a note that he expects shares to trade at a compressed EPS multiple until the company can slow the rate of decline in its core video game business.
"We continue to believe that GameStop is an attractive investment. The company expects to generate over $200 million in free cash flow this year, and we think ongoing sales of the Switch Lite, a solid release schedule next year and the launch of next-generation consoles late in the year can keep GameStop generating $200 million or more in free cash flow annually for years to come," the analyst said.
Penny Stocks In the News #3 Nio Inc (NIO)
On the other hand, Chinese electric vehicle manufacturer Nio Inc – ADR (NIO Stock Report) has had a pretty disappointing year so far. On Tuesday, the stock experienced another steep decline. The stock declined by as much as 10% on Monday as the selloff began. NIO stock has had a remarkably poor year so far and is down by as much as 56%. However, it is important to note that if the company manages to deliver decent results then the stock could climb again.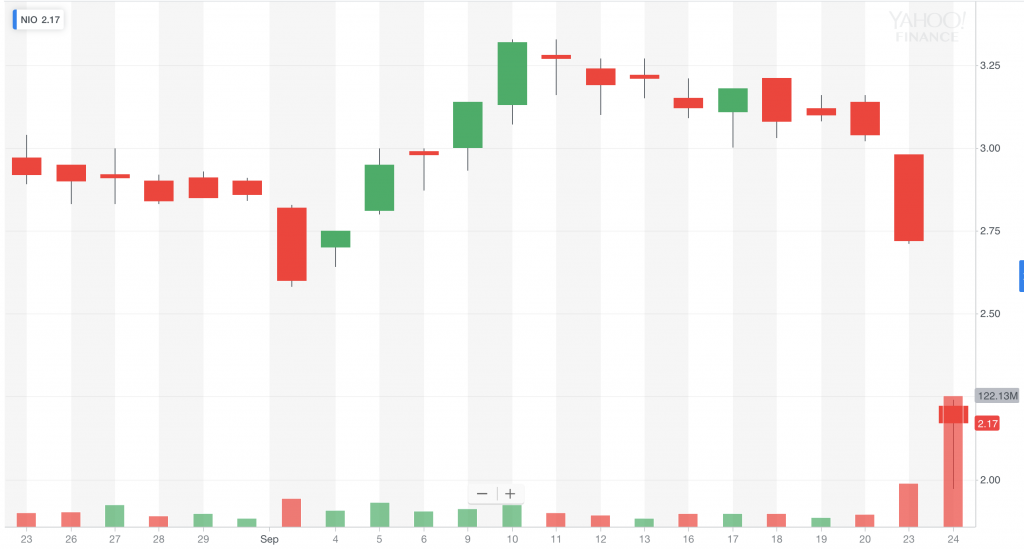 Tuesday saw the company's stock decline further. News of a capital raise shook the market. There are still several unknowns about the future of the company and a lot of that has to do with the competitive landscape in China. This may be one of the penny stocks to watch later on if or when it can firmly turn around its operations. Near term, however, there's no clear cut direction.
What Happened In The News?
Shares of Nio tumbled Tuesday after the Chinese electric-car maker reported second-quarter losses that neared half a billion dollars. Nio stock, down 67% in 2019 through Monday's close, was recently off 23% to $2.10 as the company compounded concerns surrounding its losses by canceling its customary quarterly conference call with management.
The company posted a second-quarter net loss of $479 million, or 47 cents a share, on revenue of $206 million. Its gross margins, which are negative, widened substantially from the first quarter, largely because of a recall.
---