Electric car manufacturing giant Tesla Inc (TSLA Stock Report) has had a decidedly up and down year so far. The stock slumped after Q1 2019 when the company's deliveries had dropped considerably but in Q2 2019 the delivery count reached record levels and helped shore up the stock considerably.
Tesla Stock Price Hits September Highs
Over the past few weeks, Tesla stock price has been largely flat but on Wednesday it rose by 5.4%. It proved to be the biggest single-day gain for the stock in as many as seven weeks. That being said, there was no news with regard to Tesla that could have acted as a catalyst. Analysts believe that the jump could simply have been a case of the recent upward trend in the stock in recent weeks.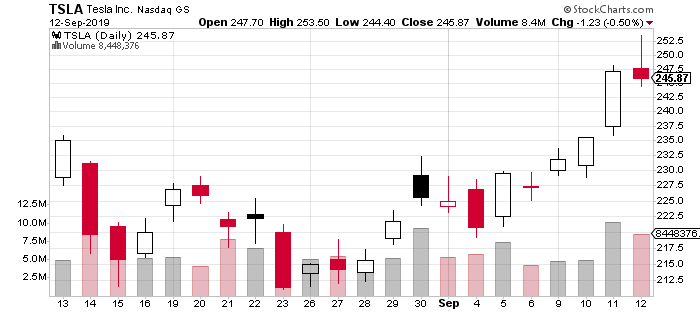 Since August 23 the Tesla stock has shown some bullish tendencies and in fact, it is currently up by 23% from the date. The recent rally of sorts maybe impressive for some investors but, it should be noted that it has declined by almost a third from its peak of $366 in 2018. The rise on Wednesday could also be a case of investors getting back into the stock since they think the current levels might represent good value.
READ MORE : Breakthroughs In Technology Put A Direct Target On 1 Weapons Detection Stock
What's Next For Tesla?
Despite the current surge in the stock price, experts still believe that it is not yet the right time to buy the Tesla stock. Firstly, the price of oil is going down at a remarkable rate and if it continues then there would not be much of an advantage of instead going to electric vehicles.
On the other hand, an economic slowdown has gripped many parts of the world and in such a situation it would be difficult for Tesla to generate the sort of sales growth that is going to reflect on the stock price. Hence, despite the current bounce and the impressive innovations that are promoted by Tesla, the stock is not yet a buy.
READ MORE : Breakthroughs In Technology Put A Direct Target On 1 Weapons Detection Stock