The trade war between the United States and China has been one of the most damaging economic developments for a variety of reasons. However, once the two countries decided to open talks, there was hope that a trade deal was going to be signed. Over the last four months or so, it seemed that a deal could be signed.
United States President Donald Trump has thrown the whole thing into a bit of disarray after stating on May 5th that he was going to raise tariffs on $200 billion worth of Chinese goods if the deal was not completed. The talks were on its last legs but it now seems that the next round of meetings in Washington could be in jeopardy.
Trump's Ultimatum
The US trade delegation was in China this past week and according to the Secretary of the Treasury, the talks between the two sides had been 'productive'. The Chinese were then going to travel to Washington and finalize the deal after the last round of talks. However, Trump has implied that the Chinese are trying to renegotiate certain provisions of the deal and he went on Twitter to speak about his reservations.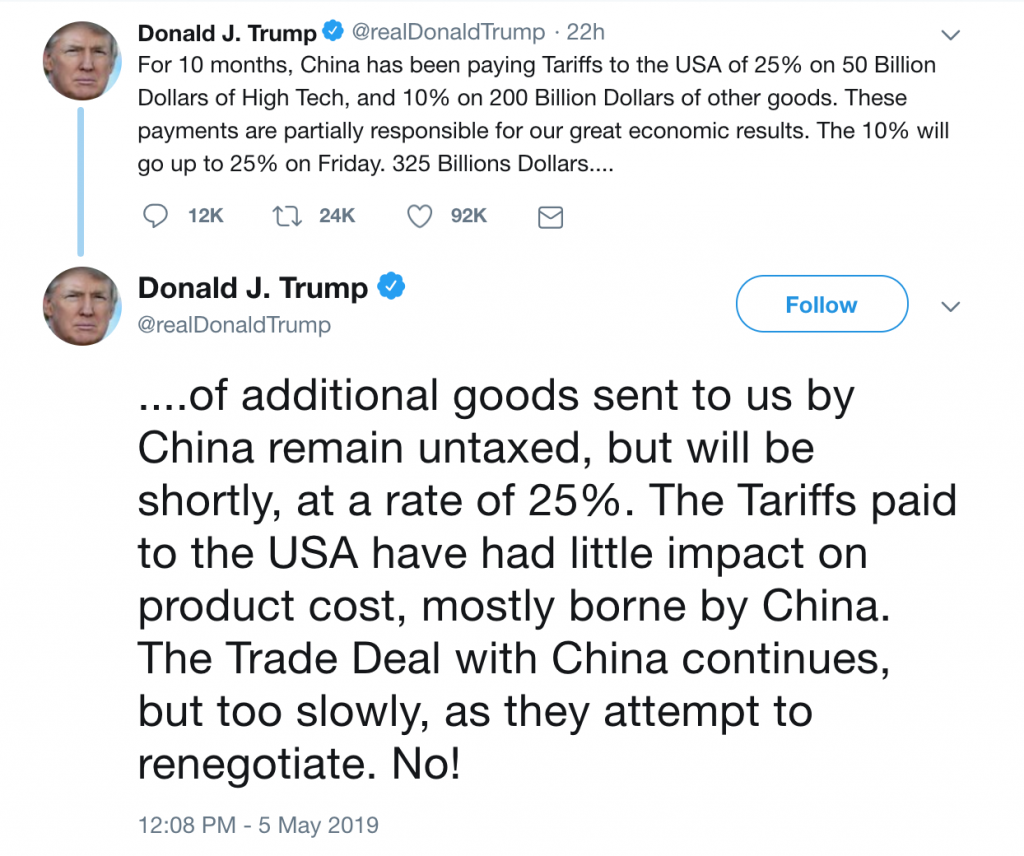 This move from the US President marks a different turn altogether in the whole negotiations after the two nations called a truce and decided to hash out a new deal. Over the course of 2019, both sides have repeatedly stated that the talks were progressing smoothly.
Talks Of Cancellation
Trump's ultimatum has however made it pretty tough for the talks to continue and according to some reports, the Chinese vice president, who was going to lead the discussions in Washington, is not going to lead the delegation now. In this regard, it is important to keep in mind that neither the Chinese leadership nor the American delegation has provided any official comment about the possibility of a cancellation.
That being said, it is not looking increasingly likely that the talks stand cancelled as of now. According to the editor of the state owned Chinese newspaper Global Times, which is often regarded as the government's mouthpiece, the talks are unlikely to continue. One of the Chinese officials had apparently stated that the atmosphere surrounding the talks have now changed significantly.