Penny stocks are some of the most active and volatile types of stocks in the stock market today. But what everyone knows about these is that they can break out in a big way. That's why so many continue to look for the best penny stocks to buy.
In this regard, several economic and sector events have sparked interest in a number of small-cap and micro-cap stocks this week.  Here is a list of 4 penny stocks that may be worth watching this week:
Penny Stocks To Watch #1: PharmaCyte Biotech (PMCB)
There has been no lack of attention on biotech penny stocks this year. At the beginning of August, one small biotech stock broke to highs of over $10 from a starting price below $2 a share after releasing news. PharmaCyte Biotech (PMCB) focuses on ways to effectively deliver treatments to patients with diseases ranging from cancer to diabetes.
The company's proprietary cellulose-based live-cell encapsulation technology known as "Cell-in-a-Box®is the platform that the company uses to develop its therapy delivery methods.  For most of the quarter, shares of PMCB stock have traded between $0.033 and $0.04 with volume recently surging.
On September 12, PharmaCyte saw more than 4 million shares trade; well above its daily average. Most of the attention surrounding the company has been on two things. First, its progress with Cell-In-A-Box and the application for Pancreatic cancer has continued to progress. The company brought on Dr. Manuel Hidalgo, has confirmed that he will be Principal Investigator (PI) for PharmaCyte's planned clinical trial in locally advanced, inoperable pancreatic cancer (LAPC) now that he is at Weill Cornell Medical Center.
Second, the company has been ramping up for a much-anticipated shareholder update call on September 20. The call will cover PharmaCyte's preparations for submission of its Investigational New Drug application (IND) to the U.S. Food and Drug Administration (FDA) to treat locally advanced, inoperable pancreatic cancer and developments related to PharmaCyte's product pipeline on which PharmaCyte has been working and that have not yet been reported in a press release.
Penny Stocks To Watch #2: Discovery Gold (DCGD)
One of the more volatile penny stocks to watch this month has been Discovery Gold (DCGD Stock Report). Though the stock is not mining, it is participating in another industry that has seen its own "rush:" cannabis. For the better part of the last quarter, shares of Discovery Gold have climbed from $0.01 to as high as $2.22. Over the last few days, however, the marijuana stock took an aggressive tumble to lows of $0.43.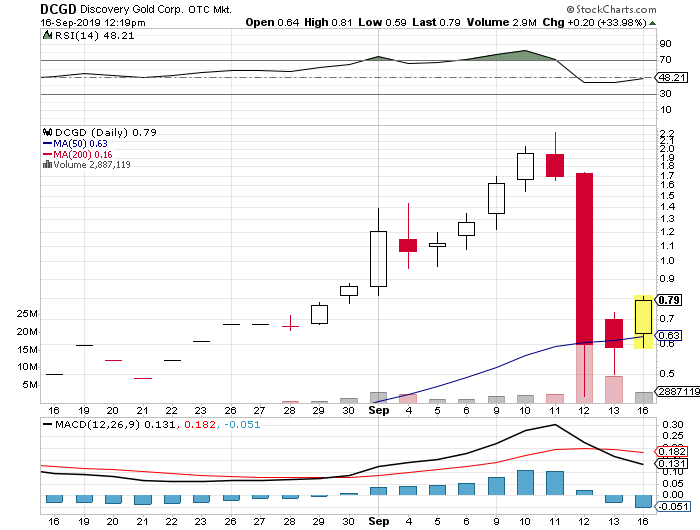 The company had previously announced that it would be pursuing a name change to GRN Holdings Corporation. Over the past few months, GRN has been adding new management and advisory members. Most of them have some background in the cannabis industry.
On Monday, DCGD shares saw a dramatic trend reversal compared to its previous two trading sessions. Shares opened the week at $0.64 and have seen highs of $0.81 heading into the lunch hour on Monday. The company hosted web conferences on the 13th, throughout the afternoon.
Penny Stocks To Watch #3: Fannie Mae (FNMA)
One of the more popular housing penny stocks to watch this month has been Fannie Mae (FNMA Stock Report). Thanks to the government's focus on overhauling the company, the market has been monitoring progress closely. The mortgage giant, along with Freddie Mac, has seen a rise in price from lows this month of $2.51 to highs of $3.98 during the early lunch hour on Monday. Since the beginning of the year, FNMA stock has risen by as much as 272%.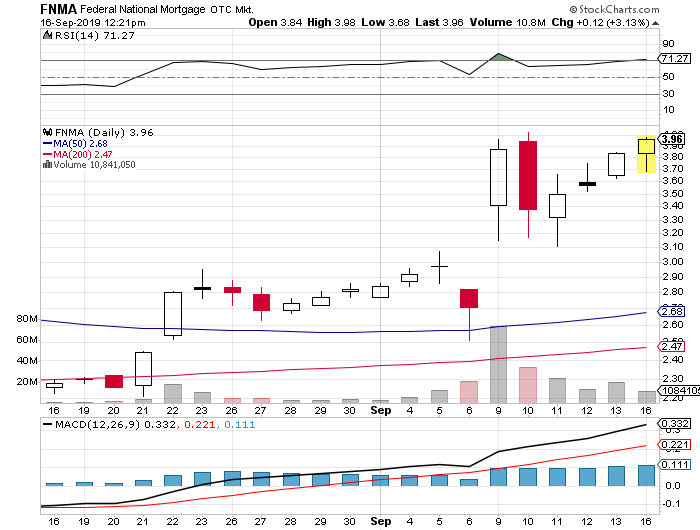 The firm announced the results of its thirteenth reperforming loan sale transaction. The deal, which was announced on August 13, 2019, included the sale of approximately 29,400 loans totaling $5.1 billion in unpaid principal balance (UPB), divided into six pools. The winning bidders of the six pools for the transaction were Goldman Sachs Mortgage Company (Goldman Sachs) for Pool 1, Towd Point Master Funding LLC (Cerberus) for Pools 2, 3, 4, NRZ Mortgage Holdings, LLC (Fortress) for Pool 5, and DLJ Mortgage Capital, Inc. (Credit Suisse) for Pool 6. The transaction is expected to close on October 25, 2019.
Penny Stocks To Watch #4: Cardiff Lexington Corporation (CDIX)
The last penny stock to watch on this list is Cardiff Lexington Corporation (CDIX Stock Report). Shares of the sub-penny stock have climbed from lows of $0.0014 on September 10 to highs of $0.0059 as of the 12 o'clock hour on Monday. This move of more than 320% came as the company is in the midst of several key developments.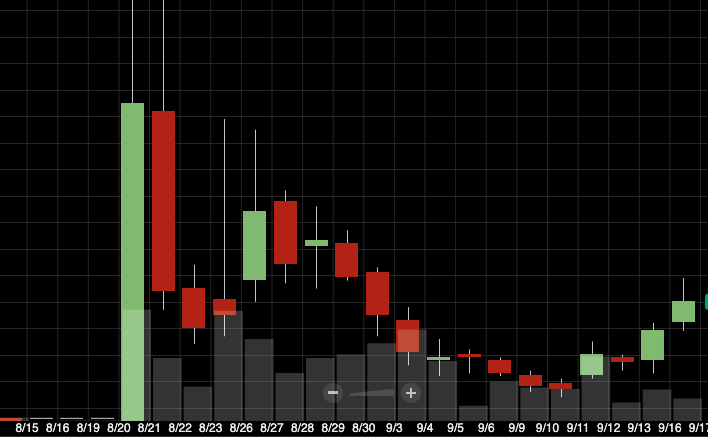 First, Cardiff announced in late August that, along with Acela BioMedical, LLC, the two have signed a Letter of Intent whereby Acela BioMedical would become a subsidiary of Cardiff Lexington. Acela Biomedical is an existing Hemp grower, distributor, processor, extractor, and retailor specializing in CBD Oil Production with over two million plants in the ground in Kentucky. Its processing facility is currently in operation.
In addition to this, Cardiff announced this month that the Company has received $410,000.00 in new funding from the Private Equity Group, Leonite Capital, LLC. As a result, Cardiff was able to pay off three significant convertible notes totaling $379,902 and further, plans to retire all commercial notes by year-end 2019 in concert with acquisition-related equity funding.
---