Special Delivery! On-Demand Tech Companies Hit Billion-Dollar Valuations; Here's How Investors Can Capitalize In The Market
Technology has evolved over the years, and so have online websites and apps. Growing food delivery apps are the newest trend, expanding revenue generation in the food-service industry by 22% or more. And this new trend has created an even greater opportunity beyond food delivery alone!
Uber Eats has about 20% of the market, while GrubHub, including Seamless and Eat24, has 52%. In its latest funding effort, DoorDash raised $250 million after the five-year-old San Francisco-based startup raised $535 million in March. Furthermore, DoorDash, which competes with GrubHub (GRUB), Uber Eats, and Postmates, has raised nearly $1 billion overall.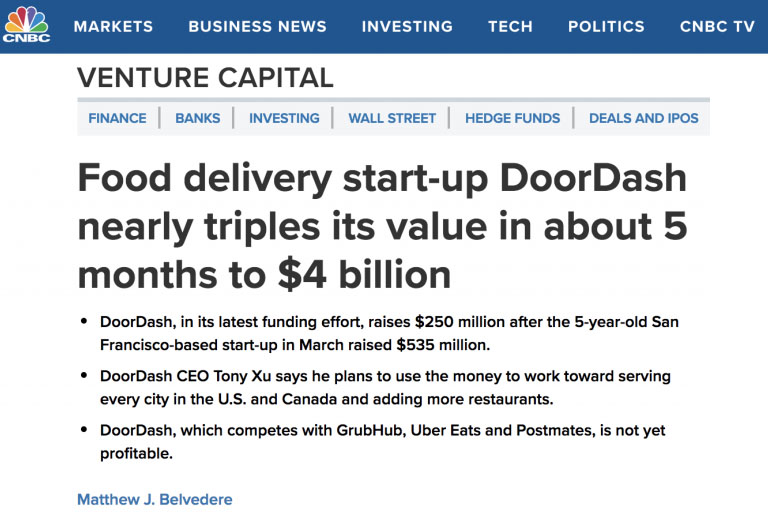 CEO of Uber Dara Khosrowshahi has said that Uber Eats is growing at 200% per year and has a $6 billion run rate, meaning that it's on track to book $6 billion over the next 12 months given current rates. She said, "Going forward, we're deliberately investing in the future of our platform: big bets like Uber Eats…"
Going Global – The Real Opportunity For Investors
Chinese investor and WeChat owner Tencent has joined a global lineup of investors seeking to write the biggest check in India's food-technology sector for Swiggy. The online food-delivery platform has held discussions with a host of investors to raise $500-700 million, a significant portion of which Tencent wants to contribute, according to people familiar with the talks.
The investment could value Swiggy at $2.5-3 billion. Swiggy has also been in talks with Japan's SoftBank for a sizeable investment since November, according to reports.
Another app called Rappi is a Colombian on-demand delivery startup that has brought in a new round of funding at a valuation north of $1 billion, as first reported by Axios and confirmed to TechCrunch by a source close to the company. DST Global led the more than $200 million in financing with participation from Andreessen Horowitz and Sequoia, all of which were existing investors in the company.
But Here's The Problem: Most Companies Are Private
Private companies are mostly driving these billions and trillions of dollars that are being poured into this new On-Demand Economy. The average retail investor has little opportunity to take advantage of it, especially considering this idea of global expansion that could turbo-charge industry growth.
ParcelPal (PTNYF) (PKG) Is The One Company That's Already Breaking Into The Global On-Demand Industry At A Rapid Pace
The opportunity that ParcelPal (PTNYF) (PKG) may be presenting now draws comparisons to the way early investors had an opportunity with companies like Uber and GrubHub (GRUB) before they went mainstream in the US. GrubHub priced its initial public offering at $26 per share and now trades nearly 5x that price just as this market is beginning to heat up!
---
Latest News:
---
The difference withParcelPal (PTNYF) (PKG) is that it is going directly after the international markets that have very limited access to technology like this right now. In fact, the major players in the industry are just beginning to get their feet wet with beta testing; they aren't even full speed yet.

ParcelPal (PTNYF) (PKG) created an on-demand marketplace where customers can shop for anything from food to clothes. There is no more waiting in line for lunch or rushing to the store after work to grab your clothes. With ParcelPal on-demand, customers simply shop from the app, choose the items they want, and pay.
A ParcelPal (PTNYF) (PKG) courier will accept the request and pick up and drop off the items to wherever customers want within one hour.
ParcelPal (PTNYF) (PKG) Gets A "Little Help" From An E-commerce Company: Amazon!
It's true that new markets are difficult to enter, especially if it is a brand new way of doing business, such as the on-demand economy. But unlike the Ubers and Postmates in their early years, ParcelPal (PTNYF) (PKG) has already aligned with one of the largest online juggernauts in the history of the modern world.
ParcelPal (PTNYF) (PKG) has engaged in a work order contract with Amazon.com Inc. to fulfill package delivery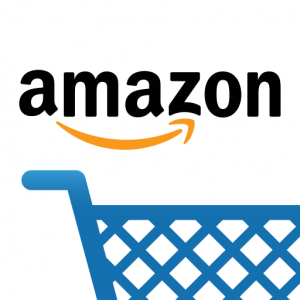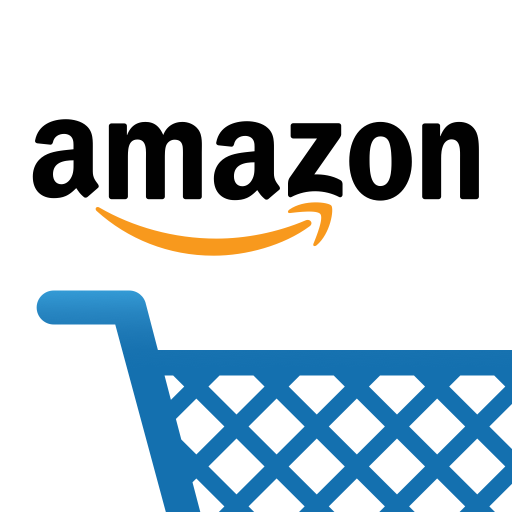 on behalf of Amazon to residents in Metro Vancouver, British Columbia, Canada. ParcelPal (PTNYF) (PKG) has already seen exceptional growth in this division of the company since launch, growing over 115% week over week, delivering approximately 150,000 packages since mid-November.
The company is currently maintaining an average of 99%+ delivery success rate and is delivering thousands of packages daily on behalf of Amazon. The contract signed involves delivering for Amazon "Core" services. This entails delivering Amazon merchandise to Greater Vancouver residents.
The company is already aiming to expand on both the existing "Core" business and Amazon Prime services!
Entry Into Key Verticals
Something that is beginning to set ParcelPal (PTNYF) (PKG) apart from its immediate competition is its diversification strategy. Not only is the company working with the likes of Amazon, but it is also entering into key verticals that are seeing an increase in rapid demand. Right now, ParcelPal has built relationships with businesses in both alcohol and cannabis.
We don't have to go into the deep details of these booming industries, but it is vital to understand that the evolution from brick-and-mortar to on-demand delivery could be setting the stage for a major economic boom.
While consumers are becoming more comfortable with using smartphones and computers to buy groceries, they are also increasingly using the same technology to help them skip trips to the liquor store, according to data from the e-commerce analytics firm, Slice Intelligence.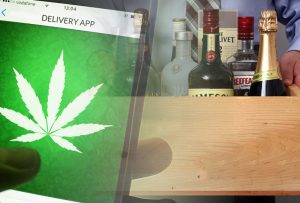 Online alcohol sales of beer, liquor, and wine grew 32.7% in 2017, according to Slice. By far, the most popular kind of adult beverage bought on the Web is wine, which represented more than 65% of online alcohol sales during the 25-month period from Jan. 1, 2016 to Jan. 31, 2018, according to Slice. Spirits follow that, at 21.2%, and beer at 13.8%.
"While e-commerce in the alcoholic beverage space is still immature, we are starting to see the shape of a robust category," says Ken Cassar, principal analyst for Slice. "It makes sense that wine would lead all subcategories within alcoholic beverages, due to the relatively high value of scarce wine. Ultimately, though, beer will likely win as grocers figure out how to manage through complicated laws that vary by local jurisdiction."
This is just one slice of ParcelPal (PTNYF) (PKG)'s directive to take on "sin-dustries" (sin industries like alcohol, tobacco, and marijuana). With the budding market in Canada alone proposed to reach somewhere in the billions of dollars, cannabis presents a more near-term opportunity for ParcelPal.
According to the latest projections from San Francisco-based ArcView Group, a marijuana research, and investment firm, in partnership with Boulder-based BDS Analytics, a cannabis-focused market researcher, the Canadian legal cannabis sector is estimated to generate $1.3 billion in 2018. By 2022, the forecast is even more robust—$5.4 billion for both the medical and recreational markets.
ParcelPal (PTNYF) (PKG) has entered into a definitive agreement for partial acquisition and exclusive partnership with marijuana seed-to-sale provider and online ordering system, TokeIt Technologies, Inc.
A cannabis focus will give all TokeIt-engaged licensed dispensaries the ability to offer their consumers the opportunity to order marijuana directly through the ParcelPal or TokeIt applications and have it delivered in an hour or less. This partnership offers ParcelPal access to thousands of customers in neighborhoods throughout Vancouver.
The deal gives ParcelPal access to more than 15,000 customers on the TokeIt platform and nearly 50 dispensaries partnered with TokeIt with which ParcelPal currently operates. According to the company, the average dispensary on the TokeIt Platform produces more than $250,000 per month.
New Opportunities Arise With Leadership
The company welcomed Ontario MP Parm Gill as an advisor to the Board of Directors.
Parm Gill is the current Member of Provincial Parliament for Milton. Prior to his work in public service, Parm was involved in several family businesses in the manufacturing and hospitality industries. Parm studied at the Ivey School of Business at Western University, earning his Master of Business Administration degree.
Before being elected to the Ontario Legislature in 2018, Parm was the Federal Member of Parliament for Brampton-Springdale from 2011-2015.
While serving as the MP in the Canadian House of Commons, Parm was appointed as the Parliamentary Secretary to the Minister of Veteran Affairs, and later, the Minister of International Trade. Throughout his tenure, Parm was a member of many committees including the Standing Committee of Public Safety and National Security, Health, Canadian Heritage, Veterans Affairs, and International Trade
An Industry Already Built For Big Buyouts
Amazon is often named as a potential suitor for a number of tech-based companies, especially for food delivery, where the Whole Foods acquisition might have been just the tip of the iceberg. In 2017, a study from the Food Marketing Institute (FMI) and The Nielsen Co. predicted that, by 2025, as many as 70% of U.S. consumers will be buying groceries online, and those purchases will total more than $100 billion. An update of the FMI/Nielsen report published last month, however, moved that timeframe up by three years to 2022.
FMI and Nielsen cited big acquisitions as key drivers accelerating the pace of change in the online food market.
The report calls out the $13.7 billion purchase of Whole Foods by Amazon.com Inc. in 2017, the 2016 acquisition of Jet.com by Walmart Inc. for $3.3 billion, the purchase of meal-kit delivery company Plated by Albertsons Cos. last fall (terms were not disclosed), and the acquisition of Shipt Inc. by Target late in 2017 for $550 million.
Currently, the FMI/Nielsen report says that 49% of U.S. consumers shop for consumer packaged goods (CPG)—the kinds of products typically found in grocery stores—online. And it's not just Millennials who are shopping for food online. The report says that 61% of Millennials, 55% of Generation X, 41% of Baby Boomers, and 39% of those born before the Baby Boom reported having recently purchased a CPG product online.
These Are Just The Numbers From The United States!
The purpose of mentioning big figures like these isn't to explain how big the US market for on-demand delivery has become; it's to show how big it could become across other markets. With big buyouts from some of the major players in the business like WalMart, Albertsons, and Amazon, this industry is already built for big buyouts.
The Market Boom is Coming
The M&A strategy shows that this market isn't one to ignore right now, and the real market boom may not even be here yet. Between 2016 and 2017, the amount that users are spending for ordering/booking on-demand service apps has only risen.
According to the data collected by the National Technology Readiness Survey in the U.S., it was estimated that total spending on the on-demand mobile app services would increase from $48 billion n 2016 to $75.7 billion in 2017—an increase amounting to 58%.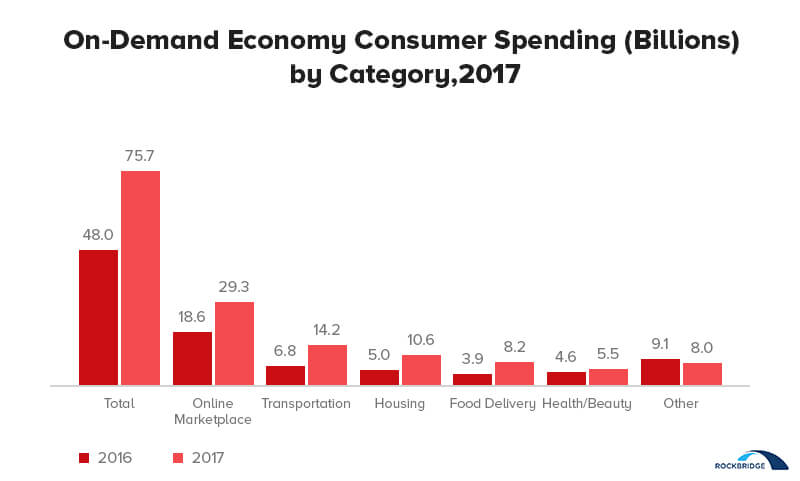 The segments of the on-demand startup market that have witnessed maximum growth, consist of housing items from $5 billion in '16 to $10.6 billion in '17; transportation, which moved from $6.8 billion in '16 to $14.2 billion in '17; and, lastly, the food delivery category, which shifted to $8.2 billion in 2017 from $3.9 billion in 2016.
Seeing this growing spending number, Rockbridge estimated that the number of on-demand mobile app startup consumers would reach 56 million by the end of 2018 and 93 million by the time we hit 2022.
The rise in awareness has brought in a rise in the perceived advantage that users are getting by using the on-demand services. The main advantages include the ability to find service online on an app (70%), the benefit of paying and tracking the progress of the delivery person on the app (62%), and, lastly, the perk that comes with being connected with another person in place of a business (52%).
Limited Options In the Public Markets Give Rise To Targeted Opportunities For Investors
It's true that this market is exploding right in front of our eyes, but just as with the boom that the "Over The Top" entertainment industry saw with the advent of Netflix, right now there are a limited number of offerings available for investors to look at.
It is undeniable how on-demand is changing the world around us as we know it. No matter which business segment you belong to, chances are that someone in your industry will be thinking about investing in the on-demand market.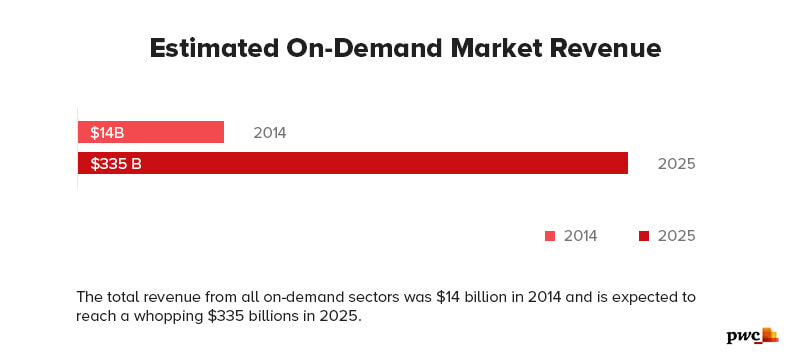 This un-altering demand for the on-demand services is not just the truth of the present day; the future has a similar story to share. The future of on-demand lies in a number of categories. According to a PwC report, the on-demand economy revenue, which was $14 billion in 2014, will reach $335 billion by the time we reach 2025.
ParcelPal (PTNYF) (PKG) could already be grabbing first mover advantage when it comes to taking on the global arena. Surely, there are already billions being invested in the startups of tomorrow, and as these companies "prepare," ParcelPal is already entering into key verticals, aligning with major companies like Amazon, while also expanding the technology of their application to deliver a seamless customer experience for a country that is just beginning to find out what on-demand services are!
With the feverish pitch that the global on-demand industry is set to see, can you afford to miss out on something for which early adopters are already earmarking billions of dollars for massive future growth?
---
ParcelPal (PTNYF) (PKG) News:
---
---
---
---
---
---
---
Disclaimer: MIDAM VENTURES LLC has been compensated $75,000 per month by a ParcelPal Technology, Inc. for a period beginning September 1, 2018 and ending February 1, 2019 to publicly disseminate information about (PTNYF/PKG) to publicly disseminate information about (PTNYF/PKG). Midam Ventures has been compensated $100,000 by Parcel Pal and has extended coverage to April 1, 2019. Midam Ventures has been compensated $100,000 by Parcel Pal and has extended coverage to May 1, 2019. Midam Ventures has been compensated $200,000 by Parcel Pal and has extended coverage to June 1, 2019. Midam Ventures has been compensated $200,000 by Parcel Pal and has extended coverage to July 1, 2019. We may buy or sell additional shares of (PTNYF/PKG) in the open market at any time, including before, during or after the Website and Information, provide public dissemination of favorable Information. We own zero shares. Click Here For Full Disclaimer
Stock Price Mid-Day Update
What a way to start the week. The markets are green right now and even ahead of all of the expected financial meetings this week, sentiment is high. That's true too for the companies we talked about this morning. So let's dive in and get everyone caught up to speed.
ParcelPal Technology Inc. (PKG.CN) (PTNYF) Jumps On Integration News
ParcelPal Technology Inc. (PKG.CN) (PTNYF) has been on the move for most of the month and the recent jump comes on the heels of this penny stock announcing integration on the Shopify platform. If you're wondering, this is the same Shopify that trades publicly at OVER $300 a share!
Now the deal was first scooped by Benzinga and was later confirmed when ParcelPal formally announced the deal later in morning. Businesses of any kind, notably cannabis merchants will be able to integrate their Shopify eCommerce store nearly instantly to ParcelPal's ecosystem.
These merchants will enable their customers to tap into ParcelPal's network and have their products delivered in an hour or less. ParcelPal has begun this process with Choom and Kiaro. You can read more about the ParcelPal/Shopify News Here. Since June 3, ParcelPal is up by more than 35% and we, for one, will continue to bring more updates as we find them.
GT Biopharma, Inc. (GTBP) Consolidation Could Lead To More Excitement
GT Biopharma, Inc. (GTBP) continues to pick up the pace. Since we initiated coverage on the company, we've watch GTBP climb as much as 30% and as of today, it's still up by roughly 12.5% in just over a week. We have seen a bit of consolidation to start this week but that could open the door to more excitement in June. The big focus for GTBP onlookers has been on its immunotherapy portfolio.
The bottom line here is that big money is pouring into cancer-focused companies specifically. The fact that as we write this, Pfizer is in the middle of an $11 billion dollar deal to buy a cancer therapy company should be even more proof of this focus.
To date, GT Biopharma has completed one dose escalation Phase I-II expansion clinical trial, and one fixed dose Phase I-II expansion clinical trial, which collectively enrolled a combined 43 patients. On the surface, the Phase I-II expansion clinical trial demonstrated greater than 50% of Evaluable patients receiving 60 mg/kg dose had a positive clinical response.
Two patients exhibited a Complete Remission with one patient currently disease-free at 50 months post-treatment. Additionally, five patients exhibited Stable Disease, cancers that are neither increasing nor decreasing in severity, with the longest response lasting 12 months post-treatment. In addition to this, the company's therapy has also shown that it could target HIV infected cells in the University of Minnesota's preclinical testing. Not only that but in specific tests, data showed that HIV-infected targets that express the HIV envelope on their surface could be eliminated. We've put together a full report on GTBP so click here for more info.
Liberty Defense Holdings, Ltd. (SCAN.V) Surges On German Deal
We brought this back to the attention of our members earlier last week and since then things have been quite exciting to say the least. Here's why: Liberty Defense was trading at CAD$0.69 and today we've witnessed a big boom to highs of $0.85 after making another big MOU announcement. What was the news? Liberty Defense (SCAN.V) will be collaborating with FC Bayern München to beta test HEXWAVE. You can read the whole PR here.
This is what Bill Riker, CEO of Liberty Defense, said about this deal, "The reception to our HEXWAVE product has been fantastic and we are excited about working alongside FC Bayern Munich, a team that is a household name in both Europe and North America. Our ability to deploy in both indoor and outdoor settings, with covert and overt applications, sets us apart and has also been driving increasing interest from the market."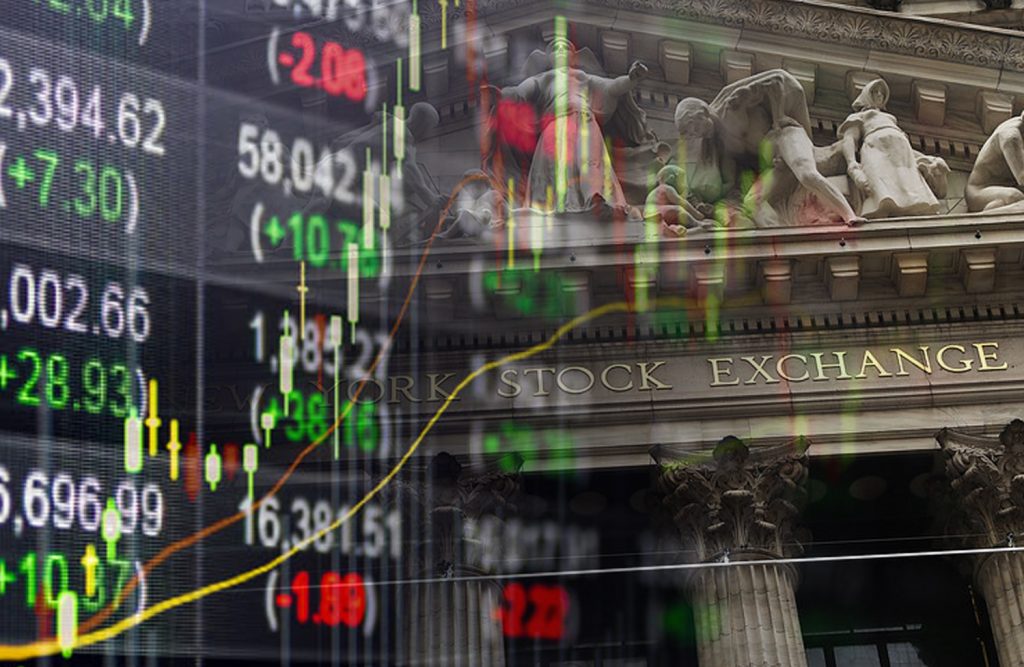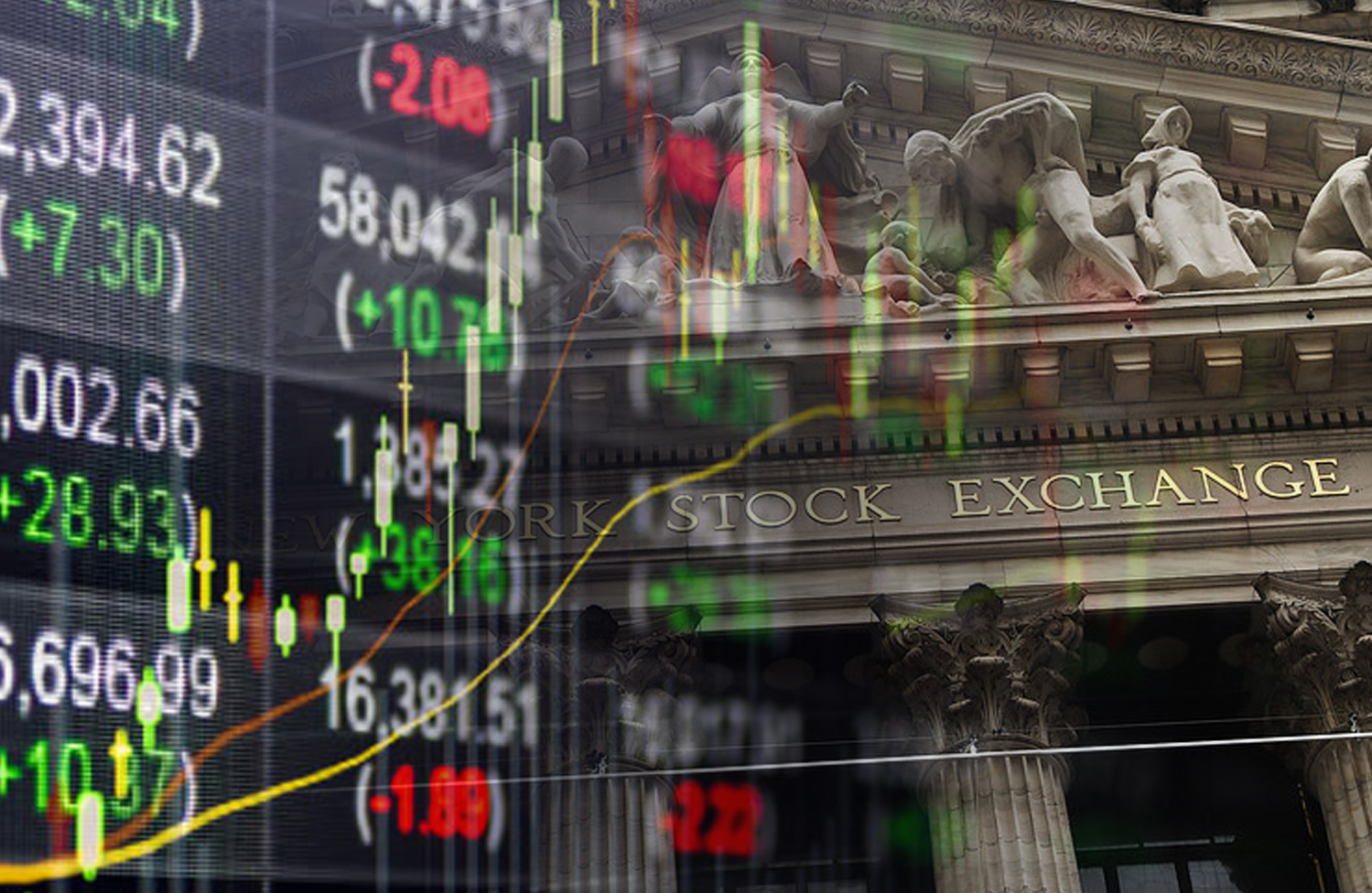 Big Investments Are Signaling The Green Light For A 'Hot Market' With Cancer-Fighting Stocks
If you've ever invested in the stock market or traded a single share, chances are you've familiarized yourself with the "hot markets". These are the ones that consistently see enormous volatility and gains that most only dream of.
More times than not, biotechnology and healthcare stocks are the "hot markets" and we'll explain exactly why. We'll also take a deep dive into a niche that you must be paying attention to in 2019 if you're looking to take advantage of the next big trend in health science.
Biotech Companies Are Driving Innovation
Why biotech over other sectors? Two words: Life Changing. Sure the latest iPhone or newest gadget may be a "life-changing" product to make your life more exciting but in this hot market, we're literally talking life-changing and life-saving bi-products.
Think about what would happen to a stock if a company were to find a cure for cancer? Better yet, what would happen if a company found a solution for HIV?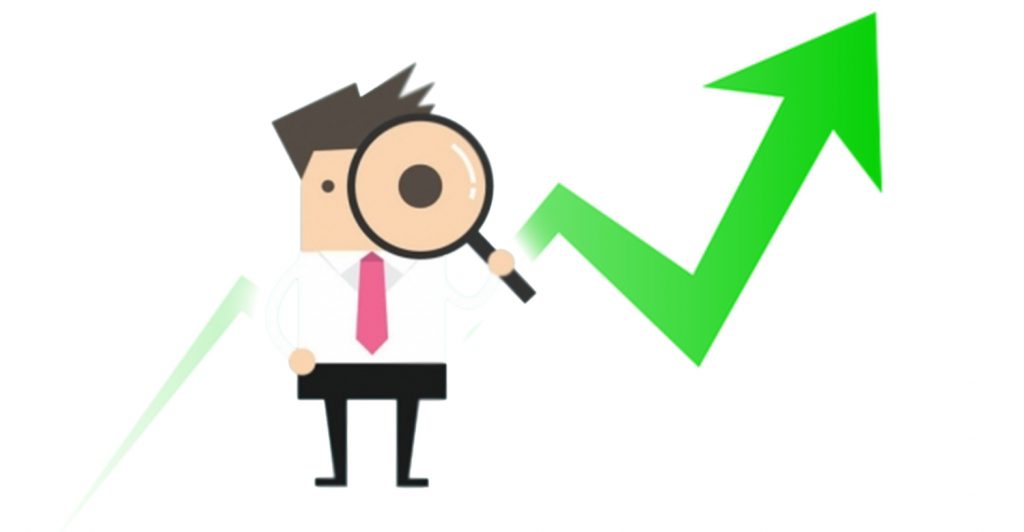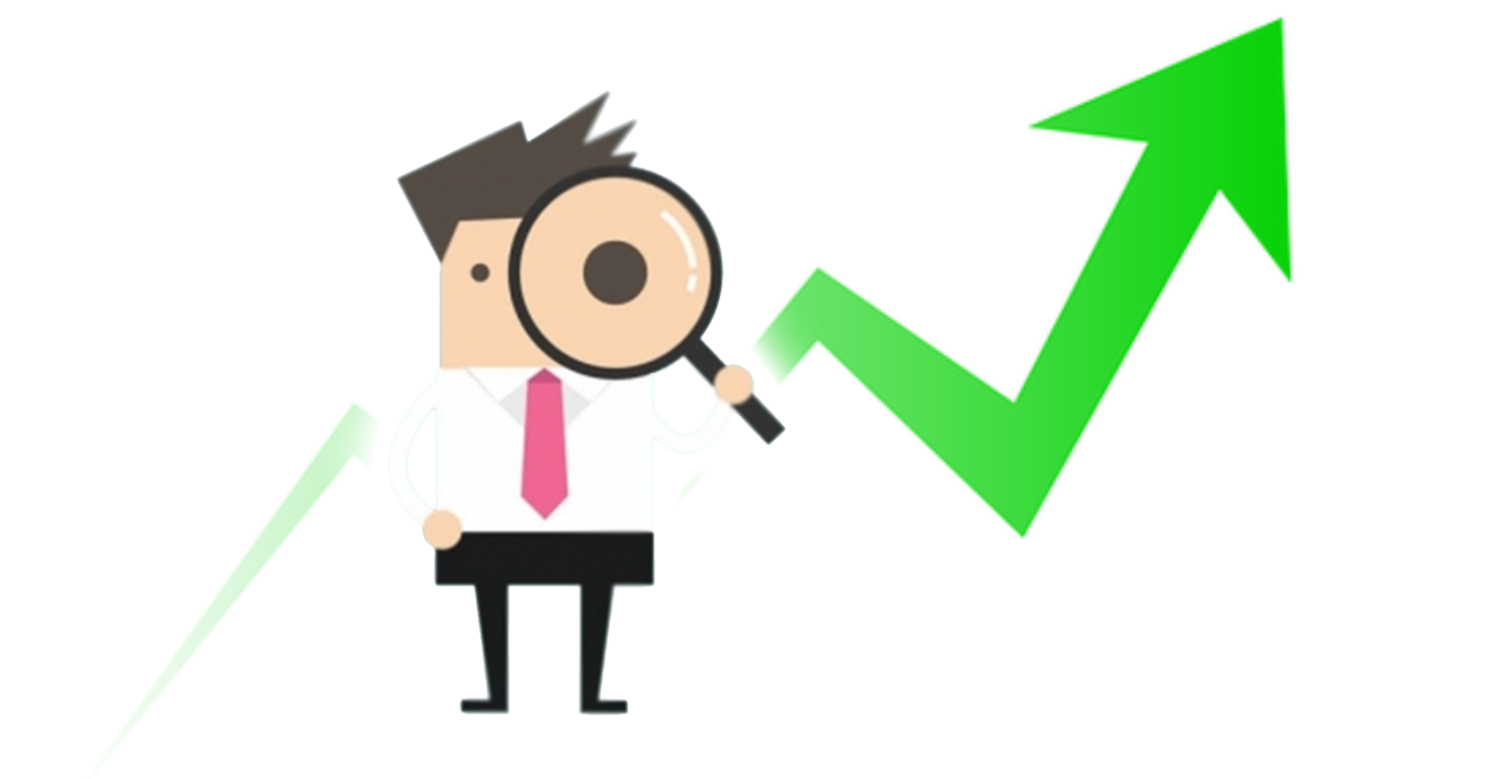 We'll talk more about these topics but the simple fact of the matter is that companies are dumping billions of dollars into this sector to take advantage of the next trillion-dollar idea. One place, in particular, is in cancer-fighting stocks.
Cancer Fighting Stocks Are Getting Gobbled Up
The global market for cancer drugs is estimated to be about $123 billion and big players are investing heavily to gain an edge in this increasingly competitive market[1]. Pharmaceutical giant Bristol-Myers, a pioneer in immunotherapy, is acquiring rival Celgene for $74 billion.
Merck is acquiring cancer drug developer Peloton Therapeutics for $1.05 billion. The announcement came as Peloton was preparing for its IPO. Earlier this year, Eli Lilly bought Loxo Oncology for $8 billion. And this is just the tip of the iceberg for cancer-fighting stocks!
Where Will The Focus Be Next? Read Between The Lines
According to people like Brad Loncar, CEO of Loncar Investments, companies at the forefront of immunotherapy research is the place to be. He's focused on the important developments in the space and promising work being done by some smaller, innovative biotech companies.
We may have just uncovered a company set to take the stage in immunotherapy.
One of the top holdings of Loncar's Cancer Immunotherapy ETF [2] is Iovance Biotherapeutics (formerly Lion Biotechnologies).
Why's this important?
The reason isn't so much about "why" but about "who." Founder and previous CEO of Iovance Biotherapeutics, Anthony Cataldo was able to grow Iovance early on, and the company currently holds a market cap of over $2 billion with a share price above $17 per share.
This is key because Mr. Cataldo has recently taken the helm of one "small" immuno-oncology company focused on novel therapies, GT Biopharma (GTBP), which may signal the next big opportunity in biotech.
GT Biopharma (GTBP) is under his direct control and the best part is that this isn't just a story about a biotech industry leader building the next market disruptor. The pipeline that GT Biopharma (GTBP) has amassed could be on the verge of something big.
GT Biopharma (GTBP)'s Next Move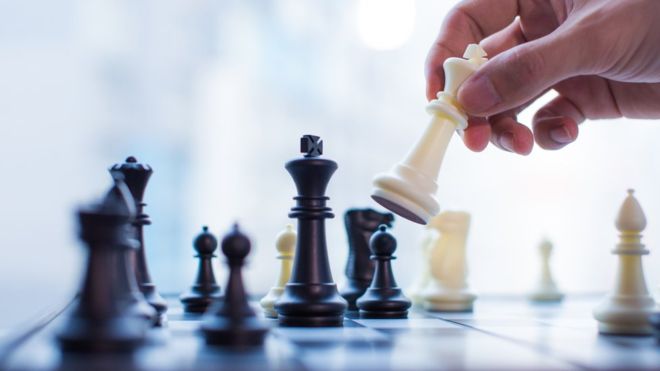 Early, clinical stage companies like GT Biopharma (GTBP) present a number of value propositions for investors. Though many of these companies can hold higher risk due to lack of revenues, incurring high levels of expenses due to research, development, and SG&A, they can also offer higher rewards if early successes are realized.
So far, GT Biopharma has come up favorably with respect to trial results on more than just one of its therapies in the pipeline. Certainly, though the most recent developments with it OXS-1550 could deliver the most near term opportunities.
The company's previous announcement that it would be working with a "major pharmaceutical company" may suggest that GT Biopharma (GTBP) could be positioning itself for a strategic move at the very least.
Though the "major company" was left nameless, we can infer from comments made by Dr. Daniel Vallera that the "multi-billion dollar oncology drug" is ibrutinib. The statement made in a company press release specifically stated, "We are very excited about our progress with GT's OXS-1550 (DT2219) combined with ibrutinib, a potent small molecule Bruton Tyrosine Kinase (BTK) inhibitor which is already an established chemotherapeutic agent. We believe combination therapies like these that kill cancer cells based on entirely different mechanisms are the future of cancer treatment."
Knowing this, we can begin connecting dots to the companies linked to ibrutinib. Its trade name is Imbruvica and is a drug that was developed by Pharmacyclics and Janssen.
Both Pharmacyclics and Janssen are subsidiaries of major pharmaceutical companies; Abbvie and Johnson & Johnson respectively.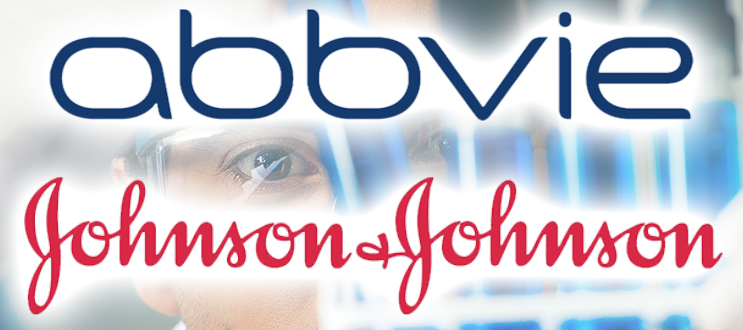 Ibrutinib has already shown efficacy with other combination therapies like Venetoclax (marketed by Abbvie & Genentech) as well as Rituxan (rituximab), currently co-marketed by Biogen and Genentech in the U.S., for the treatment[3] of patients with a rare type of non-Hodgkin's lymphoma called Waldenström's macroglobulinemia. The U.S. Food and Drug Administration recently approved Imbruvica (ibrutinib) plus Rituxan (rituximab) as a treatment.
That was in August of 2018 and even though this alone might get investors excited about GT Biopharma (GTBP), a lot has happened since then that could really put a spotlight on this company!
GTB-1550 Phase I-II Results Have Opened The Door For Bigger Opportunities
GT Biopharma's lead treatment, GTB-1550 is a novel multi-target directed therapy for the treatment of chemotherapy-refractory B-cell malignancies, including Non-Hodgkins Lymphoma and Leukemia.
To date, GT Biopharma has completed one dose escalation Phase I-II expansion clinical trial, and one fixed dose Phase I-II expansion clinical trial which collectively enrolled a combined 43 patients. On the surface, the Phase I-II expansion clinical trial demonstrated greater than 50% of Evaluable patients receiving 60 mg/kg dose had a positive clinical response.
Top-line Consolidated Results:
Two patients exhibited a Complete Remission (CR) with one patient currently disease-free at 50 months post-treatment.
Five patients exhibited Stable Disease (SD), cancers that are neither increasing or decreasing in severity, with the longest response lasting 12 months post-treatment.
Two patients with transformed lymphoma showed transient tumor shrinkage, however, therapy was discontinued due to dose-limiting toxicities after the 1st cycle.
Greater than 50% of evaluable patients, (patients where response to treatment can be measured because enough data has been collected), receiving 60 mg/kg dose had positive clinical response defined as stable disease, partial remission, or complete remission.
"GTB-1550 has shown positive results in its two Phase I-II clinical trials in advanced cancer patients who have failed all other therapies, and we are now planning to proceed with a Phase II clinical trial."

Anthony Cataldo, the Chairman and Chief Executive Officer of GT Biopharma
But this Phase II opportunity is just the "first phase" of GT Biopharma's potential. In early April of this year, the company received authorization from the University of Minnesota's Institutional Review Board and Cancer Protocol Review Committee to proceed with a TriKE Phase 1 clinical trial.
Pipeline Therapies Gain Phase I Trial Approval
The study on its GTB-3550 will enroll up to 60 subjects and will be led by Principal Investigator, Erica Warlick, MD. Warlick is Associate Professor of Medicine, Division of Hematology, Oncology, and Transplantation at Masonic Cancer Center, University of Minnesota.
Specifically, the company will be looking for favorable results on the treatment of acute myelogenous leukemia (AML), myelodysplastic syndrome (MDS) and mastocytosis.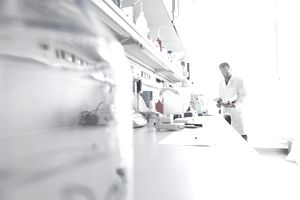 And just as with its GTB-1550, GTB-3550 addresses a specific group of patients. AML is the most common form of adult leukemia with 21,000 new cases expected in 2018 alone, according to the American Cancer Society. AML patients typically receive frontline therapy, most commonly chemotherapy, which includes cytarabine and an anthracycline, a therapy that has not changed in over 40 years.
When it comes to other things like MDS, the number of people with MDS diagnosed in the U.S. each year is estimated to be ~10,000 and can progress to AML. Mastocytosis is rarer. An estimate of prevalence from a recent population-based study is approximately 1 case per 10,000 people.
GTB-3550 is being developed to serve as a relatively safe, cost-effective, and easy-to-use therapy for resistant/relapsing AML. It could also be combined with chemotherapy as frontline therapy, thus targeting the broader patient population.
New Findings Suggest GT Biopharma Therapies May Eliminate HIV Infected Cells
It's a regular occurrence but one that isn't generally covered with certain biotech companies. But with certain therapies, there can be additional applications. Most of the time they are less impactful than the target endpoints. In the case of GT Biopharma (GTBP) its Tri-Specific Killer Engager may have a massive opportunity after recent findings!
The company's therapy showed that it could target HIV infected cells in the University of Minnesota's preclinical testing. Not only that but in specific tests, data showed that HIV-infected targets that express the HIV envelope on their surface could actually be eliminated!
We talked about it at the beginning of this report – Why biotech over other sectors? Two words: Life Changing – and this could be one of those "life changing" moments to pay very close attention to.
GT's products will need to continue to produce positive results in order for investors to remain interested. And this having been said, indications have already been in motion giving even more legitimacy to GT Biopharma's platform.
Case and point: would it be out of the question for GT Biopharma to obtain a strategic investment similar to the Affimed/Genentech deal? In our opinion, it wouldn't be out of the question at all; here's why:
Standing Toe To Toe With Industry Heavyweights
Both platforms utilize fusion proteins with one end binding to NK cells and the other targeting a tumor antigen however there are still a number of differences in the platforms. Many of these differences are based on exactly how the proteins are created and how they face the NK activation and proliferation issues.
Essentially, without a specific stimulatory agent, the cells become exhausted as their numbers decline. Specifically, GT Biopharma's NK cell-engager platform incorporates Interleukin (IL)-15. No other, including Affimed's, NK cell technology has this.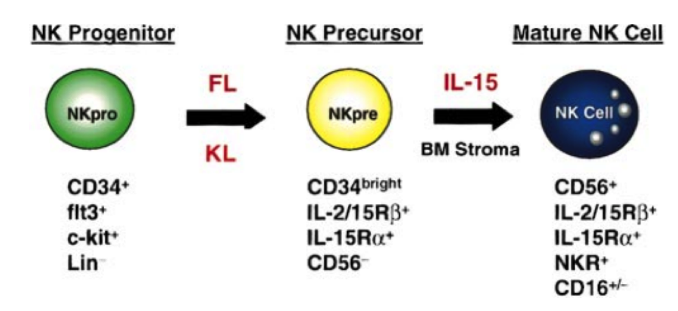 From other research done on NK cells, it has been found that boosting NK cell numbers [4] by treating them with IL-15 may be a valuable new approach to increasing our immunity to viral infections or cancer. IL-15 is a growth factor for certain kinds of white blood cells, including natural killer cells and T cells.
GT Biopharma's TriKE (Tri-specific Killer Engager) technology has shown superior NK cell cytotoxicity against hematologic tumors in preclinical work compared to earlier versions of the drug. TriKEs are an off the shelf option that employ a single chain, tri-specific fusion protein that binds to CD16 on NK cells and targets tumor antigens on cancer cells such CD33 in myeloid malignancies.
TriKEs are particularly attractive due to their low cost of manufacture relative to CAR-T therapy and can be used off the shelf without any modifications of autologous cells in the lab. The company is currently in the process of submitting an investigational new drug application to the FDA for the TriKE in order to launch a Phase I/II trial in the second half of this year.
This, in addition to several other key therapies in the company's pipeline could bode as attractive targets for larger investment from the likes of major pharmaceutical companies.
At The Forefront of the Cancer Wars & Ready To Deliver
Medical science hasn't yet won the war on cancer, but it is scoring important victories in battles against many forms of the disease. Advances in new treatments have made cancer a hot investing theme over the past 18 months, helping to power fresh interest in biotechnology stocks.
It isn't just small family offices taking a shot at this arena anymore. Major industry leaders are taking every chance they can at buying up smaller companies before they become the direct competition. The figures are becoming even more staggering as new therapies and phase trials materialize. GT Biopharma (GTBP) can make a convincing argument to become one of the top biotech stocks to watch.
"Big Pharma appreciates innovation and respects how it happens. That's why the industry is interested in doing great deals with young companies that can move fast to solve big scientific problems."

Abbie Celniker, Ph.D., partner at Third Rock Ventures.
The health sciences market is experiencing unprecedented innovation, and now the race is to get behind the next breakthrough. GT Biopharma's numerous phase trials, novel treatments, and top tier leadership are just some of the main topics to consider in our opinion.
In the end, this company is in early to mid-phase trials with proven results and has even shown indications for other immune-therapies to the extent that it has eliminated infected targets. With all of the activity going on within the immune-therapy space as it is, can you afford not to be paying attention right now?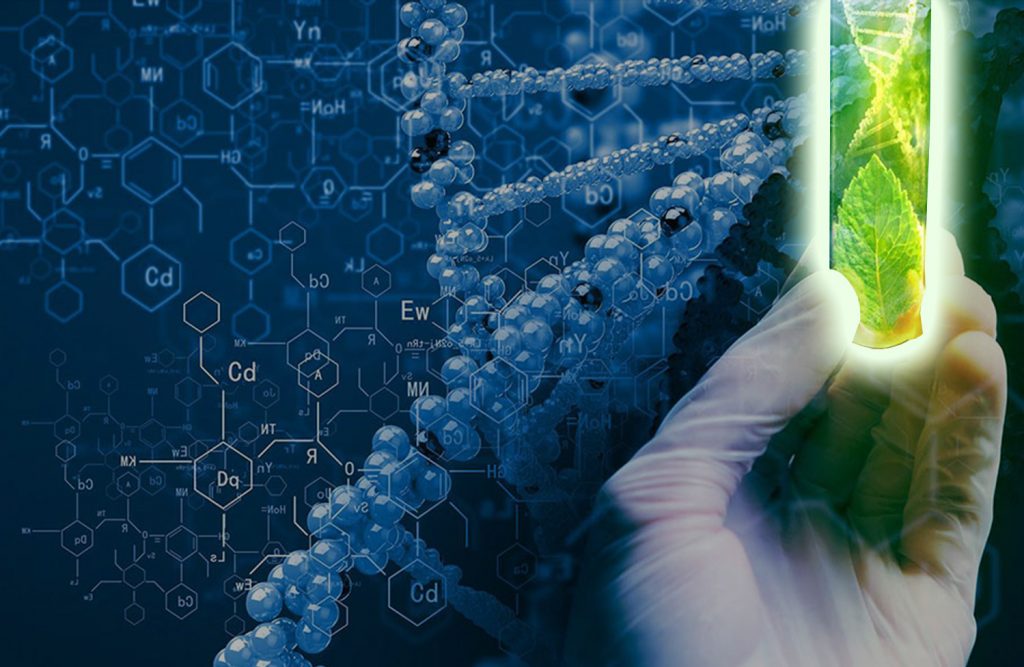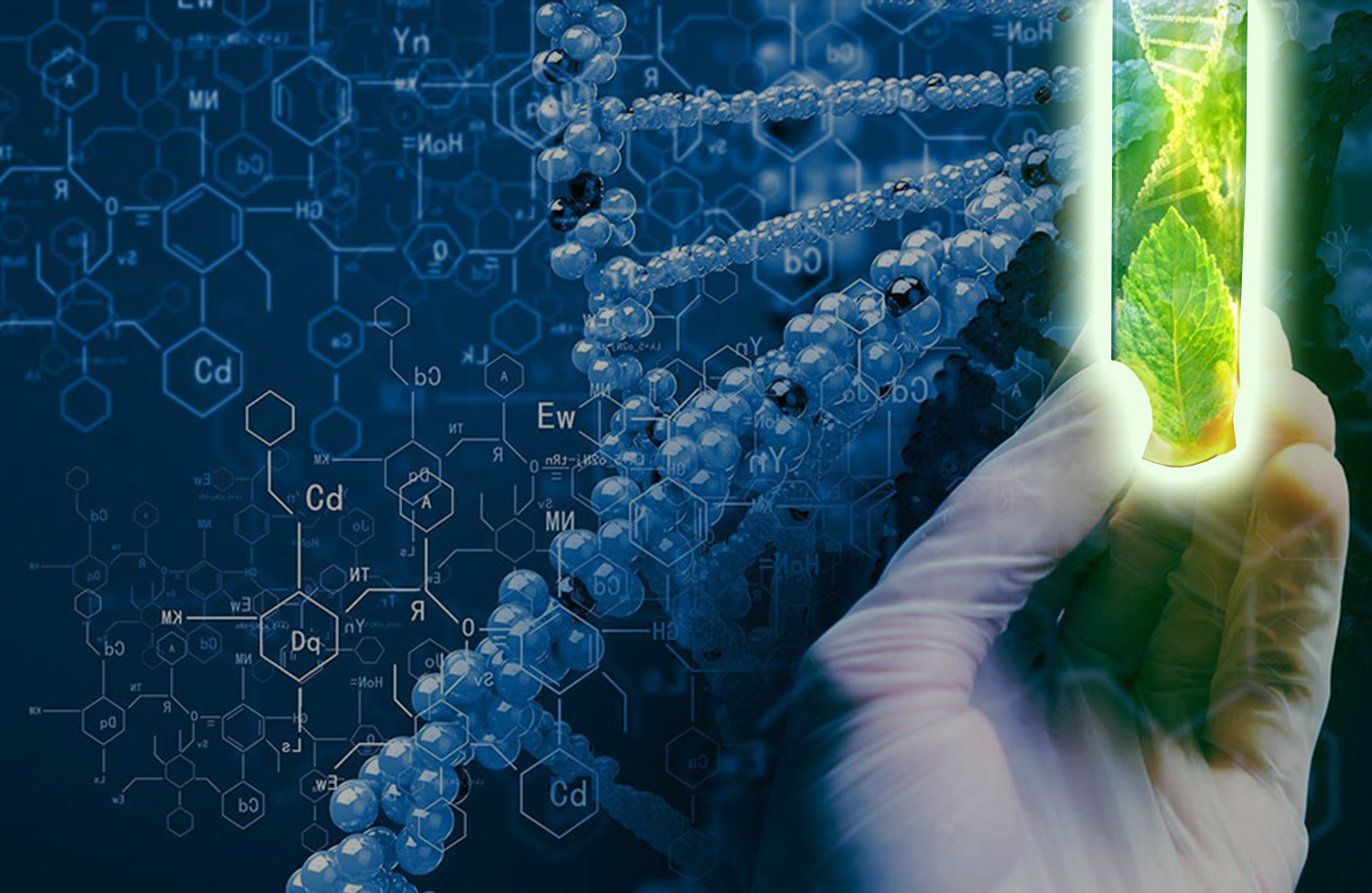 Endnotes:
[1]Brad Loncar -https:// finance. yahoo. com /news/why-cancer-fighting-stocks-etfs-184606099. html
[2]Loncar ETF Info – https:// etfdb . com /etf/CNCR/
[3] https:// lymphomanewstoday . com /lymphoma-treatment/
[4] NK Cell cancer immunity – https:// medicalxpress .com /news/2017-01-natural-killer-cells-cancer-immunity. html
A New Cannabis Trend That The Market Should Take Immediate Notice Of Is Here!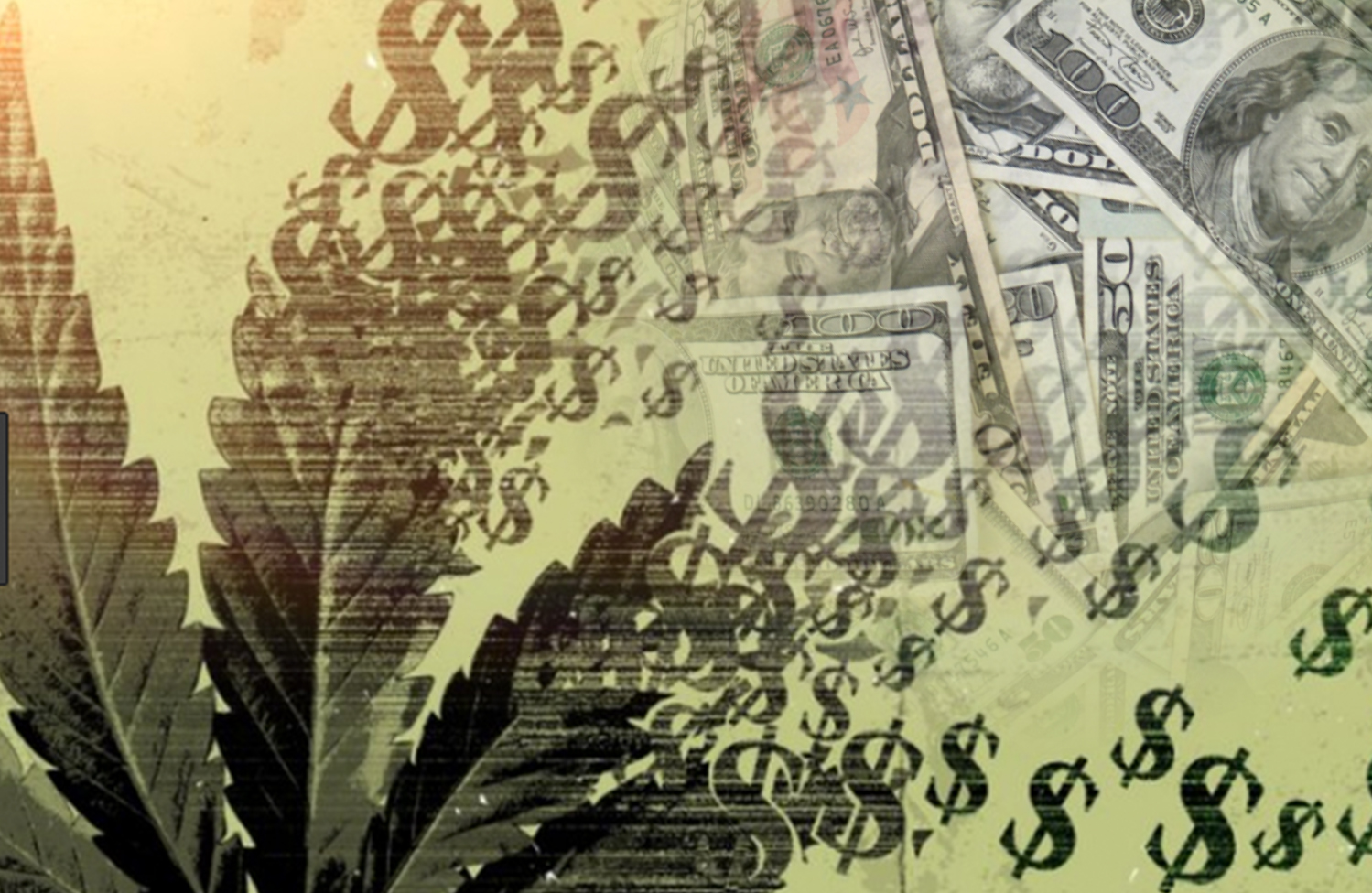 What will legalization across North America look like if the US flips the switch to turn on a massive industrial machine like legal cannabis? Two of the fastest growing industries right now in the United States are on-demand technology and cannabis. These two industries are at the epicenter of growth and investors aren't being shy about their appetite for companies in these arenas. But one company, in particular, has developed a unique business model that services both of these massive growth industries.
Driven Deliveries Inc. (OTC: DRVD) is one of the only publicly traded cannabis delivery service operating in the United States.
Now that's what we call first mover advantage. Driven Deliveries provides on-demand marijuana delivery in select cities where allowed by law. The service provides the legal cannabis consumer the ability to purchase and receive their marijuana in a fast and convenient manner.
Consumers are growing increasingly lazy with most of all purchases from retail to food shopping being done online. And now you can add weed to that list. Driven Deliveries (OTC: DRVD) is quickly gaining steam in legal US markets as the new delivery option for customers is resulting in increased revenue and transactions for dispensaries.
Food delivery apps and services such as GrubHub and Uber Eats have already expanded revenue generated in the food-service industry by 22% or more. Consumers love getting what they want without having to leave their house to get it, plain and simple.
Investors are Starving for this Tech
Investors' appetite for such delivery service companies seems to be insatiable. Take DoorDash for example. The company competes with GrubHub and Uber Eats but recently tripled its valuation in only about 5 months to $4 billion despite not even being profitable.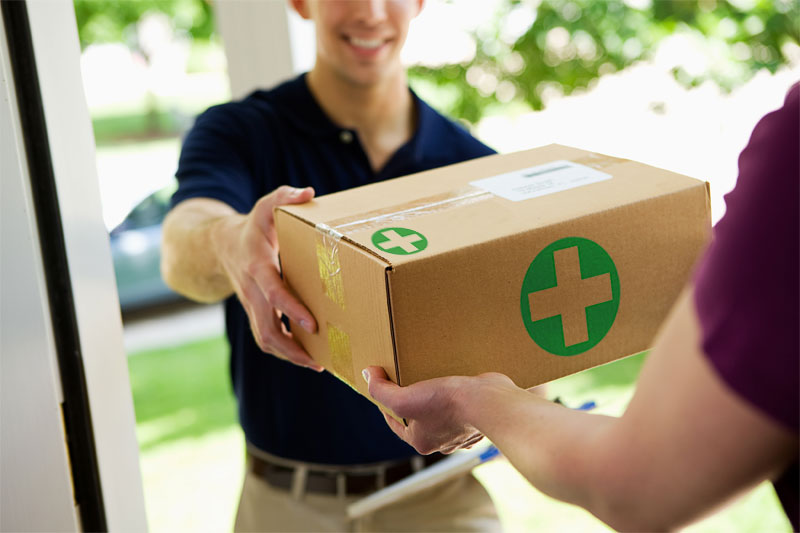 Moreover, Uber Eats owns about 20% of the market while GrubHub, including Seamless and Eat24, has 52% market share. And even in the face of that steep competition, DoorDash has raised nearly $1 billion overall to date. This should give you an idea of just how hungry investors are for on-demand service companies.
Even Chinese investor and WeChat owner, Tencent, is looking to get involved in the food-technology sector in a big way by contributing a significant piece of a $500-$700 million raise for India's Swiggy. The investment would value Swiggy at $2.5-$3 billion. Another app called Rappi is a Colombian on-demand delivery startup that recently brought in a new round of funding at a valuation north of $1 billion.
But there's a problem, most of these on-demand and food delivery companies are private. The regular retail investor doesn't have access or the opportunity to invest in them. That is why we are putting the focus on Driven Deliveries Inc. (OTC: DRVD).
The closest thing to Driven Deliveries is EAZE, a private marijuana delivery service based in San Francisco. EAZE is closing a $65 million venture capital funding round that would value the company in excess of $300 million, according to Axios [1]. With a similar model to Driven Deliveries, EAZE is essentially like an Uber for weed. EAZE currently only delivers in California but recently launched a marketplace for shipping cannabidiol products to 41 states and Washington D.C. But again, EAZE is a private company leaving Driven Deliveries (OTC: DRVD) is one of the only options for retail investors looking to capitalize on this growing trend.
Canada Had Its Turn, Now It's All About the U.S.
According to Statista [2], the United States legal cannabis market is projected to be valued at $24.1 billion by 2025. And a recently introduced bill to Congress could catapult the industry to those record levels even quicker than originally expected.
The Secure and Fair Enforcement (SAFE) Banking Act, if passed, would allow federal banks to accept revenue from and provide banking services to businesses profiting from the sale of cannabis. The House and Financial Services Committee already voted 45 to 15 in favor of moving the legislation towards a vote.
The passing of this bill could send a lightning bolt straight through the heart of the U.S. cannabis market sparking industry growth that would trump what we saw in Canada after fully legalizing marijuana nationwide.
The SAFE banking act of 2019 could open the flood gates for the U.S. cannabis market. Forbes is predicting a combined yearly growth rate for North American marijuana sales to be 25% by 2021. To put that into perspective for you, the growth rate during the dot-com era was 22%.
The Amazon Touch
Driven Deliveries, Inc. (OTC: DRVD) is taking pages straight out of Amazon's playbook. The company recently launched a new delivery model, Driven Direct. This will allow Driven Deliveries to work directly with brands and retailers to deliver a broad range of cannabis products directly to consumers.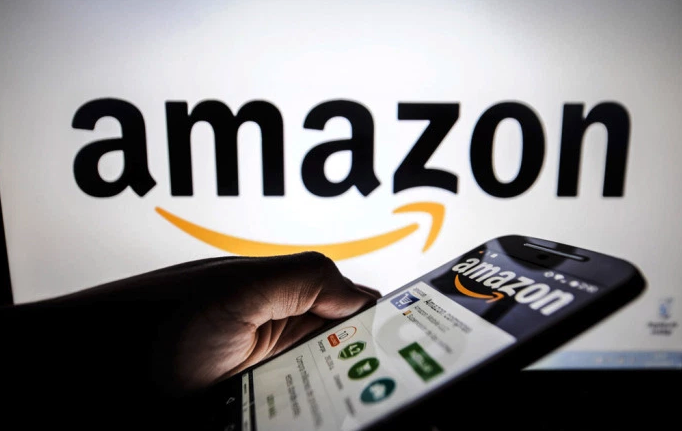 Driven Direct's structure will resemble that of Amazon's delivery model. The program is designed to let entrepreneurs run their own local delivery networks featuring the Driven Deliveries logos. Each delivery unit will begin its day at a designated Driven station in California, where packages ordered from local retailers are then picked up by Driven Deliveries, Inc. drivers and delivered direct to the consumer. Location-based algorithms will determine which packages are sent to these delivery stations.
The program is critical in addressing the retailers' primary transportation issue, last mile delivery. "Last Mile Delivery" is a term used in supply chain management and transportation planning to describe the movement of people and goods from a transportation hub to a final destination, in this case the consumer.
In 2018, the global last mile delivery market size was $30.2 billion and it is expected to reach $55.2 billion by the end of 2025, with a CAGR of 9.0% during 2019-2025. See the company press release.
But Everyone Wants to Be Like Amazon
We know what you're thinking, of course a small company is going to want to resemble and try to replicate Amazon's model and strategies. But how many companies trying to do so are being guided by former Amazon executives?
In February 2019, Driven Deliveries (OTC: DRVD) added Jerrin James to serve as the Chief Operating Officer. Mr. James is an accomplished global logistics and supply chain executive who has led operations, supply chain and logistics at technology giants such as Amazon, Groupon, and Facebook. Previously, he served as Head of Logistics at Facebook with global responsibility.
Mr. James was instrumental in optimizing end-to-end supply chain procedures, yielding significant efficiency gains in each one of his previous roles. He possesses extensive experience leading and executing multichannel distribution, supply chain and logistics strategies across multiple continents for these extremely fast-paced high-growth companies. See the company press release.
The value of adding someone like Jerrin James is immeasurable. The fact that someone with his track record and experience wanted to take on an executive position with Driven Deliveries (OTC: DRVD) speaks volumes about what this company has going on. So, it is no surprise that just 1 month after adding Mr. James, Driven Deliveries launches Driven Direct, a similar delivery model seen in Amazon.
But Wait, There's More!
As if adding a former Amazon, Facebook, and Groupon executive wasn't impressive enough, Driven Deliveries took it one step further. In March 2019, the company added Adam Berk to their Board of Directors.
Mr. Berk is the founder and developer of the technology and logistics company that went on to become GrubHub Inc.
As we mentioned earlier, GrubHub, including Seamless and Eat24, owns 52% of the on-demand food delivery service market. Mr. Berk also currently serves as the Chief Executive Officer of Stem Holdings, a leading cannabis MSO (multi-state organization) that is fully vertically integrated, with operations developing in over 10 states. See the company press release.
CEO of Driven Deliveries, Chris Boudreau, had this to say about these two key personnel additions with regards to the launch of Driven Direct,
"Management has built a strong foundation of human capital via the recent additions of Mr. Jerrin James from Amazon and Mr. Adam Berk of Osmio (now GrubHub) Jerrin's background in operations, large-scale processes and advanced technologies coupled with Adam's skills in E-commerce and logistics, provide a strategic advantage that will help to make Driven Direct a success. I'm confident that as the marijuana delivery market continues to evolve, bespoke services that address last mile delivery will become increasingly vital to the process. We intend to move aggressively into this market and establish ourselves as the leader in this expanding industry."



But this isn't where the growth trail ends, but where it begins. The company's LOI to acquire Ganjarunner, Inc. could become a game-changing deal for the company. Why? Aside from rapidly expanding the corporate footprint, the deal will add accretive revenue growth and an existing customer base. The transaction also could significantly expand Driven's next day delivery network and service area along with Ganjarunner's California cannabis delivery license.
Ganjarunner has shown continuous revenue growth since its inception. Since May of 2018 Ganjarunner has fulfilled over 17,000 deliveries to more than 6,000 customers and has experienced revenue growth of 54% to $2.6 million. Ganjarunner is rapidly expanding its existing customer base of over 10,800 customers and by adding over 1,300 new customers in Q1 CY2019 alone. Ganjarunner adds a solid revenue foundation to Driven as over 82% of Ganjarunner's current business is from derived from repeat customers.
New Opportunities – Expansion Across US
Driven Deliveries, Inc. (DRVD) Enters $530 Million Nevada Cannabis Market
Driven Deliveries (OTC: DRVD) announced in mid-2019 that it has successfully launched operations in Nevada with Shango Marijuana Dispensary, one of the most successful stores in the State. The new endeavor provides Driven with a monumental opportunity to serve Las Vegas, the largest market in the State with massive tourism, and a central launch point for additional markets throughout Nevada.
Why Nevada?
The Nevada cannabis market has been growing at a rapid pace. Nevada retailers sold approximately $530 million worth of medical and recreational cannabis in 2018*. The $44.1 million in monthly revenue represents a 35% increase when compared to monthly revenue in 2017. According to New Frontier and Arcview Market Research, annual legal cannabis sales in the state are projected to grow to an estimated $629.5 million by 2020.
Shango Premium Cannabis is the leading medical and recreational medical dispensary license holder, grower and manufacturer in multiple states across the country. The Company currently owns cannabis-related licenses in Oregon, Washington and Nevada, with expansion plans that include retail, manufacturing and product distribution in Michigan, New Jersey and California in the cannabis market and nationwide for its CBD products.
Shango is vertically licensed to create a full range of award-winning cannabis products, including flower, extracts and cannabis-infused edibles, produced by expert cultivators and processors in Oregon, Nevada and Washington.
Another Big Market Move: Driven Deliveries Inc. (DRVD) Signs LOI to Acquire Cannabis Retailer, Mountain High Recreation
Driven Deliveries (OTC: DRVD) secured $2.5 Million in annual revenue and could significantly expand its product offerings! How? The company has signed a Letter of Intent to acquire cannabis retailer, Mountain High Recreation (MHR).
Operating primarily in Northern California, Mountain High Recreation currently offers marijuana for sale online, with a menu of cannabis flowers, concentrates, waxes, vapes, edibles, tinctures, CBD products, and accessories. The acquisition will enable Driven to expand its services to now include dynamic same day and intraday orders and delivery.
Driven Deliveries (OTC: DRVD) will now offer event-based sales and marketing through on-location mobile stores increasing its addressable market and audiences to include those traveling from out of state. With the acquisition, Driven Deliveries (OTC: DRVD)'s combined customer count will increase to nearly 40,000 while its brand portfolio will expand to more than 80 brands an overall transactions should exceed 45,000 deliveries annually.

It's All About Growth
Driven Deliveries (OTC: DRVD) has homed in on two of the most rapidly growing industries in the market today, cannabis and on-demand technology. Separately, each industry provides tremendous growth for investors as company valuations continue to soar into the multi-billions. But there is just one company in the U.S. combining the two growth sectors into one unique, disruptive technology.
Driven Deliveries (OTC: DRVD) has first mover advantage while being led by a team of industry juggernauts. A well-rounded and experienced management team and board brings decades of knowledge and expertise from some of the largest, most successful companies in the world like Amazon, Facebook, and GrubHub. If such industry professionals are intrigued by what Driven Deliveries (OTC: DRVD) has to offer, don't you think you should be too?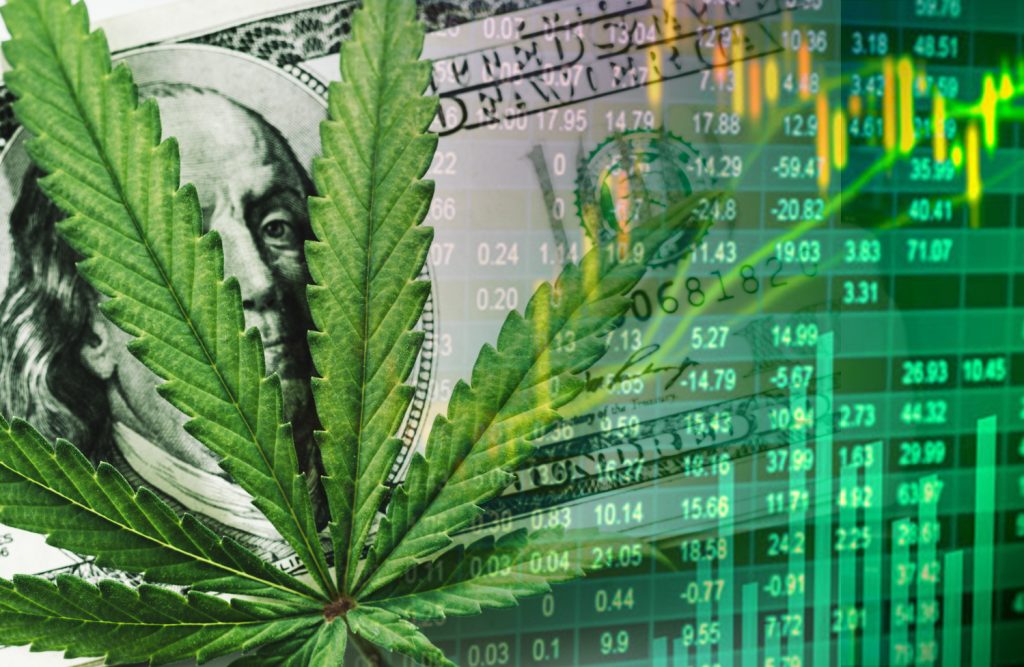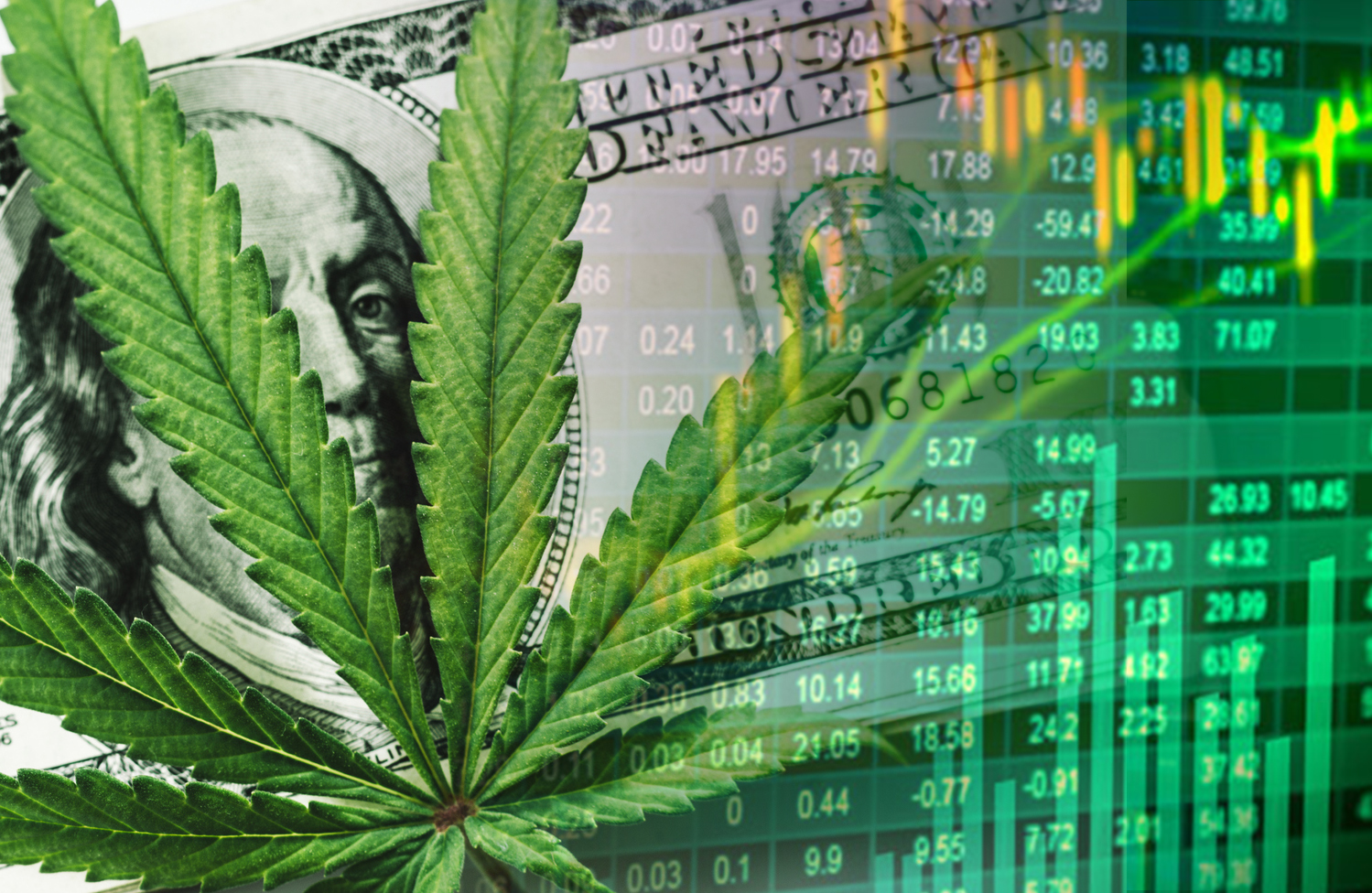 Endnotes:
[1] https://www.axios.com/marijuana-delivery-startup-e-1543414097-787855d9-9f5a-47de-83ed-c73acdc8b13f.html
[2] https://www.statista.com/statistics/765671/value-of-the-us-cannabis-market-current-and-future/
Disclaimer: Pursuant to an agreement between MIDAM VENTURES, LLC and a third party, Data Marketing Solutions Inc., Midam was hired for a period from 04/22/2018 – 5/22/2019 to publicly disseminate information about Driven Deliveries Inc. including on the Website and other media including Facebook and Twitter. We were paid $50,000 (CASH) for & were paid "0" shares of restricted common shares. We may buy or sell additional shares of Driven Deliveries Inc. Inc. in the open market at any time, including before, during or after the Website and Information, provide public dissemination of favorable Information.
Search Stock Price (StockPrice.com)