Technology has evolved over the years, and so have online websites and apps. Growing food delivery apps are the newest trend, expanding revenue generation in the food-service industry by 22% or more. And this new trend has created an even greater opportunity beyond food delivery alone!
Uber Eats has about 20% of the market, while GrubHub, including Seamless and Eat24, has 52%. In its latest funding effort, DoorDash raised $250 million after the five-year-old San Francisco-based startup raised $535 million in March. Furthermore, DoorDash, which competes with GrubHub (GRUB), Uber Eats, and Postmates, has raised nearly $1 billion overall.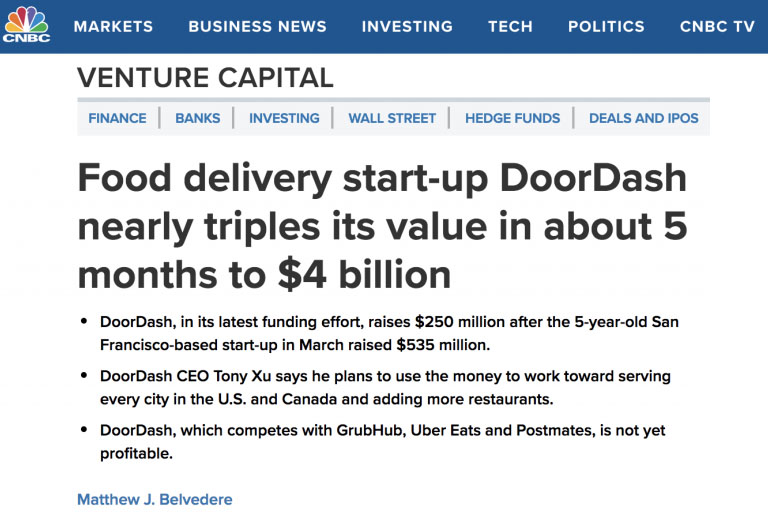 CEO of Uber Dara Khosrowshahi has said that Uber Eats is growing at 200% per year and has a $6 billion run rate, meaning that it's on track to book $6 billion over the next 12 months given current rates. She said, "Going forward, we're deliberately investing in the future of our platform: big bets like Uber Eats…"
Going Global – The Real Opportunity For Investors
Chinese investor and WeChat owner Tencent has joined a global lineup of investors seeking to write the biggest check in India's food-technology sector for Swiggy. The online food-delivery platform has held discussions with a host of investors to raise $500-700 million, a significant portion of which Tencent wants to contribute, according to people familiar with the talks.
The investment could value Swiggy at $2.5-3 billion. Swiggy has also been in talks with Japan's SoftBank for a sizeable investment since November, according to reports.
Another app called Rappi is a Colombian on-demand delivery startup that has brought in a new round of funding at a valuation north of $1 billion, as first reported by Axios and confirmed to TechCrunch by a source close to the company. DST Global led the more than $200 million in financing with participation from Andreessen Horowitz and Sequoia, all of which were existing investors in the company.
But Here's The Problem: Most Companies Are Private
Private companies are mostly driving these billions and trillions of dollars that are being poured into this new On-Demand Economy. The average retail investor has little opportunity to take advantage of it, especially considering this idea of global expansion that could turbo-charge industry growth.
ParcelPal (PTNYF) (PKG) Is The One Company That's Already Breaking Into The Global On-Demand Industry At A Rapid Pace
The opportunity that ParcelPal (PTNYF) (PKG) may be presenting now draws comparisons to the way early investors had an opportunity with companies like Uber and GrubHub (GRUB) before they went mainstream in the US. GrubHub priced its initial public offering at $26 per share and now trades nearly 5x that price just as this market is beginning to heat up!
---
Latest News:
---
The difference withParcelPal (PTNYF) (PKG) is that it is going directly after the international markets that have very limited access to technology like this right now. In fact, the major players in the industry are just beginning to get their feet wet with beta testing; they aren't even full speed yet.

ParcelPal (PTNYF) (PKG) created an on-demand marketplace where customers can shop for anything from food to clothes. There is no more waiting in line for lunch or rushing to the store after work to grab your clothes. With ParcelPal on-demand, customers simply shop from the app, choose the items they want, and pay.
A ParcelPal (PTNYF) (PKG) courier will accept the request and pick up and drop off the items to wherever customers want within one hour.
ParcelPal (PTNYF) (PKG) Gets A "Little Help" From An E-commerce Company: Amazon!
It's true that new markets are difficult to enter, especially if it is a brand new way of doing business, such as the on-demand economy. But unlike the Ubers and Postmates in their early years, ParcelPal (PTNYF) (PKG) has already aligned with one of the largest online juggernauts in the history of the modern world.
ParcelPal (PTNYF) (PKG) has engaged in a work order contract with Amazon.com Inc. to fulfill package delivery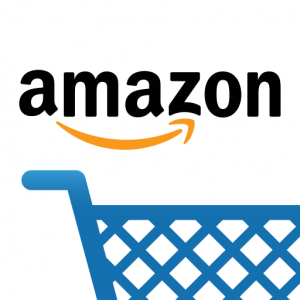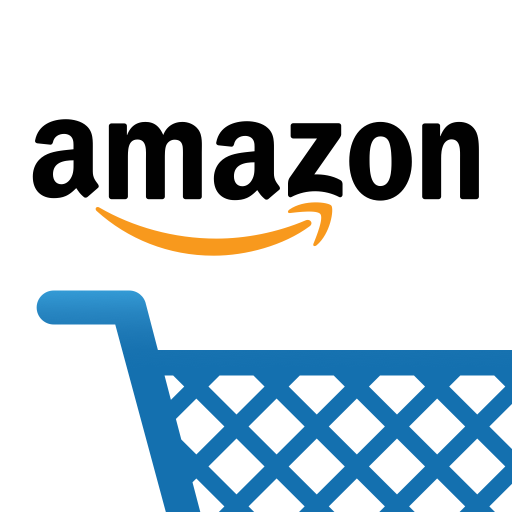 on behalf of Amazon to residents in Metro Vancouver, British Columbia, Canada. ParcelPal (PTNYF) (PKG) has already seen exceptional growth in this division of the company since launch, growing over 115% week over week, delivering approximately 150,000 packages since mid-November.
The company is currently maintaining an average of 99%+ delivery success rate and is delivering thousands of packages daily on behalf of Amazon. The contract signed involves delivering for Amazon "Core" services. This entails delivering Amazon merchandise to Greater Vancouver residents.
The company is already aiming to expand on both the existing "Core" business and Amazon Prime services!
Entry Into Key Verticals
Something that is beginning to set ParcelPal (PTNYF) (PKG) apart from its immediate competition is its diversification strategy. Not only is the company working with the likes of Amazon, but it is also entering into key verticals that are seeing an increase in rapid demand. Right now, ParcelPal has built relationships with businesses in both alcohol and cannabis.
We don't have to go into the deep details of these booming industries, but it is vital to understand that the evolution from brick-and-mortar to on-demand delivery could be setting the stage for a major economic boom.
While consumers are becoming more comfortable with using smartphones and computers to buy groceries, they are also increasingly using the same technology to help them skip trips to the liquor store, according to data from the e-commerce analytics firm, Slice Intelligence.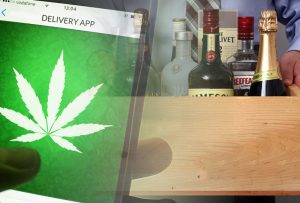 Online alcohol sales of beer, liquor, and wine grew 32.7% in 2017, according to Slice. By far, the most popular kind of adult beverage bought on the Web is wine, which represented more than 65% of online alcohol sales during the 25-month period from Jan. 1, 2016 to Jan. 31, 2018, according to Slice. Spirits follow that, at 21.2%, and beer at 13.8%.
"While e-commerce in the alcoholic beverage space is still immature, we are starting to see the shape of a robust category," says Ken Cassar, principal analyst for Slice. "It makes sense that wine would lead all subcategories within alcoholic beverages, due to the relatively high value of scarce wine. Ultimately, though, beer will likely win as grocers figure out how to manage through complicated laws that vary by local jurisdiction."
This is just one slice of ParcelPal (PTNYF) (PKG)'s directive to take on "sin-dustries" (sin industries like alcohol, tobacco, and marijuana). With the budding market in Canada alone proposed to reach somewhere in the billions of dollars, cannabis presents a more near-term opportunity for ParcelPal.
According to the latest projections from San Francisco-based ArcView Group, a marijuana research, and investment firm, in partnership with Boulder-based BDS Analytics, a cannabis-focused market researcher, the Canadian legal cannabis sector is estimated to generate $1.3 billion in 2018. By 2022, the forecast is even more robust—$5.4 billion for both the medical and recreational markets.
ParcelPal (PTNYF) (PKG) has entered into a definitive agreement for partial acquisition and exclusive partnership with marijuana seed-to-sale provider and online ordering system, TokeIt Technologies, Inc.
A cannabis focus will give all TokeIt-engaged licensed dispensaries the ability to offer their consumers the opportunity to order marijuana directly through the ParcelPal or TokeIt applications and have it delivered in an hour or less. This partnership offers ParcelPal access to thousands of customers in neighborhoods throughout Vancouver.
The deal gives ParcelPal access to more than 15,000 customers on the TokeIt platform and nearly 50 dispensaries partnered with TokeIt with which ParcelPal currently operates. According to the company, the average dispensary on the TokeIt Platform produces more than $250,000 per month.
More Deals Signal Additional Market Opportunities
As the marijuana industry evolves, new opportunities have come about.  One of the bigger deals closed in 2019 was between ParcelPal (PTNYF) (PKG) and Yield Growth! The deals forms an alliance between the two companies for same-day and on-demand delivery, sale, of hemp-based cosmetics from Yield Growth's subsidiary Urban Juve in Canada.
The New Market Reach Could Be Unparalleled
Urban Juve hemp products are currently sold in over 90 locations including well known pharmacy chains across North America, with a plan to expand that to 130 retail outlets in the near future.
Customers will be able to track their purchase in real time and have their product delivered to any location they specify. As time and regulations allow, ParcelPal's cannabis network will continue to grow, with the goal of capturing a major piece of Canada's $5.2 B legal cannabis market.
"ParcelPal is thrilled to be working an innovative company such as The Yield Growth's Corp, which is addressing one of the fastest-growing subsegments of the $4.2 trillion wellness market with unique derived and cannabis infused products. This marks a milestone at ParcelPal, launching a new vertical with substantial growth potential. It's also a unique opportunity to be at the forefront of an exciting new industry with our unique logistics solutions."

Kelly Abbott, President and CEO, ParcelPal Technologies
New Opportunities Arise With Leadership
The company welcomed Ontario MP Parm Gill as an advisor to the Board of Directors.
Parm Gill is the current Member of Provincial Parliament for Milton. Prior to his work in public service, Parm was involved in several family businesses in the manufacturing and hospitality industries. Parm studied at the Ivey School of Business at Western University, earning his Master of Business Administration degree.
Before being elected to the Ontario Legislature in 2018, Parm was the Federal Member of Parliament for Brampton-Springdale from 2011-2015.
While serving as the MP in the Canadian House of Commons, Parm was appointed as the Parliamentary Secretary to the Minister of Veteran Affairs, and later, the Minister of International Trade. Throughout his tenure, Parm was a member of many committees including the Standing Committee of Public Safety and National Security, Health, Canadian Heritage, Veterans Affairs, and International Trade
An Industry Already Built For Big Buyouts
Amazon is often named as a potential suitor for a number of tech-based companies, especially for food delivery, where the Whole Foods acquisition might have been just the tip of the iceberg.  In 2017, a study from the Food Marketing Institute (FMI) and The Nielsen Co. predicted that, by 2025, as many as 70% of U.S. consumers will be buying groceries online, and those purchases will total more than $100 billion. An update of the FMI/Nielsen report published last month, however, moved that timeframe up by three years to 2022.
FMI and Nielsen cited big acquisitions as key drivers accelerating the pace of change in the online food market.
The report calls out the $13.7 billion purchase of Whole Foods by Amazon.com Inc. in 2017, the 2016 acquisition of Jet.com by Walmart Inc. for $3.3 billion, the purchase of meal-kit delivery company Plated by Albertsons Cos. last fall (terms were not disclosed), and the acquisition of Shipt Inc. by Target late in 2017 for $550 million.
Currently, the FMI/Nielsen report says that 49% of U.S. consumers shop for consumer packaged goods (CPG)—the kinds of products typically found in grocery stores—online. And it's not just Millennials who are shopping for food online. The report says that 61% of Millennials, 55% of Generation X, 41% of Baby Boomers, and 39% of those born before the Baby Boom reported having recently purchased a CPG product online.
These Are Just The Numbers From The United States!
The purpose of mentioning big figures like these isn't to explain how big the US market for on-demand delivery has become; it's to show how big it could become across other markets. With big buyouts from some of the major players in the business like WalMart, Albertsons, and Amazon, this industry is already built for big buyouts.
The Market Boom is Coming
The M&A strategy shows that this market isn't one to ignore right now, and the real market boom may not even be here yet. Between 2016 and 2017, the amount that users are spending for ordering/booking on-demand service apps has only risen.
According to the data collected by the National Technology Readiness Survey in the U.S., it was estimated that total spending on the on-demand mobile app services would increase from $48 billion n 2016 to $75.7 billion in 2017—an increase amounting to 58%.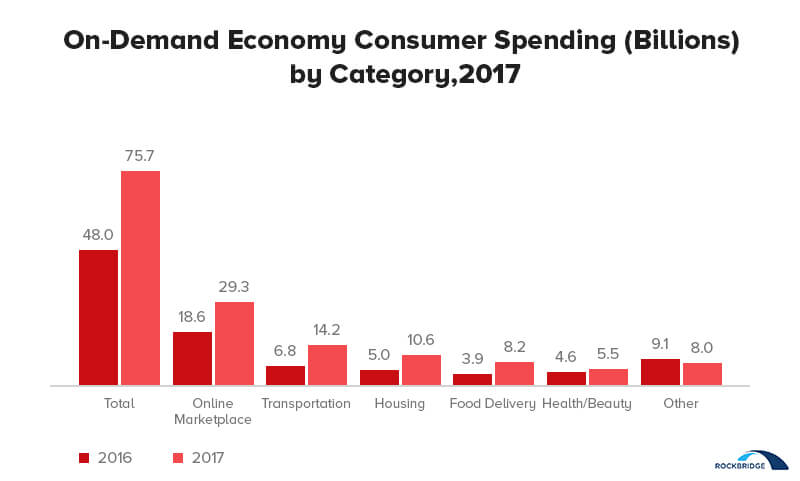 The segments of the on-demand startup market that have witnessed maximum growth, consist of housing items from $5 billion in '16 to $10.6 billion in '17; transportation, which moved from $6.8 billion in '16 to $14.2 billion in '17; and, lastly, the food delivery category, which shifted to $8.2 billion in 2017 from $3.9 billion in 2016.
Seeing this growing spending number, Rockbridge estimated that the number of on-demand mobile app startup consumers would reach 56 million by the end of 2018 and 93 million by the time we hit 2022.
The rise in awareness has brought in a rise in the perceived advantage that users are getting by using the on-demand services. The main advantages include the ability to find service online on an app (70%), the benefit of paying and tracking the progress of the delivery person on the app (62%), and, lastly, the perk that comes with being connected with another person in place of a business (52%).
Limited Options In the Public Markets Give Rise To Targeted Opportunities For Investors
It's true that this market is exploding right in front of our eyes, but just as with the boom that the "Over The Top" entertainment industry saw with the advent of Netflix, right now there are a limited number of offerings available for investors to look at.
It is undeniable how on-demand is changing the world around us as we know it. No matter which business segment you belong to, chances are that someone in your industry will be thinking about investing in the on-demand market.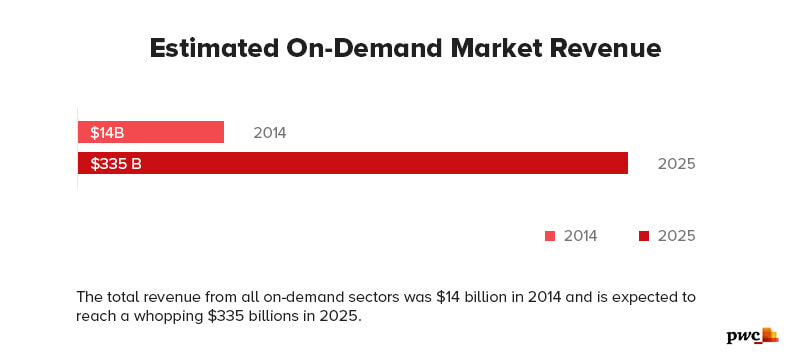 This un-altering demand for the on-demand services is not just the truth of the present day; the future has a similar story to share. The future of on-demand lies in a number of categories. According to a PwC report, the on-demand economy revenue, which was $14 billion in 2014, will reach $335 billion by the time we reach 2025.
ParcelPal (PTNYF) (PKG) could already be grabbing first mover advantage when it comes to taking on the global arena. Surely, there are already billions being invested in the startups of tomorrow, and as these companies "prepare," ParcelPal is already entering into key verticals, aligning with major companies like Amazon, while also expanding the technology of their application to deliver a seamless customer experience for a country that is just beginning to find out what on-demand services are!
With the feverish pitch that the global on-demand industry is set to see, can you afford to miss out on something for which early adopters are already earmarking billions of dollars for massive future growth?
---
ParcelPal (PTNYF) (PKG) News:
---
---
---
---
---
---
---
Disclaimer: MIDAM VENTURES LLC has been compensated $75,000 per month by a ParcelPal Technology, Inc. for a period beginning September 1, 2018 and ending February 1, 2019 to publicly disseminate information about (PTNYF/PKG) to publicly disseminate information about (PTNYF/PKG). Midam Ventures has been compensated $100,000 by Parcel Pal and has extended coverage to April 1, 2019. Midam Ventures has been compensated $100,000 by Parcel Pal and has extended coverage to May 1, 2019. Midam Ventures has been compensated $200,000 by Parcel Pal and has extended coverage to June 1, 2019. Midam Ventures has been compensated $200,000 by Parcel Pal and has extended coverage to July 1, 2019. We may buy or sell additional shares of (PTNYF/PKG) in the open market at any time, including before, during or after the Website and Information, provide public dissemination of favorable Information. We own zero shares. Click Here For Full Disclaimer