Over the course of the past few years, the Advanced Micro Devices, Inc. (AMD Stock Report) stock has been one of the more interesting stocks in the market and this year, it has made rapid moves. During the initial years after the IPO, the stock plunged significantly and had become a penny stock, with genuine fears of the company going into bankruptcy.
However, some keen handling of the business has brought the company and the stock back in track. However, it rallied to $35.55 a share at the start of 2019. It is again being looked upon as a major player in the chip space. However, it would be interesting to figure out whether the stock is primed for a bigger move.
Bright Road Ahead For AMD Stock?
When the rally happened earlier this year, there had been genuine hopes of a stronger rally but from the month of June up until August, the AMD stock remains range-bound. The breakout that many had hoped for has not yet come this year.
[Free Report] Which Tech Stock Could Disrupt A Multi-Billion Dollar Mega Sector?
That being said, it is important to note that the past 12 months have been a particularly tough period for the chip industry at large. The issue of oversupply had been one of the most troubling issues for the industry and that had led to the consolidation of many stocks in the industry.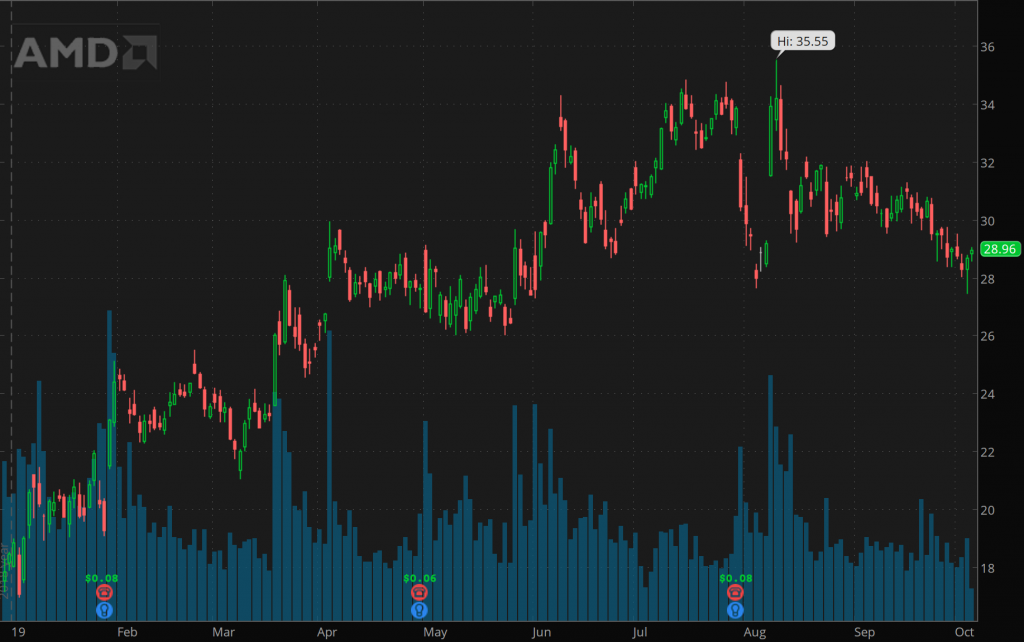 Additionally, the lack of demand from crypto miners had also been an issue with many chip makers and it has been one of the bigger factors behind the AMD stock's failure to breakout.
However, it needs to be pointed out that the chip market is expected to turn around and the multiples of the AMD stock make it attractive. The company is currently trading at 27.5 times its earnings for the following year and that is far cheaper valuation than its peers in the same industry as Nvidia.