The number of stocks in the market is huge. But it comes down to investors and their research to determine which to add to their lists. One of the more important factors is to first narrow down the sector in which you want to invest in. One of the sectors to continuously watch has been the biotech sector. The main reason is that most biotech stocks focus on innovation for life-saving treatments. This can be a huge catalyst when a company reports favorable results. With this in mind, it may not be a bad idea to have some biotech stocks on watch throughout the year.
It has been a high growth sector for many years now. Furthermore it may not be ready to slow down whatsoever as more illnesses continue to plague mankind. But it isn't always about illness. Some biotechnology innovations have lead to profitable drugs for things like ED and other things that aren't as life-threatening as others such as cancer. Regardless, this is why biotechnology stocks continue to command attention. On that note, here is a look at 3 biotech stocks to watch in October.
Biotechnology Stocks To Watch #1: Sernova Corp (SEOVF) (SVA)
Think about what would happen if a company were to find a cure for diabetes? This growing segment of the biotech sector has investors flocking to start-ups with promising treatments.
Nearly 100 years after the discovery of insulin, Sernova (TSX:SVA) (OTC:SEOVF) is advancing the treatment for type 1 diabetes. Its implantable Cell Pouch™ technology received FDA clearance and is currently intrials in the US. Sernova's Cell Pouch™, combined with its immune protection technology, offers therapeutic cells local protection from immune system attack.
The Cell Pouch™ is manufactured from medical-grade materials, previously approved by the FDA for permanent use in the body in other products. After receiving the sought after US FDA IND, the company has been rapidly pursuing human clinical trials with its Cell Pouch™ System in the United States.
Why is the IND so critical for a biotech company? The United States Food and Drug Administration's Investigational New Drug (IND) program is how a pharmaceutical company obtains permission to start human clinical trials and to ship an experimental drug across state lines before a marketing application for the drug has been approved. Sernova (TSX:SVA) (OTC:SEOVF) has this. Additionally, for the better part of the last week, Sernova has seen an uptick in the market. Given the state of diabetese solely in the US, could this CellPouch create a bigger opportunity for the company?
Biotechnology Stocks To Watch #2: Amarin Corporation (AMRN)

The next biotech stock to watch is Amarin Corporation plc (AMRN Stock Report). At this point in time, the company is waiting with bated breath a decision by the United States Food and Drug Administration. This is for the approval of an expanded label for its product, Vascepa.
The treatment is meant for the reduction of cardiovascular risks. Amarin believes that approval could be granted by the end of 2019. Experts also believe that the company may be successful in obtaining the award of the expanded label.
However, at the same time, the same experts believe that it is not yet clear what the company is going to be able to say in the new label. That being said, the company could well be a major target for acquisition since Vascepa could be coveted by many of the larger companies. At this point, it has a market valuation of $5.4 billion and it is believed that next year could well be the time when the company becomes a target for acquisition.
Biotechnology Stocks To Watch #3: Alder Biopharmaceuticals (ALDR)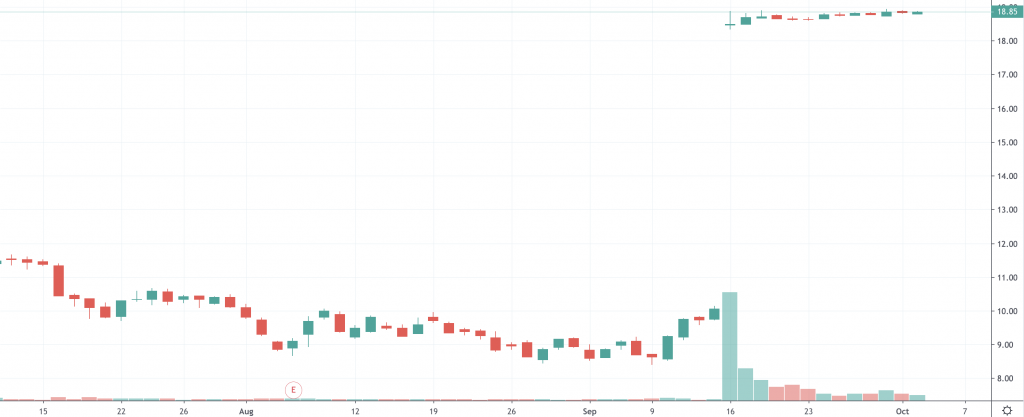 The other biotech stock on this list is Alder Biopharmaceuticals Inc (ALDR Stock Report). The company is involved in the manufacture of migraine medicines and back in September, Danish pharmaceutical giant Lundbeck agreed a deal to acquire it for $2 billion.
The structure of the deal is a beneficial one for Alder shareholders. At this point, Lundbeck is going to pay $18 for each Alder share, however, if its anti-CGRP antibody eptinezumab product managed to get approval in Europe, then an additional $2 a share is going to paid out.
The deal was announced on September 16 and the price offered per share reflects a 79% premium over the Alder share price just before the news went public.