The pharmaceutical and biotech sectors have been some of the most exciting sectors for quite some time and it continues to be so to this day. From among those, there has always been a high degree of interest in the stocks of companies which are involved in cancer treatment and currently, there are two stocks which are in focus due to a range of important developments. Here are 3 biotech stocks to watch right now
PharmaCyte Biotech
When you typically think about cancer, you would assume myriad treatments. But one thing that was overlooked until recently has been the way drugs are delivered to the body.
Over the last 10 years, biotech has been one of the best performing sectors in the entire market. It's been for good reason too. A number of biotech stocks have produced life-changing returns because of their treatments and opportunities have only gotten bigger as time goes on.
[Read More]
The Future Of Drug Delivery Has Biotech Investors Focusing On One Small Company
PharmaCyte Biotech (PMCB) and UTS Creating Advanced Version of Melligen Cells to Treat Diabetes
Since the most frequently used treatment for cancer right now is chemotherapy, patients may not be getting a treatment that is truly effective. In fact, many patients are told that chemo has a 50/50 shot of success. This leaves the door open for companies to jump on the potential of targeted treatments and novel delivery methods.
If you're looking at PharmaCyte Biotech (PMCB) at this exact moment, you're seeing it before the company begins clinical trials and just as it's preparing to complete its Investigational New Drug Application for the FDA. Whether you're new to biotech stocks or a seasoned vet, you should understand how important milestones like this are for a company.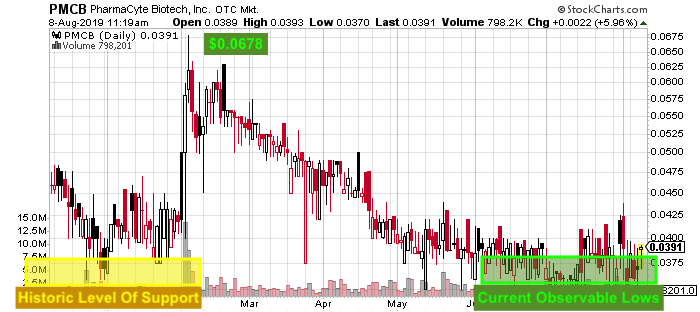 Furthermore, as the markets shake off short term turmoil, the biotech sector could quickly come in favor. As far as PharmaCyte is concerned, current levels show to be similar to those of this past January. Looking at the stock chart, PMCB stock price traded at this level before a move to its 2019 high of $0.0678
Exelixis Inc
Exelixis Inc. (EXEL Stock Report) has been one of the leading companies in the area of cancer treatments and the most important factor in favor of the company is its cancer medicine Cabometyx. According to analysts, Cabometyx could prove to be one of the company's most important products in years.
The clinical study data points support that assertion. Additionally, it could also leverage its partnerships to further grow sales of Cabometyx. Currently, the company is collaborating with Bristol Myers-Squibb to figure out if Exelixis' flagship medicine could be used in combination with Opdivo. All of this has lead to a topsy-turvy year. However, recent trends could indicate potential from historical, technical events seen in January and June.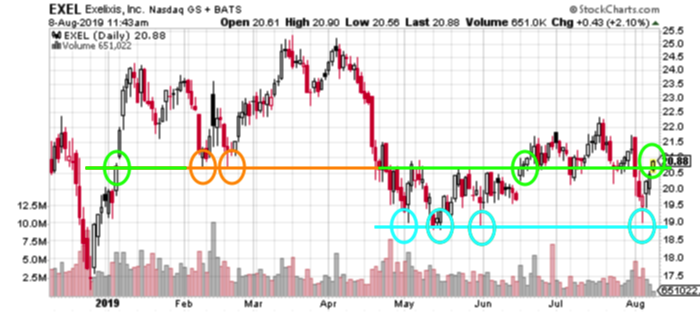 However, one of the most important factors in favor of Exelixis is new opportunities. The company is not planning to merely live off Cabometyx. Exelixis is actively looking to develop new products internally. The fact that the company is sitting on a cash mountain of $800 million is positive. That's since it can then finance long term product development with far more ease.
Bristol-Myers Squibb
On the other hand, Bristol-Myers Squibb Co (BMY Stock Report) is one of the traditionally powerful companies in the cancer treatment industry. Currently, the biotech stock is waiting to close its acquisition of Celgene (CELG Stock Price). Celgene works in cancer treatments as well as in cancer research. BMY hopes that the $74 billion acquisition will help it in cutting costs significantly.
[Read More] 3 Biotech Stocks To Watch After Big News This Month
Bristol-Myers currently has a research and development budget of $5 billion a year. After the merger, it may increase further. Thereby, the company could become a far more attractive proposition.