Top Biotech Stocks To Watch Before The New Year
There are only a handful of sectors that have managed to register consistent growth over the course of the past half a decade or so. The biotech sector is certainly one of those.
During this period, the sector has produced plenty of stocks that went on to create enormous wealth for investors. The underlying companies also created life-changing treatments & industry-leading therapies.
So it's no wonder that investors are almost always on the lookout for the next big things from among biotech stocks. On that note, here is a look at two biotech stocks that could be tracked by investors before the new year.
Biotech Stocks To Watch #1 Cerecor
The first biotech stock to watch is Cerecor Inc (NASDAQ:CERC). It has performed impressively over the past three weeks. Earlier on in December, the company announced that it has managed to complete the acquisition of Aevi Genomic Medicine in a deal worth around $16.1 million.
The deal was completed entirely in cash and it proved to be a major development for Cerecor. It was not a surprise when the stock started climbing and went on a sustained rally over the course of the past three weeks. During this period, the stock has gained as much as 55% and could well be in focus over the coming weeks.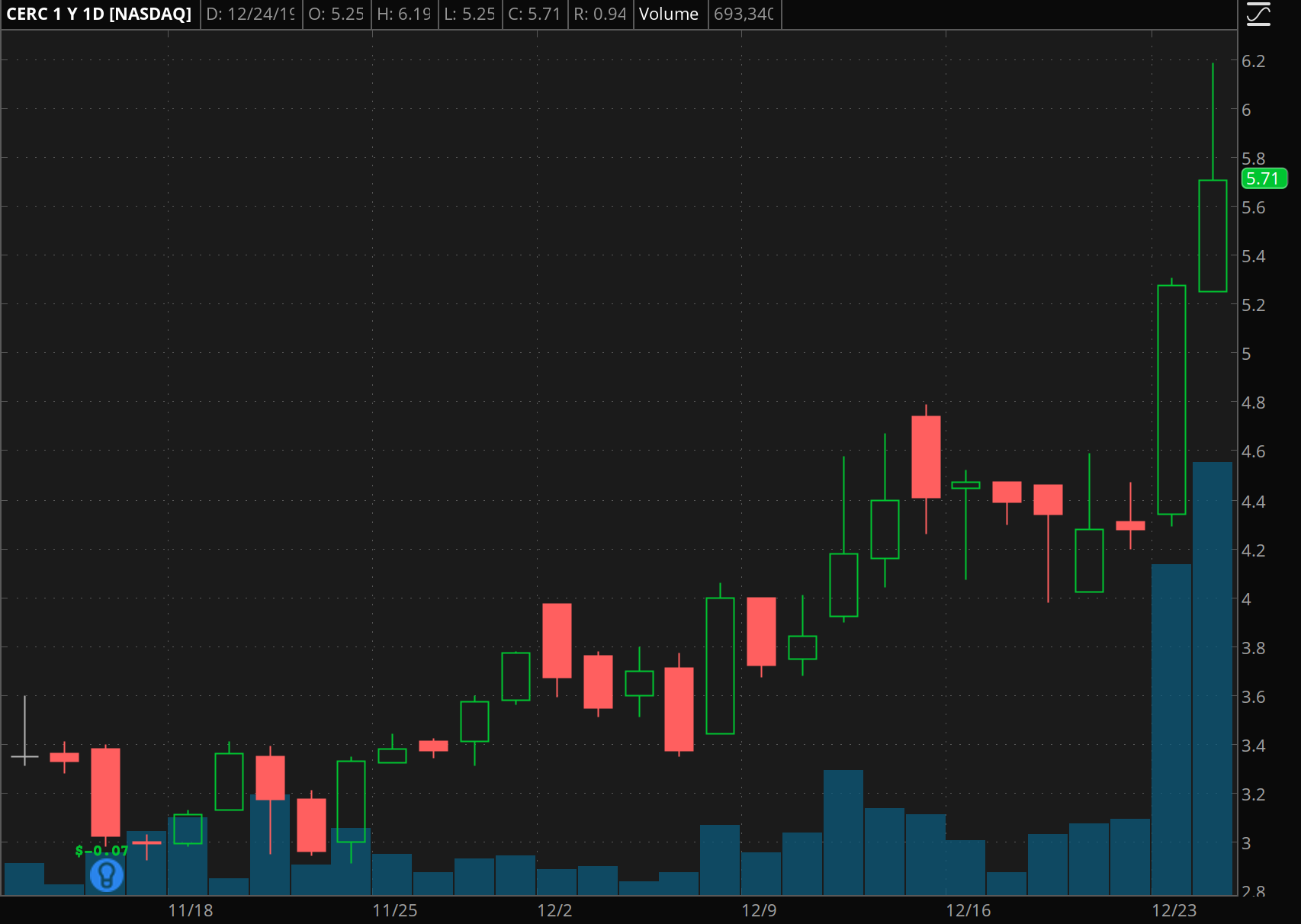 Biotech Stocks To Watch #1 CTI BioPharma
The other biotech stock that has had a remarkable run in recent times is CTI BioPharma Corp (NASDAQ:CTIC). It could well be in focus over the coming days among investors. Back on December 9, the company announced that it had presented data from the Phase 2 clinical trial of its PAC 203. This was at the 61st American Society of Hematology (ASH) Annual Meeting.
Read More
It is a key industry event. The data about its Myelofibrosis treatment was welcomed by the market. Furthermore, the therapy has strong support.
"The data presented at ASH underscore the clinical and scientific rationale for our ongoing PAC203 Phase 3 PACIFICA trial evaluating pacritinib at 200 mg BID in severely thrombocytopenic myelofibrosis patients…The totality of the data presented at ASH reinforces our belief that pacritinib has the potential to be an important therapy for severely thrombocytopenic myelofibrosis patients, a population for whom available therapeutic options are limited and often ineffective."

Adam R. Craig , M.D., Ph.D.
The stock has rallied by as much as 107% since then.