As the world has become more connected, most workplaces, businesses, large corporations, and households have moved on to using computers and the internet in their day to day lives. Trillions of bytes of data are produced on a daily basis and with the surge in the production of data, the risks of data theft have also increased substantially.
[Read More] 3 Biotech Stocks To Watch In September
Hackers try to gleam highly valuable information from businesses, large corporations, governments and individuals on a daily basis. In such a situation, cybersecurity has rightly emerged as one of the most important industries and many companies have gone on to become excellent investment opportunities. Here is a look at two such stocks.
Palo Alto Networks (PANW) Stock Price
The first company to consider in this regard is Palo Alto Networks Inc (PANW Stock Report), which has become one of the most respected names in the sector over the years. The company primarily offers a security platform that is run by cloud-based solutions as well as firewalls and helps in monitoring traffic. The business has grown impressively and its third-quarter earnings report indicates that the company is now on sure footing.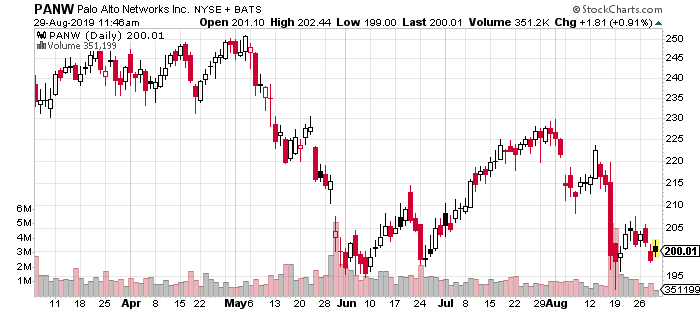 The company reported that its gross margins had soared to 76.5% and free cash flow of $280 million led to the lowering of capital expenditures as well. However, Palo Alto Inc is also looking to expand aggressively and back in July, it announced that it was going to acquire Twistlock. Twistlock is a container security company and Palo Alto acquired it for $410 million. It will allow the company to wade into a new sector altogether and further boost its presence.
Fortinet (FTNT) Stock Price
On the other hand, there is Fortinet Inc (FTNT Stock Report). It is engaged in providing broad-based and automated cybersecurity solution and over the course of 2019; its stock has gained as much as 17% so far. Earlier on in August, Merrill Lynch analyst Tal Laini upgraded the rating of the stock to a buy and also set the 12-month target price at $103.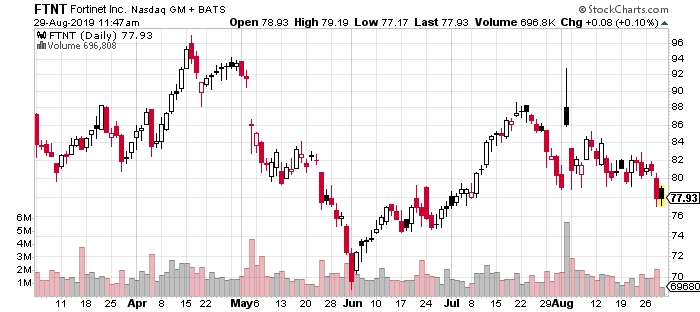 If the stock is to reach its target price in 12 months, then the analyst is suggesting that the stock price could jump by 26% during this particular period. The revision of the target price came up earlier this month after the company beat the analysts' estimates of its revenues of $511 million by generating as much as $522 million.