Due to the range of macroeconomic issues that have plagued the world over the course of the past year, the price of gold has climbed at a breakneck rate. It is at its highest levels since 2013. The trade war between the US and China created a highly volatile investment climate. As a result, many investors parked their money in safer assets like gold.
On the other hand, the uncertainty with regards to the rate cuts from the US Federal Reserve had also played its part. On Monday morning, the price of gold moved beyond $1,470 per ounce. Now, plenty of investors are considering whether they should get involved in this rally or not.
Fed Supports Gold
Experts believe that the latest rate cut from the Fed was a significant trigger behind the rally that gold experienced last week. However, there's a widespread belief that another rate cut is going to take place later this year. That has made plenty of analysts believe that the gold rally is going to continue.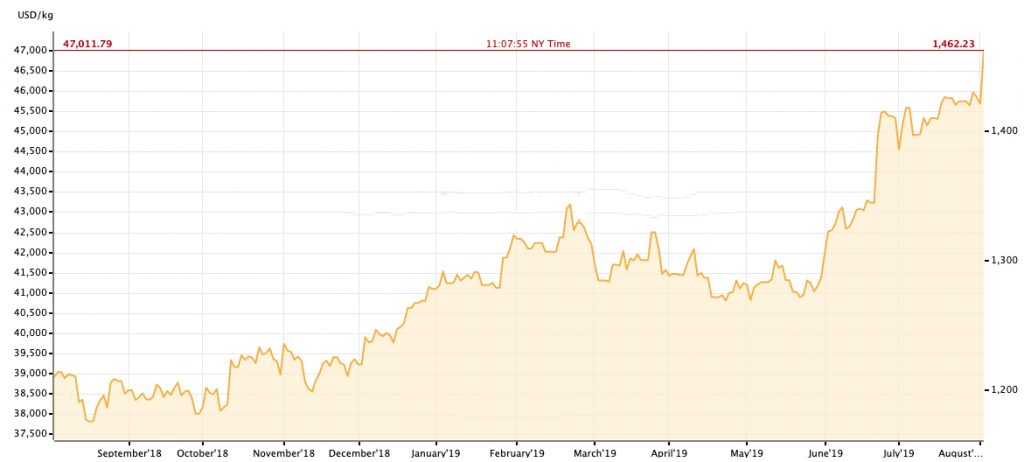 In fact, some experts have stated that the price could even go beyond $1600 per ounce. Additionally, there is no shortage of anxiety in the financial markets either. The U.S.-China trade war is far from being resolved, while the Brexit issue in the UK is going to rumble on for some time.
Read More
Gold Prices Have Investors Scrambling & Analysts Clamoring For Junior Gold Stocks
Canadian Gold Stocks In Focus As Gold Price Reaches Multi-Year Breakout
The possibility of a 'no deal' Brexit is going to spook investors if the new Prime Minister is unable to agree on a deal with the European Union prior to the deadline. In this regard, it needs to be pointed out that the stock price of companies involved in gold mining rises at a faster rate than the price of gold and investors should consider having a look at some of those companies if they want to profit from this gold rally.
Gold Stocks To Watch
Some of the gold stocks to watch are New Gold Inc (NGD Stock Report), and Kinross Gold Corporation (KGC Stock Report), AngloGold Ashanti Limited (AU Stock Report) and others. Barrick Gold (ABX Stock Report) (GOLD) has hit new highs this week amid the gold price rally.
Barrick Gold Corporation president and chief executive Mark Bristow said his meeting today with prime minister James Marape had served to confirm the need for a partnership approach to the future of the Porgera gold mine. This was Bristow's second meeting with the recently elected prime minister and his third visit to Papua New Guinea since he joined Barrick at the beginning of the year.
Porgera's special mining lease expires this month and the government is currently considering an application for a 20-year extension by its operator, Barrick Niugini Limited, a joint venture between Barrick and Zijin Mining Group of China.
Roscan Gold Corporation (ROS.V): The Next Canadian Gold Stock To Watch For 2019
RosCan Gold Corporation (ROS.V) has already positioned itself in one of the most prolific gold regions in the world. Specifically, RosCan is currently in the process of assembling a sizeable land package in the Birimian Rocks of West Mali, the most productive greenstone gold belts on the continent.
And RosCan Gold Corporation (ROS.V) is in one of the hottest regions on the planet. Africa holds 40% of the world's gold reserves. Ghana, Burkina Faso, and Mali produce nearly twice what South Africa did in 2018.
RosCan Gold Corporation (ROS.V) has amassed a significant land package. It encompasses 271km2, through option agreements to acquire 100%-owned permits. These are in the prolific gold prospective Birimian rocks of west Mali. Roscan believes these are high potential properties. Why? They are located in an area of existing gold deposits and multi-million-ounce producers.
This includes B2 Gold's Fekola Mine, which lies in a contiguous property to the west of its Kandiole project. RosCan Gold Corporation (ROS.V) may be on the verge of something big. RosCan's initial compilation of technical information of the Kandiole Project identified several areas of immediate interest.
Billionaires Are Already Starting To Pour Money Into Gold Stocks
When it comes to gold and gold stocks, most novices will hear about big money from "Main Street." But this usually comes well after Wall Street hedge funds have already piled in. So it's important to read between the lines and sniff out early institutional bulls.
In recent months, some of the most elite investors have turned to precious metals like gold. This is part of their overall investment strategies. Whether you like Trump or not you'll most likely agree on one thing. That one thing is that he's thrown a wrench into the U.S. political climate. It remains to be seen what comes of that. But the president's actions so far have some billionaires expecting his disruptive political influence to spill further into the markets.
That "pile in" we talked about may have quietly, already begun. Billionaire hedge fund manager and DoubleLine Capital founder, Jeffrey Gundlach said in a recent interview, "I am certainly long gold… Gold and commodities broadly should benefit this year."
This isn't a secret anymore. With continued global financial uncertainty, a push for further decentralization of currencies, and the clear demand by the world's biggest billionaires to shift investment into gold, what better time is there to take a serious look at gold stocks?