Will Shares Of Palatin Technologies (PTN) Head Higher As Biotech Stocks Rally This Month?
Biotech stocks are rallying this month. Despite the "pop and drop" this sector saw earlier in the year, June has been a big month for biotechnology companies and people investing in this sector.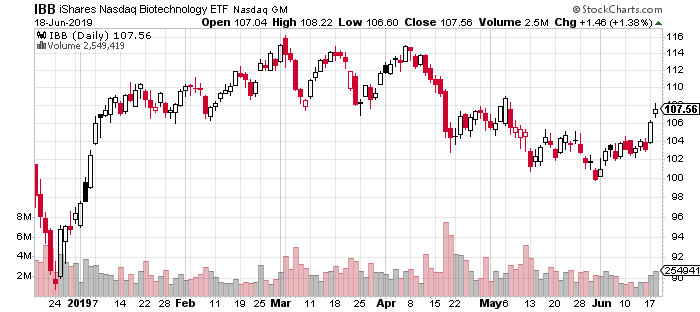 In fact, the iShares Trust Biotechnology ETF (IBB) has climbed by more than 8% since the start of June. This sector has been famous for producing volatile returns for investors. Furthermore, biotech penny stocks have increased that potential.
Palatin Technologies (PTN) Is A Biotech Penny Stock To Watch
One of the best performing penny stocks in the biotechnology sector this month has been Palatin Technologies Inc. (PTN). On January 2, this penny stock opened the year at $0.71 and has seen a 2019 high of $1.74. What's more is that even though PTN stock has consolidated, it has continued to trade above $1.20.
So what's all the excitement about? Palatin Technologies, Inc. is a biopharmaceutical company developing targeted, receptor-specific peptide therapeutics for the treatment of diseases with significant unmet medical need and commercial potential.
The company's main strategy is to develop products and then form marketing collaborations with industry leaders in order to maximize their commercial potential.
The recent excitement seems to have started in April after the company reported positive top-line results of its oral clinical study of PL-8177. The treatment is designed to address ulcerative colitis and other inflammatory bowel diseases.
"The main objective of the study was to demonstrate release of polymer-bound PL-8177 in the lower gastrointestinal tract after oral administration. Top line data showed favorable pharmacokinetics, and demonstrated PL-8177 was released in the lower gastrointestinal tract, supporting oral administration of PL-8177 using the delayed release polymer formulation."
New Milestones From Palatine Technologies (PTN) Triggers New Highs
After hitting new highs on May 17th after posting quarterly earnings, shares of PTN stock have consolidated. Regardless, the company continues to progress. Earlier this month the company obtained orphan drug designation for PL-8177. Yes, this is the same one that I talked about above when the company received positive topline results earlier in the year.
Why is orphan drug designation important? This is a good question especially if you're newer to biotech penny stocks or biopharmaceutical stocks, in general. In the exact words of the FDA:
"The Orphan Drug Act (ODA) provides for granting special status to a drug or biological product to treat a rare disease or condition upon request of a sponsor. This status is referred to as orphan designation (or sometimes "orphanstatus")."
Essentially it gives companies incentives above and beyond competitors. These incentives include a partial tax credit for clinical trial expenditures, waived user fees, and eligibility for 7 years of marketing exclusivity. The obvious response would be favorable, which has been seen in the market over the past few trading sessions.
Dr. Carl Spana, President and Chief Executive Officer of Palatin Technologies, said in a press release, "Unlike corticosteroids, immunosuppressive agents, and biological therapies targeting specific cytokines or receptors, melanocortin receptor 1 peptides work to resolve chronic inflammations and restore normal immune function. We look forward to initiating clinical trials with PL-8177 for non-infectious uveitis, a high medical need disease with limited treatment options."
But Here's Why Palatin Might Be Set For More Excitement
It's all about sex drive. You read that right. And something that hasn't really been fully publicized is this "big FDA date." You see on June 23rd, the application for Vyleesi (bremelanotide), a drug developed by Palatin and licensed to AMAG Pharmaceuticals (AMAG) will be up for review by the FDA as a New Drug.
Vyleesi is a novel melanocortin 4 receptor agonist under evaluation for restoring a natural sexual desire in premenopausal women with HSDD. Think of this like female Viagra. Will this become the sexiest biotech penny stock this month or will stock traders get blue balled?